The University of Nottingham – Malaysia Campus
Begin your Degree at the Gateway Graduate School and graduate from the University of Nottingham, Malaysia
View(s):
Gateway Graduate School now offers the unique opportunity of obtaining world class Degrees by studying the Foundation year and/or the first year in Sri Lanka and completing the last two years at UNMC. Through this arrangement, students are able to complete Degrees related to Business, Economics, Management and Psychology. Students who wish to study Computer Science are able to transfer after the Foundation Year.
The University of Nottingham is ranked within the top 10 in UK and in the top 1 percent of all universities worldwide. The global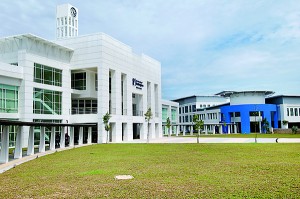 community at the University of Nottingham Malaysia Campus includes students from over 70 countries and staff from over 30 countries. This provides students with a rich, multi-cultural student experience. All degrees awarded are exactly the same as those in the UK. Occupying a scenic position overlooking green hills on a 125-acre site, and designed to mirror the attributes of University Park in the UK, the University of Nottingham which is the first campus of a British University in Malaysia, presently has over4700 students.
The foundation year and the first year can be completed at Gateway Graduate Schools in Colombo, Kandy orNegombo. The transfer to the University of Nottingham however, is subject to terms and conditions. UNMC provides an excellent opportunity to receive an international experience and a world class Degree at an affordable cost.
Details of the Graduate School can be obtained by calling Rushika (Colombo) – 0772256356, 2583848, 2593213, Thusitha (Kandy) – 0777922777, 0812203377 or Nilanthi (Negombo) – 0716492935 or by writing to ggs@gatewayworldwide.com
comments powered by

Disqus