The Ultimate Success programme for Teenagers
View(s):

Based on the Best selling book of Highly acclaimed author Sean Covey "The 7 Habits of Highly Effective Teens" programme is now launched in Sri Lanka for the first time. This programme has been conducted globally in all countries represented by Franklin Covey Company.

The Book "7 Habits of Highly Effective Teens" has been translated in to many languages and sold millions of copies around the world.
It's the most comprehensive guide to improve self – confidence and lift the self – esteem of growing teens in today's modern fast-tracking world. Life for today's growing teens has become a nightmare, so much confusion, tough choices peer pressure, personal insecurity and anxieties about what others think.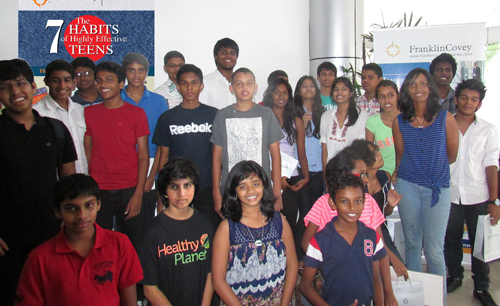 This is where the workshop for 'The 7 Habits of Highly Effective Teens'comes in, and as Sean Covey once said"You'll be amazed at the results a few small changes can bring.Gradually,you'll increase in confidence,you'll feel happier, you'll get a high 'naturally', your goals will become realities, your relationships will improve, and you'll feel at peace. It all begins with a single step'. It is based on the No.1 best selling business book of the same name by Sean Covey and the No.1 best selling business book by The 7 Habits of Highly Effective People by Stephen R.Covey, gives young people a set of proven tools to deal successfully with real life.
In the 7Habits of Highly Effective Teens, author Sean Covey applies the timeless principles of the seven habits to teens and the tough issues and life – changing decisions they face. In an entertaining lifestyle, Covey provides a step-by-step guide to help, gain greater control of their lives,improve relationships, improve relationships with family and friends, and increase self confidence and self esteem,make smarterdecisions,overcome addiction, define their values and what matters most to them,get more done in less time be happy,find balance between school work,friends and everything and much more.
The Ultimate teens Success program "The 7 Habits of Highly Effective Teens" was launched in Sri Lanka 'on the 31st of August 2013, at Excel World. It is also noted that the programme was a sell out and teens who were participants from Several schools actively participated in this program, they include Ladies College, St.Thomas College, Royal Institute, Asian International, British School, Musaeus College, Colombo International School, St. Sebastians College, Stafford International and St. Peters College,
"We were very happy to see the amount of interest shown by the parents to enrol their teens for this programme. In that sense as a company we are very happy to launch this programme in Sri Lanka where our youth today will benefit out of this world class programme" says the CEO for Sri Lanka & Maldives for Franklin Covey South Asia Mr. Ameer Ahamed. Who has been instrumental in bringing Franklin Covey to Sri Lanka 10 years ago.
FranklinCovey is the global Leader in the field of Developing & Building Organizational & Personal Effectiveness. We are one of the world's largest Training Company and listed on the New York Stock Exchange.
We provide Training and Consulting services to more than 80 of the Fortune 100 companies, and to more than three fourth of the Fortune 500 companies, as well as thousands of mid-sized and smaller companies. We train approximately 1 million people every year and conduct over 1500 public and corporate programmes a month in more than 500 cities throughout the world.
Formed in 1997 through a merger of the Franklin Quest and the Covey Leadership Centre, the company had its foundations in the work of Dr. Stephen R. Covey, author of global bestseller The 7 Habits of Highly Effective People, and Mr. Hyrum Smith, author of The 10 Natural Laws of Successful Time and Life Management.
Our solution sets form a framework which inspires change and breakthrough performance. They focus on leadership, empowerment, organizational change, goal setting, productivity and execution, time and project management, teamwork and sales performance.
Franklin Covey South Asia has grown to be the most respected and preferred training company in India and the South Asian region.
Our Mission : We enable greatness in people and organizations everywhere.
Our Vision: Our vision is to profoundly impact the way billions of people throughout the world live, work, and achieve their own great purposes.
comments powered by

Disqus