Prestigious British Qualification in Teaching of English
View(s):

The Access Certificate in English Language Teaching (ACE) with international benchmarks from City and Guilds, International, UK, is one of the key courses on offer at the Rainbow Institute of Communication and English (www.rainbow.lk)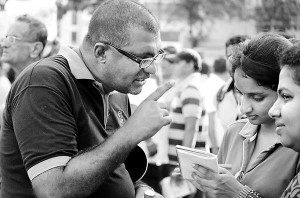 The institute set up recently, at No 44/1, Haig Road, Bambalapitya, is led by a group of eminent Sri Lankan academics, senior teachers and corporate trainers with strong professional and academic credentials backed with international exposure. The team is committed to empower children, youth and adults with communication skills in English, through programmes carrying globally recognized benchmarks.
The institute is headed by Manique Mendis, a leading Communication specialist, with more than twenty five years of senior management experience in local and international organizations. Sandra Fernando, an award winning literary personality with rich experience in teaching in International schools in Sri Lanka and overseas, is providing leadership for quality assurance benchmarking and academic development. Ms Fernando is also serving as the Chief Instructor for the ACE course. The well known academic, Dr Mahim Mendis, a British Chevening Scholar with postgraduate research degrees from UK, USA and Singapore is the chief educational adviser of the institute.
"The Rainbow Institute of Communication and English is filling a vacuum for high quality teaching at an affordable price, in a context where private sector education has become a highly commercialized commodity", stated Dr Mahim Mendis. Theory and teaching practice The Access Certificate in English Language Teaching of City and Guilds, International , UK, requires the learner to put in One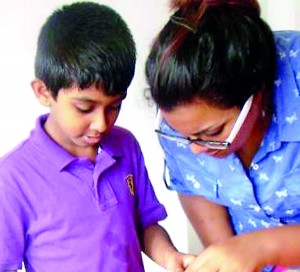 hundred and fifty hours (150) hours and is held over a duration of six months. Of this time frame, hundred (100) hours are devoted to gaining a theoretical foundation in teaching and fifty (50) hours devoted to teaching practice in real class rooms.
This course provides a valuable opportunity for current teachers of English, those aspiring to be English teachers, current teachers of other subjects who want to shift to English, to enhance their skills and obtain a prestigious internationally recognized qualification. It is an ideal platform for school- leavers to launch a career as English teachers. Corporate trainers who focus on teaching of Business English and Communication will also benefit by following this course and obtaining certification.
Interactive and Practical Approach
The teaching methodology adopted at Rainbow, is the hands on, active engagement approach in keeping with the latest international techniques. Classes are confined to small groups and are highly interactive and practical. All Rainbow courses are subject to a strict quality control process, adhering to City and Guilds International criteria.
The Access Certificate in Teaching in English programme is scheduled to kick off on Sunday, 22, September. Classes are scheduled once a week on Sundays, from 10.00 am to 5.00 pm at the institute's premises in the heart of Bambalapitiya,
Call Rainbow Hotline 0114 380 400 or 0777352118, to ensure placement in the first batch. Only a few vacancies are remaining.
comments powered by

Disqus