Lakeland stands strong as a life changer
View(s):

We open doors of education to a bright and a prospective future for your child.

Our children receive indepth knowledge of their chosen subjects in the hands of qualified professional Teachers, recognized and accepted in Sri Lanka and beyond. Make this September 2013 a month of reaping Educational benefits for your son and daughter.
Let them experience a motivational educational programme with a variety of co-curricular activities which moulds your child physically, mentally and spiritually to become a whole person.

We list our achievementsas food for thought for your decision making.

Our Vision

To become a model school which transforms personalities into academically sound, Physically healthy, Multi –skilled individuals with good human values to be responsible future leaders of the global community.

History of the School

Roots of Lakeland Inter-American School are strong, nurtured and fertilized by Mrs. Ushalakumari Sinnarajah the foundress and Mr.S. Nathan, the Chairman, in the year 2004. Since the month of September that year, the school is a subsidiary of NAT Group In Corporation (Aviation Services) Miami, Florida. Commencing the school situated at Ratmalana, in close proximity to the city of Colombo, it caters to students from Montessori to Year 13. The 4 storied spacious building with a roof top basketball court, provides comfortable class rooms with proper furniture to make learning motivational. Students are exposed to the British syllabus and are academically brought up to face London O/L and A/L Examinations.

Objectives

-To create an opportunity filled environment conducive to the child to explore the environment at his / her own capacity and carve his / her niche in today's world.

-To provide enriching strategies that would encourage students to be goal oriented and to be self managers.

-To empower the student to succeed in today's dynamic world by integrating general education and other practical skills, thereby providing a TOTAL education, satiating the need of the intellect, the body and the soul.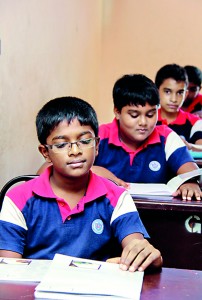 The Curriculum
Students at LIAS will be exposed to the British National Curriculum infused with American / British Model teaching techniques. They will be prepared to face the SAT's and British Secondary Exams (London O/L's & A/L's). Commencing crash course programme from January onwards for AS Level Students.
The System
The academic year is from September to August and consists of 3 terms of 4 months each. A student is considered eligible for a certain class, based on his / her academic capacity and his / her age as of 1st September of that current year.
Subjects
Montessori
In the Montessori, education imparted on an individual basis using educational activities and material according to the Association International (AMI) method of education, incorporated with the Primary method by doing handwork & craft in the class.
Sports
-Swimming
-Badminton
-Table Tennis
-Cricket


-Basketball
-Karate
-Carrom
-Athletics
Music
Western Music
Percussion / Brass Band
Ballet and Kandyan Dancing
Staff
Montessori – AMI Diploma Holders
Primary School – Trained / Certified Teachers
Middle / Senior School – Graduates in the relevant field
Special Features
-School transport at a nominal fee
-Supervised 'after-school' hours 2.30pm – 4.00pm
-Day care facilities for students at nominal fee
-Morning – Regular classes
-Afternoon – Supervised 'self-study hours' / Sports activities and Clubs
School Facilities
-The school occupies a spacious four storied building.
-Consist of a conference room with a seating capacity for 40 and audio visual equipment.
-School has a fully equipped Library and Staff Room.
-A spacious cafeteria with tables and chairs.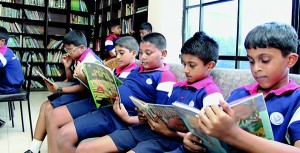 -A computer lab to accommodate 30 students at a time.
-A Science Laboratory.
-A book sale department.
-The school own three buses for the use of students.
-A swimming pool.
-A roof top basketball court.
-Facilities for table tennis, Badminton, Carrom, Basketball and activities for athletics.
High Achievers of IGCSE Examination in May / June 2013
comments powered by

Disqus