Imperial College establishes two CIMA learning quality partner centres in Sri Lanka
View(s):

The Imperial College Kandy branch was recently awarded the highly prestigious "CIMA learning quality partner" status. It is the first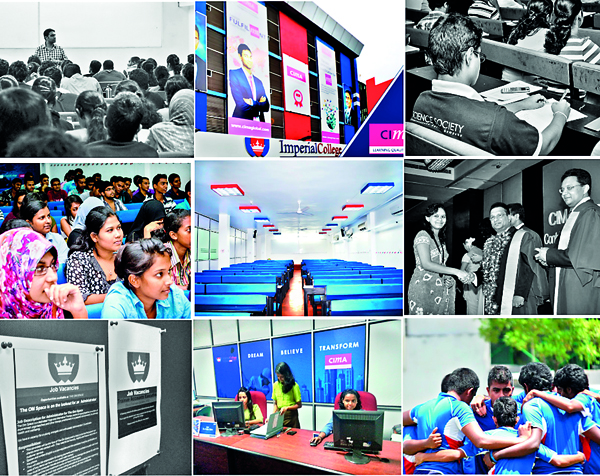 CIMA institute in Kandy to be certified as a "CIMA learning quality partner" and makes Imperial College the only CIMA tuition provider in Sri Lanka to achieve this feat and also the only institute in South East Asia to have two centres that bear the CIMA learning quality partner status.
The qualification is awarded by CIMA, after a meticulous quality assurance process, which will be reviewed annually by CIMA officials with a visit to the institute. The quality of tuition provided at certified learning quality partners are of a high standard. The best of experienced lecturers and the higher likelihood of passing exams are guaranteed at "CIMA learning quality partner" institutions. The college too monitors the standard of tuition and delivery of lectures to ensure that students receive high standard tuition. This is with the aim of offering students the best blend of guidance and encouragement. The review of all these components makes for an institute of repute and high quality lectures.
Enrol at Imperial College and become successful with ease and speed. An internationally recognized panel of lecturers guide you on your path to success, while facilities at the campuses will keep you connected to your classmates, with CSR activities, social activities, and sports. The classrooms are extremely comfortable and well equipped, and the lecturers are attentive and helpful. Students are guaranteed personal attention and ease of access to our lecturers who will always go the extra mile to help. Additionally, the institute has a dedicated job portal for its students (www.mycimajobs.com).
Imperial College offers part time and full time study options at both its Colombo and Kandy branches. The Kandy branch will begin registrations on the 14th of September for part-time studens and 16th of September for full-time students, while the Colombo branch will begin registrations on the 7th of September for part-time students and 9th of September for full-time students as well as for CIMA FAST students.
For the futuristic and driven students, CIMA FAST is an innovative option offered by Imperial College that will help you complete your courses in 19 months, opposed to the customary 30. Enrol today for the September 2013 batch and graduate in May 2015. Trail blaze with the best qualification from the only CIMA institute in Sri Lanka to have two branches accredited as a "CIMA learning quality partner".Imperial College is your No. 1 choice for CIMA.
Visit www.icbsgroup.com for more details or call 077 3 919 777 (Kandy) and 011 4 51 52 53 / 077 3 918 777 (Colombo).
comments powered by

Disqus