Gain a competitive edge in your profession, with a business degree from ACBT
View(s):

Founded in 1998, The Australian College of Business and Technology (ACBT) is a renowned international business school, offering top quality degrees with a history of designing innovative and industry-relevant programmes..

By combining professional qualifications with academic degrees, ACBT gives students the strongest possible foundation for success in any business environment. Their groundbreaking programmes bring together academic knowledge and highly valued practical skills. They develop both professionalism and management competence, creating innovative leaders with the ability to succeed in challenging situations.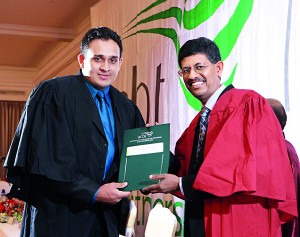 Offering a choice of flexible and affordable Degrees and Diplomas , where a student will get all the benefits of a quality Australian education, as well as the opportunity to pursue further study overseas when they graduate, the Institutes vision is to drive change through industry by addressing competencies in both professional and practical know-how. ACBT's unique and relevant programmes will bring great benefits to students and employers .
ACBT's Business degrees will help students develop advanced management skills where they will receive an international qualification with a variety of industry specializations. This programme will give students a broad and far-reaching rasp of the most important concepts in management, strategy and marketing with an international perspective. Specializations allow students to synchronize their business degree to their existing career path, giving them a finely tuned, unique business qualification. Equipped with the latest in management and leadership theory, techniques and practices in all aspects of business operations, they will be in demand with top employers around the world.
Offering the option of commencing the University Foundation Level (UFL) in Business after O'Levels students can thereafter progress to the Diploma in Business which will eventually lead to the Advanced Diploma in Business and the Bachelor of Business.
With a direct involvement with the Edith Cowan University (ECU) where the content and structure of the degrees at ACBT are being formulated by ECU , the students are awarded full, globally recognized ECU degrees. Therefore at ACBT, students will study the same syllabus and will undertake the same exams as the Australian campus. The Edith Cowan University is listed in the Commonwealth Universities yearbook and the International Handbook of Universities. Students and graduates at ECU are identified amongst the best in the world, and their outstanding achievements have been recognized throughout Australia and internationally through awards, grants, scholarships and prizes. ACBT is also a part of Navitas, Australia, an internationally renowned leader in global education.
The Institute adopts a one to one teaching and learning method in a highly disciplined atmosphere lead by a team of lecturer's with extensive experience in all aspects of higher education.
ACBT also facilitates its students with dedicated student counselors to address any problems they face and for academic and career guidance, friendly and accessible staff, a fully fledged library with books covering the range of subjects and options for the programmes of study, plus periodicals and international journals, high-tech multi media computer facilities,air-conditioned spacious lecture rooms for a comfortable learning environment and social and cultural activities as recreation are a few to be mentioned .
The Institute also offers students the opportunity to study part-time with weekend classes and evening classes offered during weekdays .These part-time study programmes enables them to take one or two subjects at a time , complete a foundation, a diploma, or an entire degree. The part time degree courses at ACBT therefore give students a mode of study that suits them and their circumstances, giving the best possible start to a highly professional education which will lead to a lucrative career.
In addition, the institute has a flexible payment scheme, which enables the student to make payments in monthly installments, giving a much more viable solution to getting an international higher education for the average Sri Lankan student.
Why wait any longer? Begin carving out a successful career in the global business arena, with the highly ranked degree programmes in Business offered by ACBT today. For further information log on to – www.acbt.lk
comments powered by

Disqus