US Open 2013 : Second week magic
View(s):

When New York's stormy weather settled, the US Open produced the best Tennis of any tournament of the early rounds this year.
The original venue for US Open was New York's 'Forest Hills' with its grass courts. It was moved to the current location "Flushing Meadows" in 1979 with courts transformed to acrylic 'hard'. America's famous personalities were honoured in naming the stadium and its courts. Famous jazz Musician Louis Armstrong; the person who revolutionized women's Tennis, Billie Jean King; and Tennis maestro Arthur Ashe featuring prominently.

This year's early rounds

Newcomers showed their strength and some eliminated famous names from the draw. Seasoned players found their road to be an uphill task. In one such encounter, Samantha Stosur of Australia became the victim of qualifier Victoria Duval of USA. Then another Australian old timer made history.

Lleyton Hewitt of Australia

2001 US Open champion Lleyton Hewitt of Australia met the winner of 2009 Martin Del Potro of Argentina seeded 6 in the second round. Hewitt played throughout the year and is currently ranked 66 in the world. He beat Martin Del Potro in a five set match that nearly went for 5 hours. Many will have problems recalling Hewitt and his career. Media named this match to be 'sensational' and it was so. Del Potro has had a rough ride with his wrist injury this year. Hewitt with his experience and support from a former Australian big name Tony Roach as his coach, showed many effective ways to use the court, tempo and patterns. The art of 'game compilation' by Hewitt in this match is worth a full study. It eased the task of neutralizing Del Potro's enormous fire power.

Thrillers and winning formulas

The third and fourth rounds and the quarters produced good tennis. The noticeable feature in most of the matches was competency and strength of the 'return-game'. Super speed services were returned consistently and effectively. Speed, placement and positioning opponents to restrict shot selection played a distinct part in the winning formula.

German Kohlschreiber took USA's hope, John Isner out of the draw in the third round. German weighted his game with service, return and the decisive third shot efficiency. Most of the rallies did not get past the fifth shot. It was fascinating tennis. Kohlschreiber continued this pattern when he faced Nadal in the next round. I would add it was Nadal at his best in recent times, yet Kohlschreiber took the first set in a tiebreaker then lost the second set in an absolute thriller. Kohlschreiber had his first and the only break-point of the match in the third set where he put a 'sitter' into the net and that was the turning point. Nadal had 24 break points in the match and was able to convert only 5. It shows how tough it was for Nadal to beat Kohlschreiber. It was another of the many thrillers in the second week. Nadal's performance gave the message 'I am here to win'.

Upsets

Frenchman Richard Gasquet played a good match to beat the 6 foot 6 inch Milos Raonic of Canada from whom more was expected. Gasquet did not stop here but went on to beat fast, consistent David Ferrer of Spain to create another big upset. Although Gasquet is well known, this is his first US Open semi-final. Stanislaus Wawrinka rose up to the occasion to replace the loss of Roger Federer to keep the Swiss challenge for the title. Wawrinka showed great form in the early spring season this year, then not much was seen of him. US Open seems to have motivated him and played very smart to beat Thomas Berdych of the Czech Republic to enter the quarterfinals. Wawrinka found a semi-finals berth when he beat the last year's winner and Wimbledon champion Andy Murray of England. This was most unexpected. Djokovic and Nadal are yet to be shaken but there is a possibility that the US Open may have a new name as a champion.

Ladies encounters

Although the sun appeared after the rain, the wind did not cease in Flushing Meadows. This affected the ladies Tennis badly. The ball got carried extra five inches and the line calls were many. Even their service percentage was affected by the wind. Service throw can very easily go astray due to the wind. Serena beat Navarro 6/0, 6/0. In the after match interview she said "many found the strong wind disturbing. I was brought up in this weather' she said smiling. Some qualifiers made an impact in the tournament. They are Victoria Duval of USA, Camellias Giorgi of Italy, she beat former number one Carolina Wozniacki of Poland and K Nara of Japan who appeared in the third round. Three Italian ladies came into the last 16; Giorgi, Pennetta and Vincy. Two Europeans, one Asian and an American have reached the semi-finals. Li Na is keeping the Asian image high and will play Serena Williams.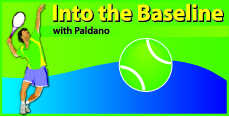 Signs of departure
Federer lost in the third round. In the after-match interview he confessed "I have had a problem with consistency the last three months". Historically, champions Pete Sampras, Ivan Lendl, John McEnroe among men and Steffi Graf, Lindsay Davenport, Justin Hennin all showed this trend of inconsistency towards the end of their career. Federer lost to Tommy Robredo of Spain in a one sided straight sets match. Lleyton Hewitt is having a 'roller coaster ranking' in recent times. He has been ranked between 34 and 186. This too can be a sign of withdrawal.
'Grand-Slam' denied
Meanwhile the amazing doubles combination Bryan brothers lost in a rarely seen good doubles match, denying them the Doubles 'Grand-Slam' – winning all four majors in one year. Radek Stepanek of Czech and Leander Paes of India formed a stone wall at net to stop the Bryan brothers. Paes was unpredictable and ruthlessly effective.
Tennis was magnificent in the US Open 2013. This US Open will be known for what Lleyton Hewitt achieved 12 years after winning the title in 2001 at the age of 32.
<George Paldano, former international player; Accredited Coach of Germany, ITF and USPTR; National, Davis Cup and Federation Cup Coach – georgepaldano@yahoo.com>
comments powered by

Disqus