Trinity and Dharmaraja
- Pix by Amila Gamage
share U-16 rugby spoils
View(s):
Hometown rivals from Kandy, Trinity and Dharmaraja colleges, were declared joint champions at the Milo All-Island Schools Under-
16 Division I 12-a-side rugby tournament, played at the Bogambara Stadium last Thursday and Friday.
The Lions and Rajans were forced to share the Cup championship when both teams failed to score a single point during two sessions of extra time, after the game ended 12-all at fulltime. Initially in the Cup final it looked as though Dharmaraja were on their way towards an unchallenged victory, after leading 12-0 at halftime, but defending champions Trinity staged a magnificent comeback to level the scores. Both sides had scored from two tries and a conversion.
Three-quarters S. Sandeepa and Buwaneka Undangamuwa posted a try each for Dhramaraja while fly-half Tharindu Galapitage made a solitary conversion as they thwarted Trinity from scoring to lead at halftime.
After the turnaround Dinuka Boyagoda and Dinusha Dange scored a try each for Trinity, who took control of the entire session. Lashan Wijesiri converted the first try as Roshan Madena failed to put over the second try, preventing Trinity from walking away as worthy winners. However, with the scores leveled at 12, two sessions of extra time with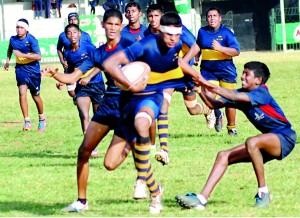 durations of three minutes each were given but the score-line of the game stayed the same.
On their way to the final, Trinity beat Kingswood College by 5-0 while Dharmaraja overcame Isipathana College 10-5 in the semi-finals. Earlier on in the day, during the quarterfinals, Trinity edged out St. Peter's College by 5-3 as Dharmaraja halted the progress of St. Joseph's College by 10-0.
St. Anthony's Katugastota clinched the Plate Championship after beating Wesley by 7-0 with centre Dinuk Amarasinghe scoring and Kumar Madushanka making the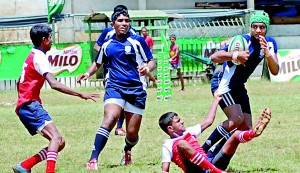 conversion for the winners. In the Plate semi-finals, St. Anthony's beat St. Peter's 7-0 while Wesley beat St. Joseph's by 5-0 in two closely contested games. Royal College Colombo won the Bowl championship after beating Lalith Athulathmudali MV by 17-0. Centre Hareen Weerasuriya, hooker Erosh Elikawela and second row Reeza Hamza scored a goal each for the winners as Elvis Askey made the conversion. In the semi-finals Royal Colombo beat D.S. Senanayake by 17-0 and Lalith Athulathmudali beat C.W.W. Kannangara MV by 10-0. Piliyandala Central secured the Shield championship of the competition.
A total of 32 teams were scheduled to take part in the competition but the tournament went on sans six teams, prompting some groups to feature three sides, instead of four. Trinity, Mahanama, St. Sylvester's, Royal Colombo, Royal Panadura, St. Peter's, St. Benedict's, Kingswood, S. Thomas' Prep, St. Anthony's Katugastota, Vidyartha, Dharmaraja, Dharmapala, St. Joseph's, Prince of Wales, Isipathana, Lumbini, Piliyanala Central, Wesley, Ananda, Maliyadea Kuruneagala, Lalith Athulathmudaly MV, D.S. Senanayake, Thurstan, Zahira Colombo, St. Thomas; Matale and Nalanda colleges took part. – NA
comments powered by

Disqus