After work, it's home to "Sweet Crumble" and "Pom Pom Fete"
By Shari Jayawardhana
Subashini Loganathan turns two passions, baking and decorating into a business
View(s):
After baking goodies for friends and family, Subashini Loganathan, the Chief Operating Officer of Holmes Pollard and Stott Advertising turned her passion into a home business. She credits her artistic flair to her family and is grateful for the constant encouragement received by her aunt. "She pushed me to venture into the kitchen. When I found a love for baking she would buy me tools and other stuff to further my hobby."
Signature cupcakes by "Sweet Crumble" come in a variety of flavours including Chocolate, Vanilla, Oreo, Butterscotch, Lemon, Mango and Almond. Subashini's cakes are made with the highest quality of ingredients handpicked by her. Desserts like New York cheese cake, Lemon- syrup loaf and sugar cookies are also on offer.
Subashini's upbringing in Virginia, USA has inspired her creative ideas. She is constantly developing new flavours of cupcakes and is working on launching new items such as kulfi and lemon meringue pies to the menu.
"Pom Pom Fete" is another brain child of Subashini.Pom poms are created using tissue, crepe or oil paper. Solid, bi colours or a mix of many colours are used for the creations that are used as chair tie backs, Sesame Street pom poms , Character pom poms , glitter pom poms, butterfly pom poms and ice cream pom poms and much more.
Pom poms can also be used as table decoration or hung from a chandelier or ceiling," she says. Subashini also creates pom poms for special celebrations such as Halloween and Christmas.
Gift wrapping is another service offered by "Pom Pom Fete". "A gift is not just about keeping with convenience, it's about giving. It is something personal and tangible. Choosing the right trimmings and wrapping paper are equally as important as the gift you give," comments Subashini.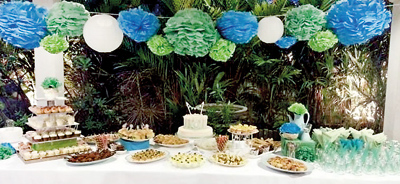 Subashini admits that her day job positively impacts her home business. "Since I work in an ad agency, I have a lot of creative minds around. It helps me to think outside the box. Once I get home, all I want to do is just get down to doing my hobbies and freeing my mind."
Subashini has had an overwhelming response from the two facebook pages that were created for her two hobbies. Within two months, Subashini has received over 2000 "likes" for the "Sweet Crumble" page and the Pom Pom Fete page has had over 3000 "likes".
She is also able to grow her client base through the age old proven method of "word of mouth."
To place an order call Subashini on 077 7317700 or email her onsubashini@hpands.lk. To view samples of Subashini's creations visit her facebook pages "Pom Pom Fete" and "Sweet Crumblesby Subashini."
comments powered by

Disqus