'THAI Smile' launches direct flights from Colombo to Bangkok
View(s):

Thai Airways International last week announced the commencement of direct roundtrip flights from Bangkok to Colombo by 'THAI Smile', the sister airline of national carrier Thai Airways International. THAI Smile, a new THAI business unit, will initially operate four Bangkok-Colombo roundtrip flights a week and will increase to daily flights a week, effective 01 December 2013.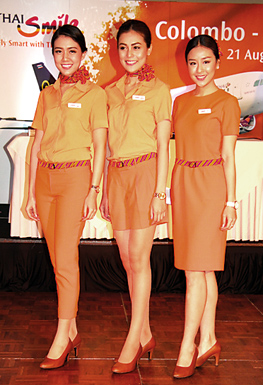 THAI Senior Executive Vice President, Commercial Department, Chokchai Panyayong said that this move will significantly increase the number of Sri Lankans travelling to Thailand. 'It will also expand THAI's regional market by serving an increased number of Thai and international passengers requiring travel to and from Colombo as well as passengers who enjoy modern and good quality service based on THAI standards at affordable prices. Parallely, these new flights will expand to serve other regional markets. Certainly, we have adjusted our flight schedule to meet passenger demands and market expansion' he said.
THAI Smile is a new service by THAI with a fleet of all new Airbus A320 aircraft configured with 2 classes of service; 'Smile' Economy Class and 'Smile Plus' short haul business class service. Dedicated cabin crew who are refreshingly young, vibrant and friendly will provide the same service excellence one experiences with THAI.
The THAI Smile fleet will consist of 11 brand new Airbus A320-200 aircraft, ideally suited for fuel efficient short haul travel. 'Smile' Economy Class consists of up to 156 seats, 3 seats abreast in 2 rows divided by a single aisle.
'Smile Plus' short haul business class service in the first rows of the aircraft for easy access features 16 seats on international flights and 12 seats on domestic flights. In each row the middle seat is always empty, providing more space and comfort for those traveling in 'Smile Plus'.
Passengers traveling in 'Smile Plus' are entitled to a baggage allowance of 30 kilos, experience more privacy, comfort, and have access to the passenger lounge. In-flight meal service, refreshments, and baggage allowance in all classes of service are offered at no additional cost, and passengers may accrue Royal Orchid Plus frequent flyer mileage on THAI Smile flights.
For more information visit www.thaismileair.com and www.thaiairways.com
comments powered by

Disqus