'Mega' real side of mega teleplay
View(s):

'Mega' is a cynical look at the present day mega-teledrama production. It is directed by experienced director Daminda Madawal will be released every Sunday at 9 pm starting from September 1, on Swarnavahini channel.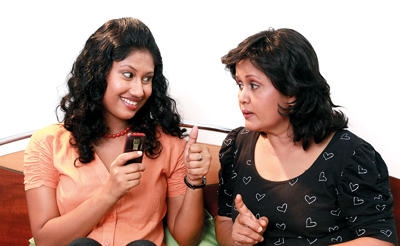 The teledarama revolves around a thoroughly disorganised teledrama production team who want to create a comedy drama with a basic crew and cast who are totally unsuited to the job. The entire team is in major disarray after the main actor and actress desert the location for anther production.
The ratings of the drama which is already being telecast have gone down. Haribajan, its director is not up to the mark and he can't meet the deadlines. The script writer who had not written the script in advance does it at the location but nothing he writes is amusing.
The two female leads Surupika and Nirupika are arch rivals but they have been cast as bosom friends. Vimarshana, an old actress, almost a dead name in the industry wants somehow stir up a controversy and get some publicity. All her attempts to create a controversy fail. And the entire teledrama production is disrupted and the production team leaves one by one.
The story takes a dramatic turn when the tea boy of the team leaves and is replaced by 'Husmananda' whose mere appearance makes everyone laugh.
Director Daminda Madawala has been an assistant director of 36 films and has worked under some of leading filmmakers like Prasanna Vithanage, Asoka Handagama, Benette Ratnayake, Wasantha Obeysekera, Vimukthi Jayasundara and Bododi Keerthisena and has assisted three foreign films. Daminda has also produced a number of short films, documentaries and stage plays.
'Mega' stars Gihan Fernando, Jayantha Muthuthanthry, Damayanthi Fonseka, Sulochana Weerasinghe, Dilshan Perera, Lasantha Udukumbura, Aravinda Dombagahawatte, Ajith Krishantha Saram, Samantha Manula and many others.
Edited by Weeranga Keppetipola, art director Thilanka Batuwatte, screenplay Asanka Sayakkara and camera by Kapila Sugath Wijeyaratne.
comments powered by

Disqus