Kasun brings a 'Culture Shock'
View(s):

'Kasun Kalhara in Culture Shock, a novel musical experience where young and seasoned singer and musician Kasun Kalhara presents an evening of outdoor musical session at Nelum Pokuna premises on September 7 at 7.00 pm.  The evening will comprised of fusion music with variety of styles backed by more than 30-member orchestra. Kasun will present a number of his new songs in addition to original with a complete different presentation.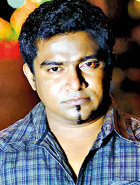 The 'Culture Shock' concert will bring together some of Sri Lanka's most talented musicians who will perform for an appreciative crowd made up of young and old. Complementing Kalhara's performance, the rock artistes Indrachapa Liyanage, Nadeeka Jayawardena and Naadro percussion group will be featuring in the concert.
Often called the rising star of recent local music industry, Kasun is renowned to be a talented artiste in many musical styles ranging from classical, modern pop to fusion music. In the past, Kasun has successfully held a string of concerts both in Sri Lanka and foreign countries.
"Its definitely going to an unusual evening where most of my songs are performed with completely new music arraignments' Kasun said while getting ready for the show.  Kasun's music will be empowered by Indrachapa and Nadeeka along with top musicians in the scene.
Well knwon classical guitarist Jude Peiris, guitarist Anthony Surendra, bassist Upul Madhushan and Hemapala Perera who plays multiple instruments will join the orchestra together with young percussion band 'Naadro' as special performers.  It was in 2008 that Kasun held a concert of his own in Colombo last, and therefore 'Culture Shock' will be the much awaited concert he is going to present to his local music lovers in
five years. This will be the first outdoor concert, Kasun Kalhara is going to have ever since he started his music career. Undoubtedly this event will be an ultimate concert experience brining people from all age groups to come together to enjoy the fusion of music.
The concept of the 'Culture Shock concert' was born within Kasun and his team members to explore the fusion musical experience to new heights while bringing music lovers to one place to enjoy a sense of community. Kasun feels that this concert, which is going to be the first one after releasing his third album 'Romantic Opera' in 2008, will be a unique experience for his loyal listeners.
During his musical career, Kasun has released three albums Haritha Nimnaye, Radical Premaya and Romantic Opera. Kasun Kalhara's Music has an unparalleled appeal and he has held many successful concerts in the past collaborating with other popular artistes drawing a broad fan base that includes young and old alike.
The 'Culture Shock' crew includes Vishawa paranayapa (music director), Upula Madushanka (bass), Mahendra Pasqual (Acoustic Gut guitar), Priyan Sadakalum Perera (Lead Guitar), Nadeeka Jayawardana (guitar), Malik (guitar), Rukshan Gunawardana (violin), Rochana (Cello), Harshan Gallage (drums), Tharindu Jayathilaka ( keyboards) and Sugath Asanka (ketboards).
Guest Performing: Anthony surendra, Jude Pieris, Jerry Spilzs(India).
An audience of at least 4500 to 5000 are expected to witness the novel performance which was organised by Kasun and a group of his friends.
comments powered by

Disqus