'Ektemge', 'Sangeetha' on DVD format
Torana releases yesteryear box-office hits
View(s):
Torana Video Movies has released two box-office hits of Sri Lankan cinema, Herbert Ranjith Peiries' 'Ektemge' (Light House) and Thimathi Weerarathne's 'Sangeetha' on DVD format.  'Ektamge', a love story that portrays the pain of real love stars Malani Fonseka, Joe Abeywickrema and Ravindra Randeniay.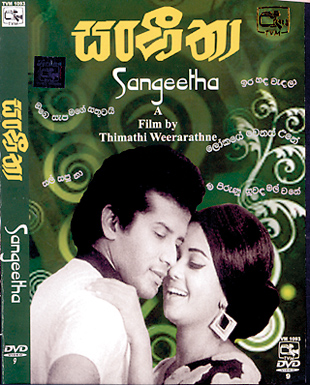 Wilson (Joe Abeywickrama) a middle aged truck driver falls in love with Mala (Malani Fonseka) the daughter of a lunch shop owner. Mala likes him too, and they receive everyone's blessing. Meanwhile, a young bachelor named Sarath (Ravindra Randeniya_ comes to the village to supervise a road constructing project.
Blinded by Mala's beauty he starts to suffer but she takes no notice. Story, screenplay and directed by Herbert Ranjith Peiries the film presented a number of evergreen songs sung by H. R. Jothipala, Gunadasa Kapuge, Neranjala Sarojini and Chandrika Siriwardena to the music of Sarath Dasanayake. The film was produced by Walter Fernando.
Starring Vijaya Kumarathunga and Malini Fonseka in the lead, Thimathi Weeraratne's 'Sangeetha' introduced some of H. R. Jothipala's ever-popular songs like 'Sal Sapuna', 'Ira Handa Wendala', 'Lokaye Wenas Wune', 'Mee Piruna Suanda Malwane' and 'Obe Sepa Mage Sathutai'. 
On the way to welcome a girl who was proposed to him for marriage, Vimal (Vijaya Kumaratunga) stays at an old bungalow. Upon seeing some old photographs there, memories of a past life dawns on him. In that life he was an employee of an estate belonged to the owners of that bungalow. He hopelessly falls in love with the owners' daughter, Sangeetha (Malini Fonseka). But their love ends in death. Will Vimal be able to meet his love in another life.
Revolves around the concept of rebirth, the story of 'Sangeetha' was written by Cyril P. Abeyrathen and produced and directed by Thimathi Weeraratne. To the lyrics of Karunaratne Abeysekara, Sarath Dasanayake composed the music which played major role in its super hit success.
comments powered by

Disqus