'Baila Bounce' Ranidu combines traditional Sri Lankan baila with dance music on
By Sanath Weerasuriya
View(s):
Sri Lankan music icon Ranidu Lankage has unleashed his new BAILATRONIC EP last week via Indie-Pop Music. Bailaronic is a new genre created by Ranidu, blending together Baila, the folk dance music of Sri Lanka, and various styles of modern electronic dance music.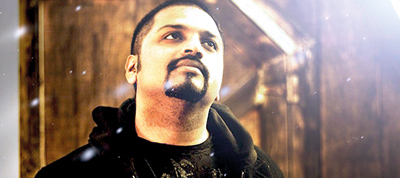 American dance floors are infused with a little South Asian influence when an artiste takes something traditional and eastern and blends it with something contemporary and western. Panjabi MC did this in 2003 with a version of his track 'Beware the Boys' that featured JAY Z. A few years later, we were introduced to M.I.A. and her Sri Lanka by way of London rhymes that merged with Brazilian baile-funk beats creating a unique sound that put the tiny island nation (and Diplo) on the musical map.
Now in 2013, Sri Lankan producer Ranidu is spicing up EDM by adding some South Asian rhythms to the mix on his new EP, Bailatronic, out this week on Indie-Pop.  'Up until now I was always working on music that had a western base such as hip-hop, electro and dubstep and putting Sri Lankan elements on top of that' Ranidu explains. 'With 'Bailatronic' I wanted to flip this formula.'
Billboard's EDM platform 'The Code' premiered 'Baila Bounce' last week while theaddictive new BAILATRONIC single can be heard on http://bit.ly/14yUc06
Described by LessThan3.com, one of the popular muc web sites, as "the future…combining baila sounds with elements of trap, big room, and bounce music," BAILATRONIC is something truly new and original. Recognized around the world as the pioneer of electronic music in Sri Lanka, Ranidu was the first ever Sri Lankan artiste to perform at Ultra Music Festival and Coachella.
He has released three platinum-selling albums and has performed in 15 countries, including a performance at the Sydney Opera House.
BAILATRONIC is currently being championed by DJ Nihal on BBC Radio1 and  BBC 1XTRA, and has also received support from DJ Yasser's Show on the BBC Asian Network. The BAILATRONIC remix of FEDDE LE GRAND's "Rockin N Rollin" has also received an overwhelming amount of support and can be streamed and downloaded.
The debut release on Indie-pop, label home to Carnage and others, has arrived. Dubbed Bailatronic, the three track EP is a unique fusion of the rhythms of the Baila music of Sri Lanka with modern day electronic elements.
According to Ranidu, it is incorporating the big room drops and thunderous percussion of today's mainstage EDM with the gripping rhythms of Baila, the Bailatronic EP is a refreshing take on the cultural sounds of Southern India and its neighbors. From the opening synth of 'Baila Bass' to 'Papare's' closing kick there is no shortage of crowd shaking energy. As appropriate as ever for Indie-pop, Bailatronic is festival music first and foremost complimented by an irresistible Baila flair.
Describing the 'bailatronic' genre as a 'mashup of old and new, east and west, baila and bass,' on 'Baila Bounce' Ranidu incorporates the Sri Lankan pop sound known as 'baila' with EDM production that would sound at home inside Pacha or the mainstage at Ultra.
'I am proud of my Sri Lankan heritage and I always wanted a global audience to experience our music and culture' said Ranidu.
'My goal was to create a new genre of [EDM] with a South Asian soul that has rhythms that have never been heard outside of Sri Lanka'
comments powered by

Disqus