Marrying technology and tradition
Combining the magic of receiving a greeting card with virtual media 'The Gizmo Greeting Card' is a new way to share sentiments with friends and loved ones
View(s):
Despite the advent of technology, there's still nothing that strikes a chord like a greeting card does. In a world where well-wishes can be sent in a few seconds and things that go pop are the order of the day, greeting cards are a dying trade. The trick is to recreate the magic of receiving a card with the interactive experience you have on virtual media, says Nafeesa Jafferjee who works with a dynamic team of people intent on doing just that. The Sri Lankan product marketing specialist is working with visual design company Artiphany to introduce the world's first 4D augmented reality greeting card-Gizmo.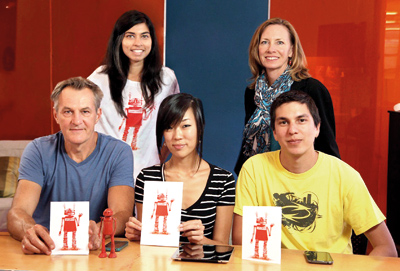 The Gizmo Greeting Card sounds like the perfect marriage between technology and traditional greeting cards. "We've been sending sentiments to friends, family and lovers since the dawn of time," says artist John Littleboy who invented the character Gizmo. "I'm always looking for ways to combine art with technology and find new ways of sharing sentiments."
While Gizmo is the protagonist of this card's story, the backbone is DAQRI, which provides the augmented reality software needed for the card to work. The card (which sounds a little complicated on paper) actually works very simply. The Gizmo card can be purchased on Kickstarter (www.kickstarter.com/projects/artiphany/gizmo-augmented-reality-greeting-cards) and it will be shipped directly to an address provided by you. Download the free DAQRI app on your smart device, launch the app and hold it over the greeting card. This will animate the card and Gizmo will literally jump off the page and into your world.
"Gizmo has been well received as a static greeting even before we animated him in 4D, so that also led to us using him as the mascot for our campaign," says Nafeesa who studied at Asian International School Colombo. She moved on to complete her marketing and communications degree at Duke University. Following graduation Nafeesa moved to Silicon Valley to work for a tech consultancy firm and now specialises in product marketing and user experience design for hardware/software products.
As the campaign manager for the launch of Gizmo, she was also involved in refining the augmented reality experience of the greeting card and says "it's great to see people excited about greeting cards again."
comments powered by

Disqus