To stay or go?
View(s):

My Dear Manmohan,

I know you would have received an official invitation from GL, our international postman whose job these days is to fly around the world delivering invitations for the Commonwealth summit, but I thought of writing to you too, to clarify a few issues.
Instead of accepting the invitation and thanking us for it, you had refused to tell our professorial postman whether you would attend the summit or not, and said you will "wait and see". Although our postman seemed to be bending over backwards to please you, I am not sure what the fuss is all about.
Now, Manmohan, if Shah Rukh Khan or Aishwarya Rai told us that they would not be visiting us, our masses would have heaved a deep sigh of despair. If M.S. Dhoni said he wouldn't be touring our country, we would be disappointed. But you not turning up? We are not missing much, are we?
In fact, we have had quite a few people visiting these days. We had that Jackson chap telling us what a lovely country we had and Thai and Japanese princesses at our doorstep, wanting to get a glimpse of what we had to offer, so it is not as if we are dying for every Patel, Singh and Chopra to visit us.
Why, even Navi Pillay, that lady who loves Sri Lanka as much as you do and appears to remember our country whenever she speaks, has finally decided to visit us. So it looks as if you would be the odd one out, Manmohan!
Then, from time to time we also hear some of your politicians demanding that Kachchativu, that little island in the north of our country, be returned to you after it was signed over to us nearly forty years ago. Next you might even say, 'If you return Kachchativu I will come for your summit'!
I also know that the reason for your reluctance is that you are annoyed with Mahinda maama because you want him to implement the Thirteenth Amendment and he is not doing that. Like you, instead of giving a definite answer, he is also saying he will 'wait and see'!
I was told that you are an Oxford-educated, intelligent man. Of course, as our professorial postman has shown us over the past few years, being Oxford educated doesn't guarantee that you are a clever politician, but we are hoping you would still understand our situation.
No one really wanted the Thirteenth Amendment and all those provincial councils that came with it. It was forced down the throat of our Old Fox who thought it would be a clever idea to get your troops to fight our war with the Tigers. Then we learnt that even the Tigers didn't want that amendment.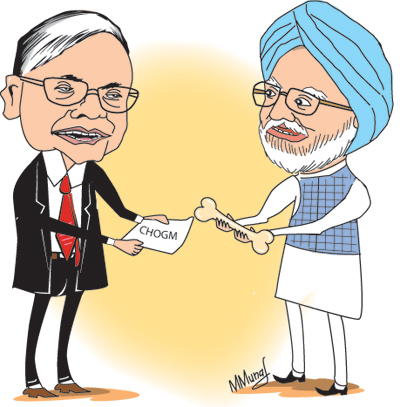 When your then-Prime Minister came to Colombo to sign that agreement, he was assaulted. That assailant failed in his mission, but the Tigers completed the task for him a few years later. That is how popular the Thirteenth Amendment was!
Even though everyone seems to be raving about the elections to be held in the North shortly, what we have seen in the rest of the country as a result of the provincial councils is that it has produced a steady stream of councilors who go on to develop criminal tendencies and fill up our jails!
And Manmohan, how would you like it if we advised you how to solve the Kashmir issue? And what would you do if we suggested to you that there should be provision for the states of Tamil Nadu and Kerala to merge? Will you take to such a suggestion kindly?
Of course we know that like every other politician you have to watch out for elections and that may be why you are doing what you are doing. With your government up for re-election next year, you don't really want to get in to the bad books of the politicians in Tamil Nadu, do you?
There is Chief Minister Jayalalithaa who would like the whole of Sri Lanka attached to Tamil Nadu, if she had had her way and then there is her rival Karunanidhi, who tries to outdo her, word for word, demand for demand. And surprise, surprise, they both don't want you visiting us for the summit!
You know, Manmohan, it would have been helpful if you just whispered in the professorial postman's ear that the real reason for not wanting to travel to Colombo was the fear of antagonising those in Tamil Nadu and nothing else. Then we would have understood and even excused you.
But of course, you can't really do that, can you? And I don't blame you for not trusting our professorial postman either for, as you must have learnt at Oxford, he has that 'lean and hungry look'. So, never mind, we will forgive you this time and save the red carpet for another day!
Yours truly,
Punchi Putha
PS-If you are really worried about your chances of re-election, Manmohan, we have our own experts who could help you with that. Then, you should try visiting us in the next few weeks, before the Commonwealth summit. If you can visit a place called Wayamba I can introduce you to two chaps, Johnny and Dayasiri, who will guarantee your re-election, even if you decide to cross-over to the BJP and contest as their candidate!
comments powered by

Disqus