President talks of ghost stories
View(s):

It is not only intra-party clashes and the campaigning for polls that President Mahinda Rajapaksa has to cope with.  The man known for his unparalleled enthusiasm for public relations seems to go with it.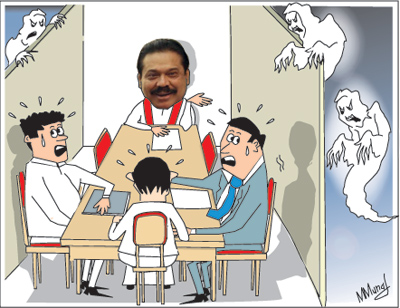 Last Sunday, he was at the President's Lodge in Nuwara Eliya. Summoned for a meeting were UPFA Nuwara Eliya District candidates for the Central Provincial Council elections. He dealt at length on the need for unity among them.
The meeting ended and the informal talk centred on matters related to paranormal activity. President Rajapaksa was to say that there was talk that the Lodge where he, like previous leaders stayed was haunted.
"They say there are Holman (Ghosts) and Boothayo (evil spirits). Some staffers say they hear a tap being opened and the water running. However, when checked there was nothing. There were others who say they hear knocks on the door. But the room where I stay, I have heard no such thing," he declared.
Too much tequila: Book gives dramatic details of Rajaratnam
Sri Lanka born Raj Rajaratnam, described as the billionaire founder of the Galleon Group hedge fund, and is currently serving a 11-year jail sentence for insider trading, is in the news once again.
A new book titled "The Billionaire's Apprentice" focuses on the rise of the South Asian elite in the United States. It recounts Rajaratnam's high flying lifestyle and the network of mostly Indians, described as tipsters and rogues, who helped him rise to the top.
The 493-page book, written by Anita Raghavan, a former staffer on The Wall Street Journal, also probes Rajaratnam's links to Rajat Gupta, who was also convicted for insider trading but is appealing his two-year sentence in a federal prison. Their deals were caught on phone conversations wiretapped by the Federal Bureau of Investigation (FBI). Gupta was vulnerable because he apparently used at least 13 different phones.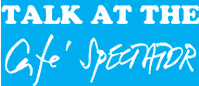 According to the book, which was reviewed in the New York Times recently, Rajaratnam offered thousands of dollars to anyone who could finish 10 tequila shots, a strong Mexican liquor, in a row or eat an entire loaf of bread without taking a drink of water. Perhaps he picked up the latter in a Sri Lanka police station of a bygone era, where withholding water after a hot spicy meal, was a form of police torture to extract confessions from crooks.
Top politico uses face as Perahera pass
Did a top UPFA politico from the south cause a security breach at last week's Esala Perahera in Kandy? The subject has become the talking point in Police circles. They say that he was responsible for an unprecedented act related to the Perahera — being driven in his luxury vehicle past security barriers to enter the road that was the route for the historic Perahera. The incident had occurred on Monday night.
Police sources say constables had tried to stop him saying that the road has been sealed off since it was the Perahera route. He had, however, admonished them by saying who he was.
After the vehicle entered the closed area, the politico alighted from his luxury vehicle and it was driven off by the chauffeur.
"They are using their faces as passes now to breach security," lamented a senior Police officer in the hills. He said his Department is helpless since "privileged people claim privileged status and raised privilege issues."
The Cabinet of Ministers were even discussing a Foundation in his name in the past weeks.
Polls meeting like reconciliation talks
As a witty Elections Department official remarked it seemed like talks on reconciliation though a UPFA representative was not among them.
The three main candidates for the Northern Provincial Council – S.V. Wigneswaran (TNA), K. Thavarasa (EPDP) and T. Thuwarakeshwaran (UNP) were involved in animated conversation. They even exchanged pleasantries.
The moment came after Elections Commissioner Mahinda Deshapriya held a meeting last Wednesday in Jaffna with political party representatives contesting the NPC polls.
Sihala Ravaya waylays President
The Presidential motorcade was headed to Colombo. This was after President Mahinda Rajapaksa had attended a ceremony in Mawanella.
Within minutes, it was brought to a halt by a group, who it later turned out were members of the Sihala Ravaya. They stay in wait to hand over a petition to the President and thought the best way would be to stop him.
In their petition, the Sihala Ravaya urged the President to take steps immediately to protect the sacred grounds of Derangala Buddha Pooja Bhoomi. They alleged that the area has been encroached upon.
He assured that he would order an inquiry into the matter and take appropriate action.
Army says no summons but only a request
The newly appointed Chief of Defence Staff, General Jagath Jayasuriya was at his first news conference since assuming office.
He was asked by one of the journalists why the media were summoned by the Army Court of Inquiry probing the shooting incident in Weliweriya.
Military spokesman Brigadier Ruwan Wanigasuriya volunteered to answer the question. He had his way.  He said the confusion was the result of the translation of the Sinhala text to English. The Army translator had used the Malalasekera Dictionary where the word in Sinhala was translated to mean "summons." In the strict sense of the word it was not summons and they were only calling the journalists to "extend their co-operation" for the inquiry, he said apologetically.
Thai princess in Sigiriya: Fortress blocks media
Little wonder that all arrangements for the foreign and local media coverage of the upcoming Commonwealth Heads of Government Meeting (CHOGM) have been outsourced. Local officials dealing with the media seem unable to cope with the visit of even one foreign dignitary.
Take for example the visit of Thailand's Princess Mahachakri Sirindhorn to Sri Lanka. She is the second daughter of the highly respected King Bhumibol Adulyadej. He is the world's longest-serving current head of state and the longest-reigning monarch in Thai history.
The Department of Information had invited both the print and the electronic media to cover Princess Sirindhorn's visit to Sigiriya. There is little doubt that Sri Lankans and those in Thailand, not to mention other countries, would have wanted to know what she had to say about one of Sri Lanka's world renowned historic sites. After all, it was President Mahinda Rajapaksa who extended an invitation to her.
However, both the Ministry of Tourism, which was responsible for this part of the visit and the Presidential Security Division (PSD), for reasons better known to them, had decided there should be no media presence. So the media groups that were on hand were told "sorry, no coverage is possible here."
They had no forewarning and had to return empty handed. One of them who were preparing to leave asked Pavithra Wanniarachchi, the Minister in Attendance for the visit, why this was done. "Apey ratey maadhya wala daanney ara sawuththu ewaney …. Oluwa kahana, Anum arina, Es piyawena ekak…. Ay nisaa wenn athi (In our country the media reports on those unwanted things …. People scratching their head, yawning or shutting their eyes. That may be the reason)," replied Ms. Wanniarachchi.
It was just weeks ago that a newspaper published a photograph of the Minister fast asleep at an award ceremony for troops. She was caught unawares.
JVPer kicks PA's chair
Former JVP Parliamentarian Samantha Vidyaratne had finished his speech at a rally for the party's candidates in Galagedera in the Kandy District. Just then, an irate supporter who was accommodated in the front of a row of seats for select visitors got up and kicked a chair. The plastic chair rose high before falling on the ground.
Organisers soon rounded up the man and asked him why he did that. Panting, in pain and angry, he said, "This chair was the symbol of the People's Alliance that came to power in 1994.This is the chair that brought all the problems." However, JVP support for the Alliance came only in 2004 when the symbol was changed from a chair to a betel leaf.
US companies overseas face probe on political recruitment
American companies, financial institutions and banks operating in Sri Lanka be forewarned: the U.S. Justice Department is cracking down on U.S companies overseas which are known to hire children and relatives of top politicos in an attempt to curry favour with the government in power. Last week a U.S. official was quoted as saying: "It's what your intent was, not if you were successful."
And the intent in such hiring practices is obviously an attempt so seek political influence amounting to bribery under the U.S. Foreign Corrupt Practices Act. Although the law has been on the statute books since 1977, the Justice Department is now trying to enforce it with a vengeance.
The current inquiries include whether JP Morgan Chase & Co hired the children of Chinese officials to win business. Former Egyptian President Hosni Mubarak's son Gamal Mubarak worked for a U.S. bank based in Egypt and NCR Corp hired the sister of an official at Oman's state-run telecommunications company around the time NCR's unit in Oman was awarded a $17 million contract, according to a report in The Wall Street Journal last week.
It will certainly be interesting to take stock of the hiring practices of U.S. companies in Sri Lanka, and more importantly, how many of them have hired the sons, daughters and relatives of politicos in power.
Foretaste of CHOGM extravaganza
Just two months ago, when External Affairs Minister G.L. Peiris was on one of his many overseas tours, it fell on his deputy Neomal Perera to keep ministers informed of preparations for the upcoming Commonwealth Heads of Government Meeting (CHOGM) in Colombo.
He said in a note to them that "….the host country Sri Lanka has to provide assistance on arrival and departure, accommodation, transportation, medical facilities, security and accreditation, meeting venues, hospitality, spouses' social programmes, media and publicity, 'online' presence in the World Wide Web together with logistical and administrative support which entails human and material resources."
The next paragraph in the note is indeed a revelation. This is what it says: "The CHOGM 2011 in Perth, Australia, cost the Australian Government approximately AU (Australian Dollars) 102 million (equivalent to approximately LKR (Lankan Rupees 13,365.7 million or 13.3 billion) to provide above mentioned logistical and administrative services."
The next pragraph said: "The breakdown of the estimated cost of the aforementioned logistics and administrative arrangements essential for hosting the CHOGM 2013 in Sri Lanka from 10th to 17th November 2013 will be approximately Lankan Rupees 1.930 billion."
How what was so expensive to Australia became so less costly to Sri Lanka is not explained. Deputy Minister Perera also believes that CHOGM will also see an increase in foreign investment in Sri Lanka. He points out that "the Commonwealth Business Forum is expected to harness new investments in Sri Lanka exceeding US$ 2 billion in 2013/2014; in comparison in 2009 in Trinidad and Tobago and in 2011 in Perth, the Business Forum harnessed investments exceeding US$ 5 billion and US $ 10 billion respectively."
An indication that the events related to the CHOGM would be an extravaganza come November emerged on Sunday. There was a wide array of dishes for officials from different countries and diplomats from the Commonwealth when they were entertained to a feast at a hotel outside Colombo.
There was also a privilege which most Sri Lankans could not afford during the Avurudhu in April every year. Kavun, kokis and other sweetmeats were fried and delivered on the spot.
comments powered by

Disqus