Govt. keeps blowing hot and cold on key issues
View(s):

Paradoxical enough, it was a chance foray last week for External Affairs Minister G.L. Peiris into the realm of Indo-Sri Lanka bilateral relations. Though within his purview, tagged "top priority" then, it was handled exclusively earlier by a troika — Minister Basil Rajapaksa, Presidential Secretary Lalith Weeratunga and Defence Secretary Gotabaya Rajapaksa. Strained relations between Colombo and New Delhi have downgraded the status.

The opportunity for Peiris came when he personally carried the invitation for Indian Prime Minister Manmohan Singh to attend the Commonwealth Heads of Government Meeting (CHOGM) in Colombo in November. He then went to Pakistan to invite Prime Minister Nawaz Shariff. Even before his departure from Colombo, Shariff had confirmed his participation. Upon return, Peiris will fly to the Maldives to invite President Mohamed Waheed. The archipelago is holding its Majlis or parliamentary elections on September 7. Whether Waheed or his arch-rival Mohamed Nasheed will attend depends on the outcome. It's a similar story with Australia. The last venue of CHOGM in 2011, federal elections are taking place there also on September 7. It remains to be seen whether it would be Prime Minister Kevin Rudd or his rival Tony Abbot who will be in Colombo for CHOGM.

At least for Sri Lanka's immediate neighbours who are members of the Commonwealth, Peiris is playing the role of a postman. Other invitations are being delivered through diplomatic channels. Playing an equally important role if not more, almost akin to one of a Cabinet Minister is the monitoring MP for the External Affairs Ministry, Sajin de Vass Gunawardena. Considered a close confidant of President Mahinda Rajapaksa, de Vass Gunawardena chaired a news conference together with EAM officials this week to spell out arrangements. He said normal life in the city of Colombo would not be disrupted by the summit. However, plans now being formulated by the Traffic Police together with the Task Force handling the matter do include periodic traffic interruptions.

Something quite new 

In his role as Sri Lanka's External Affairs Minister, Peiris is known for the varying official positions he has taken in the conduct of the country's foreign policy since 2010. This is at a time when his Ministry plays the least role in that exercise. Some have remained arguably illogical or buried in rhetoric. Like for instance, the first US-backed resolution on Sri Lanka was adopted at the UN Human Rights Council (UNHRC) in Geneva in March 2011.

Of the 47 members of the Council, 23 countries voted in favour of the resolution, 15 against it (supporting Sri Lanka) and eight countries abstained. He said in an official statement that "with 15 countries voting with Sri Lanka, and eight countries abstaining, the final result was that 23 countries, out of a total of 47 members of the Human Rights Council, did not support the resolution while 24 supported it. The margin was as narrow as this." Those abstentions were also counted as support for Sri Lanka though it clearly meant the eight countries in question were not backing any side. That was something quite new on the foreign policy front since independence in 1948.

However, this week Peiris faithfully stuck to the official brief on a continuing major issue between Colombo and New Delhi — poaching by Tamil Nadu fishermen in Sri Lanka's waters. That is whilst in Colombo and thereafter on his visit to New Delhi. Ahead of the trip, Peiris was engaged in a round of meetings with India's High Commissioner Y. Kumar Sinha on his engagements. The envoy had suggested that the Government of Sri Lanka, as a gesture of goodwill, release the 114 Tamil Nadu fishermen, arrested for allegedly poaching in Sri Lankan waters at different times. That was to set the ground for what was then his impending meetings with Prime Minister Manmohan Singh and later with External Affairs Minister Salman Khurshid. It was felt that relations could thaw. However, Sri Lanka did not bite, and the Indian suggestion did not materialise.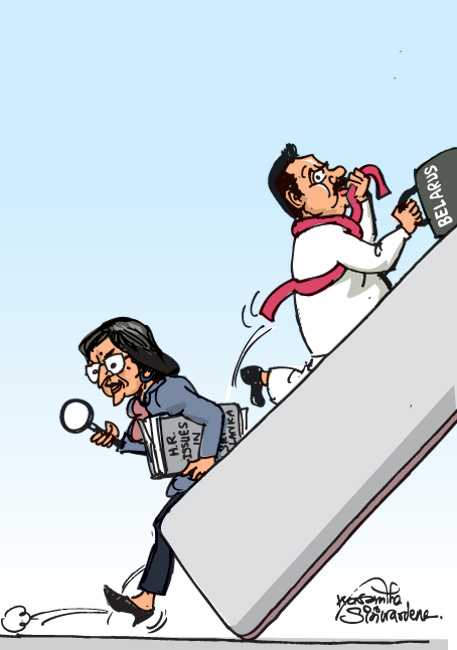 During talks with his counterpart Khurshid, who was accompanied by senior Indian External Affairs Ministry officials, Peiris insisted that those in custody should go through the legal process. That New Delhi was very serious on the issue came when Premier Singh too raised issue with Peiris when he met him earlier. Most of those arrested, the Sri Lanka Government's says, were within Sri Lanka's side of the International Maritime Boundary (IMBL). Government officials say of the 114, eight have already been released bringing the number remaining in Sri Lankan custody to 106. The others were arrested in the waters off Jaffna (34), Talaimannar (41) and Trincomalee (31).
Need to find a practical solution 
What has now raised concerns for New Delhi is Peiris' choice of words to the Indian media at an event that was the first on his itinerary. Indian officials say that it was a news conference last Sunday, shortly after his arrival. Sri Lanka's High Commissioner Prasad Kariyawasam countered by saying the event held at his residence was not a news conference, but an "interaction with the Indian media." This was ahead of the two meetings Peiris held with Premier Singh (last Monday morning) and Indian EAM Khurshid together with his senior officials (on Monday afternoon). That Sri Lanka's official position was spelt out to the media even before the meetings took place irked officials at the Indian EAM in New Delhi's South Block. Whilst arguing that there was a need to find a practical solution to the issue, Peiris told the Indian media that the Government has adopted a "deterrent mechanism" to apprehend fishermen poaching in Sri Lankan waters. It was not the Government's intention to harass the fishermen. It only involved apprehending them, producing them in Court and, if found guilty, a fine being imposed, he said.
A source in New Delhi said yesterday that New Delhi views the use of the word "deterrent mechanism, pronounced on Indian soil," as a "diplomatic way of saying Sri Lanka will continue to arrest Tamil Nadu fisherman if they crossed the IMBL." Coming as it does after India issued a demarche for the release of all fishermen in custody, and the Sri Lankan Government rejecting it, is all the more significant. A demarche "is a formal diplomatic representation which one country makes to another. In this representation, a country states its official position on a particular subject."
The Indian Government, the source said, holds the view that the remarks go against the "letter and spirit" of a joint statement issued in 2008 after Economic Development Minister Basil Rajapaksa held talks with officials in New Delhi. That statement in October 2008 said, "Keeping in mind the humanitarian and livelihood dimensions of the fishermen issue, India and Sri Lanka have agreed to put in place practical arrangements to deal with bona fide Indian and Sri Lankan fisherman crossing the International Maritime Boundary Line (IMBL). This was agreed to during the visit to New Delhi on 26th October 2008 of Honourable Basil Rajapaksa, Member of Parliament and Senior Advisor to the President.
"As part of these practical arrangements, following the designation by the Government of Sri Lanka of sensitive areas along the Sri Lankan coastline and their intimation to the Government of India, Indian fishing vessels will not venture into these identified sensitive areas. Further there will be no firing on Indian fishing vessels……"
A Defence and Urban Development Ministry official, who did not wish to be identified, said that the joint statement came in the backdrop of "a separatist war the security forces were fighting." During that period, Sri Lankan fishermen were forbidden from setting out to sea. The official added; "Then fishermen from Tamil Nadu had a free run. They came even closer to Sri Lankan shores to harvest the prawn rich areas and conduct fishing. Now, with the military defeat of the Tigers, the fishermen in Sri Lanka's north have returned to their livelihood. Every day there are hundreds of Tamil Nadu fishing boats poaching in Sri Lankan waters denying to fishermen in the north and the east their catch and thus their means to live." This is why, the official said, naval patrols have been ordered to arrest poachers and hand them over to the nearest police station for legal action. "There will be no change in this course of action," he added.
Visit by a delegation
Economic Development Minister Basil Rajapaksa told the Sunday Times that during a private visit to India weeks earlier, he had informally spoken to officials. "In fact I arranged for a visit by a delegation from fishermen's organisations in Tamil Nadu to \ Sri Lanka on August 6, 7 and 8 so they may hold talks and resolve issues. However, this did not materialise. It is likely that political pressure was brought on them by forces in Tamil Nadu", he opined.
"It is ironic that the Tamil National Alliance (TNA), which is contesting the NPC poll, does not speak a word about their fishermen," he lamented.
Indian High Commission spokesperson Birendar Singh Yadav told the Sunday Times, "We hope that the fishermen who are detained will be released soon. We hope that the Government will stick to previous agreements on this matter and release them soon. Our consulate office in Jaffna is looking after the interest of the detained Indian fishermen and is also closely monitoring the developments."
Respect the International Maritime Boundary Line 
Soon after his talks with Peiris, Khurshid spoke in the Indian Upper House of Parliament (Rajya Sabha) of "the need for creating greater awareness among our fishermen to avoid crossing over into Sri Lankan waters for their own safety and security. In this context, the government is working with the appropriate State governments on the need to sensitise Indian fishermen to respect the International Maritime Boundary Line".
Khurshid also made an interesting point. He said that under the Indo-Lanka agreement (2008) fishermen who have been arrested would be released once they admitted guilt of crossing the IMBL, but that "if fishermen accepted guilt, it would have grave international legal obligations for India".
The Sri Lankan Government would have to be consistent in its tough approach if it is to continue to apprehend Tamil Nadu fishermen, detain and charge them in courts. This is more so in the light of the issue becoming a major irritant in Colombo-New Delhi relations. Another similar approach ended in a whimper. That is the hurried move to effect changes to the 13th Amendment to the Constitution. At first, the Government decided to introduce an 'Urgent Bill' to delete provisions related to police powers. However, in the light of strong pressure from New Delhi, the idea to rush through constitutional changes was immediately dropped. Thereafter, a Parliamentary Select Committee (PSC) was appointed to go into all aspects related to reconciliation. Reporting on proceedings of the PSC is prohibited by parliamentary privileges.
A member of the Committee told a parliamentary colleague it was highly unlikely any legislation arising from the PSC findings would be placed in Parliament by April next year. This is the time set for parliamentary elections in India. Hence, it denies an opportunity for political parties in Tamil Nadu to raise issues related to the 13th Amendment. Now, the Indian perception of a "threat of arrest" of the Tamil Nadu fishermen does place Congress Party Government leaders in New Delhi in a quandary. Taking part in the Sri Lankan hosted CHOGM would thus be at the risk of a threat hanging over their heads. For both the Congress Party and its arch-rival Bharatiya Janatha Party (BJP) the support of political parties in Tamil Nadu is required for government formation after the polls as neither party is expected to win outright.
India's participation at the highest levels 
It is in this backdrop that Indian Premier Manmohan Singh remained non-committal when Peiris extended the invitation for CHOGM. Hence, Peiris' brief to explore possibilities of a Rajapaksa visit to New Delhi for a meeting with Premier Singh was not raised. Such a possibility was revealed in these columns last week. The fact that India, the largest country in Asia and the key player in the Commonwealth and once a close ally of Sri Lanka, is not yet decided on the level of attendance does not bode well for Sri Lanka. "Nothing is going to change the dynamics now with the summit due in less than three months. When the Indian Premier's envoy came to Sri Lanka, he did not even meet our External Affairs Minister for a separate meeting," a Government politician once involved in foreign policy matters said yesterday.
He said, "the Indian participation is usually a foregone thing. The indecision is a worst embarrassment." He forecast that some leading members of the Commonwealth may make a joint appeal for India's participation at the highest levels on the "basis of its commitment to the grouping." However, seasoned officials at the virtually ineffective EAM were sceptical. They pointed out that 10 MPs from the state of Andhra Pradesh were holding up the work of the Indian Parliament over the bifurcation of that state with a new state called Telengana. "Can you imagine what 40 MPs from Tamil Nadu can do to disrupt their Parliament if Premier Manmohan Singh decides to come to Sri Lanka", they point out. Even Canada, one of the largest contributors of funds to the Commonwealth, has publicly declared that its Premier, Stephen Harper will not attend the summit.
These developments have raised another question — whether one time Inida's Home Minister and now Finance Minister, Palani Chidambaram will visit Sri Lanka next week. Chidambaram, who once carried pro-'Eelam' placards in Chennai when he first entered politics, played a role in peace building when the late J.R. Jayewardene was President. Later, as Home Minister, he was maintaining close touch with developments in Sri Lanka. He is slotted to attend the SAARC Finance Ministers meeting that begins on Thursday in Colombo. On his visit to Pakistan, Peiris met on Friday with Ishaq Dar, a Chartered Accountant who is now the Finance Minister of Pakistan. He has close links to Prime Minister, Nawaz Sharif. Dar's daughter is married to Sharif's son. Peiris also met President Asif Ali Zardari, Premier Sharif and Sartaj Aziz, special advisor on foreign affairs and defence on Friday. The latter serves as the de facto Foreign Minister. A statement from the Pakistan Embassy on Friday noted, "The Prime Minister said that Pakistan has always supported Sri Lanka in its endeavour to defeat terrorism and expressed Pakistan's commitment to continue extending support to Sri Lanka at the UN Human Rights Council and UN Security Council….". That message to Colombo must surely have bounced off New Delhi.
A near week-long distraction
There will be a near week-long distraction for the Government from focusing on CHOGM and other issues. The diversion is in view of today's visit to Colombo by Navanethem Pillay, United Nations High Commissioner for Human Rights, and a team of high ranking officials. For one week, she will make a close study of the UPFA Government's human rights record. In terms of the second US-backed resolution adopted in March, Pillay is required to "present an oral update to the Human Rights Council at its twenty-fourth session, and a comprehensive report followed by a discussion on the implementation of the present resolution at its twenty-fifth session." Pillay is a South African citizen of Indian Tamil origin.
Some of the areas for study for Pillay as listed in the US resolution are whether the Government has "credibly investigated" allegations of extrajudicial killings and enforced disappearances, demilitarisation of the north, impartial land dispute resolution mechanisms, re-evaluate detention policies, strengthen independent civil institutions and "a political settlement on the devolution of power to the provinces, promote and protect the right of freedom of expression for all and enact rule of law reforms. She will also look into Sri Lanka's "public commitments, including the devolution of political authority.
Ahead of her visit to Colombo, Pillay has been receiving a series of briefings to familiarise herself with the major issues that will receive her attention while in Sri Lanka. Among those who briefed her was the three-member panel appointed by UN Secretary General Ban Ki-moon to probe alleged war crimes by security forces and Tiger guerrillas during the final phase of the separatist war in May 2009. The members were Marzuki Darusman (Indonesia), Chair; Yasmin Sooka (South Africa); and Steven Ratner (United States). Pillay, it is learnt, has also sought meetings with those directly affected by the Army shooting incident in Weliweriya and the reported attack on a mosque in Grandpass.
In an e-mail interview with Thomson Reuters Foundation this week, Pillay was quoted as saying, "I want to see for myself the reconstruction and rehabilitation effort, but also what progress is being made towards accountability and reconciliation." She has said: "I am not pre-judging anything. There are clearly plenty of issues to discuss, including some worrying ones."
Pillay said she wanted to find out more about the Lessons Learnt and Reconciliation Commission and discuss what was being done about the alleged massacre of 17 aid workers from the charity Action Contre La Faim (ACF) seven years ago. She added: "I will be interested to learn more about the plans for this commission, as well as long overdue investigations into the killings of the ACF staff and of the five students on the beach in Trincomalee which also took place in 2006. I would like to see similar investigations into other grave violations of human rights that remain unresolved in Sri Lanka."
Proclamation creating a new Ministry 
On August 16, just eight days before Pillay's scheduled arrival in Colombo, President Mahinda Rajapaksa issued a proclamation creating a new Ministry of Law and Order. He will hold the new portfolio. This is in addition to a number of other portfolios he now holds including Minister of Finance and Planning, Minister of Defence and Urban Development and Minister of Ports and Highways. A retired Major General, Nanda Mallawarachchi has been named Secretary to this new Ministry. Until weeks ago, he was Sri Lanka's ambassador to Indonesia. His new appointment drew flak from the main opposition United National Party (UNP).
The UNP's Communications Director Mangala Samaraweera told the Sunday Times, "this is part of the Government's militarisation programme. If they were serious, they should have appointed a civilian official to this position."
He said the creation of a new ministry "alone is not enough" and the Government should restore the 17th Amendment to the Constitution. Samaraweera added that a party delegation led by Opposition Leader Ranil Wickremesinghe would raise the matter with Pillay when they meet her on August 30. A three-member Committee appointed by Wickremesinghe was formulating a report to be handed over to Pillay. It comprised Mangala Samaraweera, Karu Jayasuriya and Srinath Perera PC.
The creation of the new Law and Order Ministry is to show the UNHRC chief that the Government has complied with another important recommendation of the LLRC. It said in its report: "The Police Department is a civilian institution which is entrusted with the maintenance of law and order. Therefore, it is desirable that the Police Department be de-linked from the institutions dealing with armed forces which are responsible for the security of the State." In this regard, it is also relevant to note a related recommendation of the LLRC. It said "The Commission is of the view that an independent permanent Police Commission is a pre-requisite to guarantee the effective functioning of the Police and to generate public confidence. Such a Commission should be empowered to monitor the performance of the Police Service and ensure that all police officers act independently and maintain a high degree of professional conduct."
However, the Sri Lanka Army was opposed to the move of removing the Police Department from the Ministry of Defence. A Committee of senior officers was set up to study the LLRC recommendation. Thereafter, then Army Commander Lt. Gen. Jagath Jayasuriya (now a General) handed over a report to Defence Secretary Gotabaya Rajapaksa in January this year. The Army Committee said, "The committee agrees that in many countries the Police do come under the Home Ministry or Provincial Administration. However, these countries do not face widespread internal disorders. Police in countries that face such threats (example India during the Mumbai attack) have proved to be total failures (sic). Therefore, the committee recommends that the Police in Sri Lanka should be placed under the Ministry of Defence at all times. It is proposed that a Ministry of Defence Board should study and make recommendations with regard to the Role of Police as a Counter-terrorism agency."
The two-page Gazette notification creating the new Ministry of Law and Order has divested all functions of the Police Department from the Ministry of Defence. Whilst the Police Department has been listed as the only organisation under the Ministry, the laws it is required to implement are (a) the Police Ordinance (b) All other legislation specified under this Department and "not specifically brought under the purview of any other Ministry and remaining currently in force." The functions listed for the new Ministry are:
= Formulation of policies, programmes and projects in relation to the subjects of Public Security and Law and Order and subjects that come under the purview of Department and Institutions, with a view to building a disciplined country and a state imbued with values based on Mahinda Chinthana-Vision for the Future- and such other National Policies that may be adopted by the Government.
= Direction of the implementation of such policies, programmes and projects within timelines agreed with the national planning authorities and within budget resources, with a view to achieving relevant objectives.
= Provision of all Public Services that come under the purview of the Ministry in an efficient and people friendly manner.
= Reforming of all systems and procedures to ensure the conduct of business in an efficient manner, deploying modern management techniques and technology where applicable while eliminating corruption and waste.
= Maintenance of Law and Order.
= Traffic Control.
= All other subjects that come under the purview of the Police Department.
Most ministers were unaware of the creation of the new Ministry of Law and Order. There is no compulsion that they are informed and President Rajapaksa made no reference when he chaired the weekly meeting of Cabinet ministers on Thursday. Instead of the usual morning meeting, this week's session was held in the night and saw a heated exchange of words between two ministers. Fisheries Minister Rajitha Senaratne and Social Services Minister Felix Perera were locked in heated exchanges hurling strong accusations at each other. It came when Perera, a former Minister of Fisheries, objected to a proposal by Senaratne to purchase two fishing trawlers from an overseas supplier. The deal is said to involve a million US dollars or (more than Rs 1.6 billion). President Rajapaksa intervened to settle the quarrel and declared that the matter should be examined by a Cabinet Sub Committee. Other than pointing out deficiencies, it is not customary for ministers to quarrel over a proposal made by a colleague on grounds of alleged impropriety or related issues.
Rajapaksa also intervened over a proposal by Investment Promotion Minister Lakshman Yapa Abeywardena on the setting up of a sugar refining factory in Hambantota. This is by importing raw sugar and refining it in Hambantota for export and the domestic market. The company involved is being given 'duty free' status. President Rajapaksa said it could not enjoy that status if it was to sell sugar in the local market and would have to pay the existing levies and duties. This came after Productivity Promotion Minister Lakshman Seneviratne raised objections. His Ministry has come up with proposals earlier to set up sugar plantations in different areas. Ministers also gave approval to REDECO (Land Development and Reclamation Company Limited) to award contracts to bidders outside the tender procedure. The organisation functions under the Ministry of Defence and Urban Development.
This week's developments in Sri Lanka would be most critical for the UPFA Government. Since shifting its strategy of embarking on an offensive course against Pillay and the UNHRC, it has now buckled down in what has come to be a well-known characteristic. That is blowing hot and cold. An all-out effort will be made not only to please Pillay but also to convince her that the Government has been, and is paying heed to the contents of the US resolution adopted in March this year. Whether this will convince her and the UNHRC or whether she will regard some of them as "just cosmetic" remains to be seen. It won't be long when the answers unfold. The UNHRC meeting in Geneva begins on September 27. What transpires there will naturally have a bearing on CHOGM, at least with member countries of the West, who are girding up themselves to be in Colombo to pose tough questions to the UPFA Government.
By hindsight, one lesson has become clearer. That is the fact that media release diplomacy has failed. Though late, a shift in stance to become proactive has placed the Government in high gear. The coming week will begin to show results, whether it is good or bad news.
comments powered by

Disqus