People obeyed him through fear and blackmail
With the Sunday Times story on Chandran Rutnam's upcoming film, 'According to Mathew' drawing a lot of public interest, well-known hotelier Chandra Mohotti who as a youth had assisted the priest in 'Novenas' which turned out to be exorcism services speaks to Kumudini Hettiarachchi
View(s):
He knew him quite well and even assisted in the services which would later gain a name as exorcism events and lure troubled men and women, easy prey for the machinations of a "wolf in sheep's clothing". Their paths had crossed earlier, when Chandra Mohotti (now Senior Vice President of Galle Face Hotels) was still a fresh-faced student at S. Thomas's College, Mount Lavinia, where too was Munilal, the son of Rev. Fr. Mathew Pieris, the Vicar of St. Paul's Church, coming within the fold of the Anglican Church.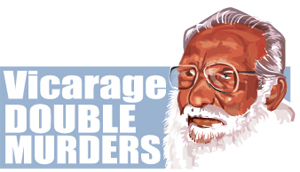 It was over a transport issue that Fr. Mathew approached Mohotti's driver and suggested that he and the driver should take turns in taking the two boys, Chandra and Munilal home each day from school. Munilal was at the Vicarage down Kynsey Road and Chandra's home was at Kotikawatte then and his car would pass-by the Vicarage every school day.
Fr. Mathew's influence over Chandra the lad, began then and continued from his teens into his early twenties, until he got thinking that "something looked wrong" in the activities of this supposed Man of God.  "I began assisting at the 'Novenas', as called by Fr. Mathew," says Mr. Mohotti, which in fact turned out to be exorcism services or the practice of casting out demons.
At an impressionable age, Mr. Mohotti was taken in by the confidence exuded by Fr. Mathew who made everyone believe that he had high qualifications in psychology.  "But, of course, all this was used for an evil purpose," says Mr. Mohotti, looking back at those years when he was "heavily impressed" initially at the successful and crowded novenas conducted by Fr. Mathew.
Mr. Mohotti and several other youngsters would assist Fr. Mathew at these services and look on in wonderment as people would just fall during these services. Now looking back he believes there was "constant suggestion" in the demeanour of this priest-hypnotist-psychologist that this would be their fate.
Although it was a long time ago, he recalls how Fr. Mathew would hold the cross to the forehead and pray. Those who sought succour from Fr. Mathew were not only people who were ill but also men and women who had family problems, violence at home and even those embroiled in land disputes.
Whenever, redress was not forthcoming after such services, Fr. Mathew would gently tell each of them to write their history and their past as far back as they could remember. Fr. Mathew suggested this as a means of helping them, assuring them fervently that no one would get to know and their most intimate secrets would die with him.
Not only these people but also Mr. Mohotti deified Fr. Mathew, he concedes, adding that earlier he had an open mind but later intangibles began to strike him.  Little things bothered Mr. Mohotti and suspicions that Fr. Mathew was misleading people became stronger and stronger. He felt that insidiously Fr. Mathew was instilling fear in his innocent followers, by implying that they would fall victim to serious illnesses such as cancer.
Mixed with fear there were tinges of blackmail, feels Mr. Mohotti, stressing that it seemed a very passive type of blackmail, almost as if the victims gave themselves almost voluntarily.  Mr. Mohotti is of the strong belief, although he has no concrete only circumstantial evidence, that Fr. Mathew was using the life stories of the people given in absolute confidence against them, to get his own way.
If the life stories included powerful or influential people such as police officers, he would leave the person alone, but would target only the meek and the humble, says Mr. Mohotti. And it was not only sexual favours, he believes but also involved finance, not big sums though.
Citing the example of someone who would get better through the natural course of things, Mr. Mohotti is of the view that Fr. Mathew would drive home the message of miraculous healing and get them to help the church. The other oddities that Mr. Mohotti noticed were Fr. Mathew's requests to some to meet him alone and at strange times not in the church or the vestry but in a wooden shed at the back which the priest had christened the 'Good Samaritan's Inn'.
He believes that Fr. Mathew's family may have had an inkling of what was going on even then, though Russel Ingram (who would become a victim later) and his wife Delrene (who would become Fr. Mathew's lover) were not in the picture at that time.
Mr. Mohotti had also noticed not gratitude in the people who had supposedly been helped by Fr. Mathew but fear written across their faces.
Gradually, Mr. Mohotti, engulfed by a feeling of being cheated by this Man of Religion, broke away from his influence, but believes that Fr. Mathew may have realised that. Later, when he was working at the Intercontinental Hotel, he used to visit him but he cold-shouldered him, as he feared what he would do to him, says Mr. Mohotti.
"I have met many confidence-tricksters in my life but never one like Mathew Peiris," says Mr. Mohotti, adding, he was an ultra confidence-trickster.
I don't want people to be misled in the name of religion
As film-maker Chandran Rutnam readies to get on with the last lap of the making of 'According to Mathew' (about the Vicarage double murders) to be released early next year, Mr. Mohotti is quite categorical why he wants to give his views.
"I want to warn innocent people against being misled in the name of religion," stresses Mr. Mohotti, adding that after seeing a lot of misery and evil linked to the Mathew Peiris saga, his greatest consolation is that all the victims ran back to Jesus Christ and didn't sacrifice their faith due to this Black Sheep.
Follow @timesonlinelk
comments powered by

Disqus