Opting for holistic healing
Back in Sri Lanka to practise as a chiropractor after graduating in New Zealand Dr. Gina Variath Perera tells Smriti Daniel why she veered away from traditional medicine
View(s):
Sri Lanka's first and possibly only chiropractor became one quite by chance. Dr Gina Variath Perera realised that she wanted to be a chiropractor when she went to one who treated her recurring spine problem very effectively. Convinced by the holistic approach, she turned her back on a career of traditional medicine and instead chose to take the alternative route. It's been three years since she graduated from the New Zealand College of Chiropractic with a doctorate in her chosen subject. Subsequently bestowed with a Chiropractic Board Annual Practising Certificate, Dr. Variath has begun to divide her time between Sri Lanka and New Zealand.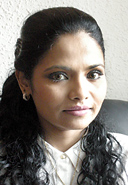 Having migrated as a young girl with her family, Dr.Variath says she was in the process of acquiring a basic degree in medicine when she realised, that despite coming from a family of doctors, this wasn't her calling. She still had the urge to heal though, and with some encouragement from her husband, she settled on Chiropractic as the medium by which she would do so. Explaining her process, she says she usually spends up to an hour with each patient.
Each session begins with a careful medical history followed by a thorough physical examination. She sees the extended conversation as essential to the healing process – many patients have told her they feel listened to for the first time. Once she's heard their history, Dr. Variath says she begins the actual examination which involves looking for any oddities – swelling or redness in the skin for instance – that will hint at the underlying problem.
The foundation of Chiropractic is an understanding of how the central nervous system and the spine work, says Dr. Variath, explaining that misalignment in the spine for instance can become a catalyst for many other problems in the body. It can also cause chronic pain and result in an impaired immune function, hormonal imbalance, and reduced brain function.
The spectrum of patients she treats is quite wide – from people suffering with sciatica and arthritis to victims of migraines, immune disorders and hormonal imbalances. Thrown in among there are some cases you wouldn't expect – such as ear infections and people complaining about ambiguous symptoms like lethargy. Chiropractic is particularly popular among sportspeople who often seek advice on lower back ailments and Dr. Variath has her fair share of such patients.
Some of the claims made by Chiropractors have been greeted by scepticism in the scientific community and little research exists to back many of them. For her part, Dr. Variath says she decides on a case by case basis, but that patients who require drug therapy or surgical intervention for instance are encouraged to stay in allopathic care and treat their chiropractic sessions as a form of complementary medicine. Having studied radiology and the interpretation of X-Rays and MRIs, Dr. Variath appears to be confident that she can make the right call.
Dr. Variath, who does a lot of work with children, says her treatments are as much about treating the mind as they are about healing the body – it's about helping the body heal from the inside out, she says. It's why they're so time consuming and results aren't always immediate. It can take a while to restore balance and harmony to the body's systems, she says, adding that it is all about optimal function. It is never just the disease in focus but the larger picture of the patient's health and wellbeing. She pairs her sessions with advice on nutrition and exercise. She emphasises the importance of seeking care early. The longer a patient postpones dealing with their ailment, the longer it takes to heal.
Dr. Variath's return to practice in the country of her birth is fuelled by a desire to give back to the local community. As lifestyles change and become more stressful, she feels there is a real place for a chiropractor such as herself. Her patients seem to agree.
Find Dr.Variath on https://www.facebook.com/pages/Spyne-Doctors-Chiropractic/548115958532504
Follow @timesonlinelk
comments powered by

Disqus