She had food on her mind from an early age
By Smriti Daniel
Nilomi Kurukulasooriya's fledgling home catering business, Foodie Colombo has something for everyone
View(s):
Nilomi Kurukulasooriya's interest in good food runs in her blood. Her mother is an accomplished baker of elaborate decorative cakes and her father's breakfasts are legendary within the family, his scrambled eggs having been adjudged incomparable when pitted against the competition. Her mother remembers that while other children were out playing games, Nilomi and her brother's idea of fun was to sneak into the kitchen and cook. She's still grateful that her children never suffered for it (despite attempting to split coconuts with knives and handle the stove unsupervised). Today, one thing hasn't changed – Nilomi still loves to cook.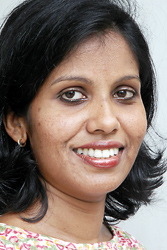 Nilomi got it right when she named her fledgling home catering and baking business 'Foodie Colombo'. Her menu embraces the values of foodies everywhere – delicious food made well and an adventurous selection with new and interesting dishes being added to the menu ever so often. She has a particular love for continental food and does a range of pastas, pies, salads, crepes and bakes. Her finger food menu, which ranges from chicken meatball on a stick (Rs.25) to a garlic sausage hot dog (Rs.100) is in demand at parties. She even makes the drinks to accompany them – serving up fresh homemade ginger beer (Rs.150), her apple blitz drink (Rs. 260) and even mock champagne made of fruit juice and ginger ale (Rs. 360).
Nilomi might just be one of those cooks who manages to get along on pure instinct alone. She describes her method as "trial and error" and says that she'll sometimes ask customers if they're willing to be guinea pigs for a new recipe. Right now, she's all about gelatos (we sample one laced with Kahlua and crushed macaroons that's lovely and creamy if somewhat quick to melt) and says she's still figuring out how to transport them. On her husband's advice, she also ensures everything on the menu is customisable and will tweak dishes on request. They also manage deliveries, working with Hot Wheels for customers in Colombo.
In response to her customers' demands for spicy, rice based dishes, she's chosen to incorporate other Asian cuisines such as Thai and Japanese into her menu, some of which you can buy as an individual lunch or dinner pack. Her Eastern set includes egg fried rice, sweet chillie prawn stir fry and a creamy veg. mix for Rs. 440 or you could sample the prawn Spanish rice, Spanish seafood and jewel salad with vegetables and fruit for Rs. 510. Every month brings a new meal deal. If you have the time and inclination though, it's likely to well worth it to step off the beaten path and go a la carte. This week, she's experimenting with a Japanese shoyu chicken in a dark, gleaming sauce of soya and white wine, the meat absolutely tender. It's so new, it's not on the menu yet.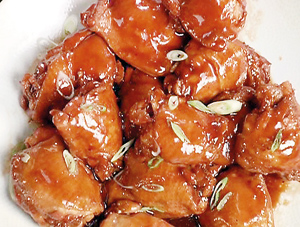 However, despite her own preference for savoury food, what Nilomi really produces most in her kitchen are desserts. While she confesses she'd need a few classes before she could attempt decorative cakes like her mother, she is still a dab hand at sweets.
She veers sharply toward the decadent. Her menu features 12 different kinds of brownies from the dark chocolate brownies topped with cream cheese and strawberries (Rs. 1,100 for a tray) to the rich Nutella brownie covered with a Nutella topping (Rs. 960 per tray). Her range of cakes is impressive to say the least and includes the likes of a sugar free chocolate strawberry and curd cream Victoria sponge (Rs. 2,140) as well as a dozen different varieties of cupcakes.
Our interview with Nilomi is in the middle of the day – her son had just been accepted in S. Thomas' and the sound of him being taught a school song by his uncle filters down in to the living room where we sit. Her younger child, a girl, is only two years old. Nilomi's new career is, in a sense, dictated by her children. After having resigned her job as a brand manager for Nestle so she could be a hands-on mother, she took to cooking because it was something she could do from home and on her own hours. Now she says she would like to wait for the children to be older and more independent before she considers any of the offers coming her way – perhaps to become a supplier for a café or two, begin catering on a larger scale or perhaps even launch a restaurant with a friend. In the meantime, 'Foodie Colombo' is keeping her well occupied.
You can find Nilomi online at https://www.facebook.com/FoodieColombo
Follow @timesonlinelk
comments powered by

Disqus