Furbtastic covers
View(s):

Fuurbies are making a comeback and they are doing it in style thanks to a talented young Swedish artist. The furry robotic toy a must have back in 1998, with its characteristic features and large eyes have once again found their way into popular culture.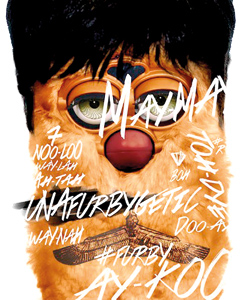 For 20-year old William Källback Winter (WKW) what started out as something playful to do has now grown into a unique pop art form which thrives through his blog 'Furby Living'. His ingenuitive recreation of popular album covers combines his love of Furbies and music. In an email interview with the Mirror Magazine, William lets us in on the thought process behind his 'furburised'
collection of stunning and amusing album covers.
On the beginnings of Furby Living
WKW : Furby Living honestly just started as a joke, something creative and funny for me to do. It was all just for fun and I hadn't really planned anything with it but I had a blast making the covers so I just continued with it!
Has the Furby obsession been a recent development for you and do you have a favourite Furby character ?
WKW : I actually only just got into Furbies late last year. I was incredibly obsessed for a while but luckily the obsession calmed down a bit after a while, I still love them to death though! My favourite would have to be the original 1998 Furby, I just love the look on their faces.
Which cover was your first ?
WKW : I first made /\/\ /\ Y /\ by M.I.A., basically just because it's one of my favorite albums and it was very easy to do. The first 'real', slightly more complex cover I made was MDNA by Madonna as I really liked the aesthetics of it.
What is the procedure in crafting a cover and how long does it take ?
WKW :I basically just take the photos I need of the Furby and sometimes its ears or feet depending on what I need. The rest is just heavy photoshopping, like editing colours, shading, eyes or sampling fur, for example. A cover usually takes around 2-5 hours, but it varies a lot depending on how complex the cover is.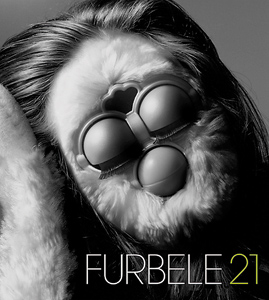 How do you pick which album you would like to reinvent ? Do you choose the covers after your favouriteartist or by the album cover alone ?
WKW :A lot of the covers I've made are by some of my favourite musicians, yes! Sometimes I recreate a cover if there has been a lot of requests for it, or if I just find an album cover I think would look funny furbified.
The covers reflect the demeanour and persona of the artist as it is portrayed in the covers.
How do you bring out these emotions through the Furbies?
WKW :It's all about taking photos from the right angles to get the emotions, really. The different Furby generations
all have different expressions as well, it's all in the eyes. For example, the original 1998 Furby has quite a versatile look, but can also be used for crazy expressions since its eyes are so big. The 2005 Furby looks more somber, and works better for squinting or sad eyes.
Which album cover is your favourite?
WKW :I love Volta by Björk, simply because it turned out so adorable, but my favourite is Pink Friday by Nicki Minaj. I never intended on making that cover but I got a lot of requests for it so I created my own version and it  turned out to be hilarious! The wide eyes and thick legs look absolutely ridiculous, I love it.
Can readers expect more covers ?Any hint of which artist you'd like to focus on?
WKW :There are definitely more covers coming! I have a few albums planned, the remaining two Björk covers for Debut and Post are coming eventually.
I would really like to recreate The Haunted Man by Bat For Lashes as well, I think it could turn out to be very interesting.
Do you see yourself moving away from pop stars to perhaps doing movie posters ?
WKW :I've actually thought about that before… the problem is, movie posters are often very similar to one another. They're made to sell the movie, and usually look bland and busy. Basically, they're very complicated and just not distinct enough for it to work well, I think.
How has the response been with Furby Living ?
WKW : I've been getting some very interesting reactions, but it's mostly been positive. Some find them frightening, others funny or cute, and most people are a bit confused. It's very entertaining seeing people's comments. In the end, the covers are all just meant to be funny more than anything else and I hope people don't take me too seriously! (LHP)
To see more Furby-rized covers by William Källback Wintervisit his blog at furbyliving.tumblr.com
Follow @timesonlinelk
comments powered by

Disqus