As Pillay comes, Govt. faces more HR issues
By Our Political Editor
View(s):
 Police over-react to UNP-led rally in the Fort
Convicted PSD men may reveal who gave the order to attack Rookantha and Chandralekha
CBK's meeting with ministers causes concern to UPFA leaders, an intelligence agency spying on her
A comfortable two thirds majority in Parliament, a modernised armed forces and a heavily politicised Police Department at its beck and call notwithstanding, the UPFA Government went into panic mode this week.
At least two main events, among others, foretold the story of its knee jerk reactions. One was Wednesday's protest headed by the country's largest opposition group, the United National Party (UNP). Hours ahead of the event six police officers, from the seniormost to the inspectorate, went to the Chief Magistrate's Court in Colombo citing Clause 106 of the Code of Criminal Procedure. They wanted a total ban of the event. That these officers were acting on the orders of the UPFA leadership was in little doubt. The Government wanted no protest and no processions.
The provision, among other matters, in the Code of Criminal Procedure says, "In cases where in the opinion of a Magistrate immediate prevention or speedy remedy is desirable the Magistrate may by a written order stating the material facts of the case and served in manner provided by section 99 direct any person to abstain from a certain act or to take certain order with certain property in his possession or under his management, if the Magistrate considers that such direction is likely to prevent or tends to prevent obstruction, annoyance, or injury, or risk of obstruction, annoyance, or injury to any persons lawfully employed, or danger to human life, health or safety or a riot or any affray…."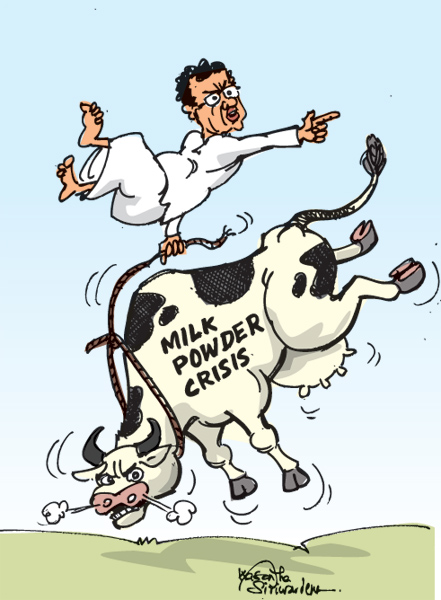 The importance of the move could be seen from the Police officers who filed the report. They were S.A.D.S. Gunawardena, Deputy Inspector General of Police (Colombo), Palitha Siriwardena, Superintendent (Colombo Central Division), M.V.R.V.N. Ariyaratne, Assistant Superintendent (Central II), Chief Inspector Sameera Ratnayake, Officer-in-Charge, Fort Police Station and Inspector A. Wijetunga, OIC of the Minor Crimes Branch at the Fort Police Station.
They gave a number of reasons to Colombo Additional Magistrate, Mohamed Shahabdeen, why the protest outside the Fort Railway Station and a reportedly planned procession should be banned. They claimed it would lead to traffic congestion and inconvenience workers and business people returning home. It would also hinder crowds that are thronging to see the Chinese built Colombo harbour extension.
Magistrate Shahabdeen ruled that the protest cannot be prohibited. However, he directed that it should be confined to the area opposite the Fort Railway Station. He said if the protestors blocked any road; the Police were entitled to use minimum force to evict them. Even if there was no such Magisterial order, that was their legal responsibility.
Police reported to Courts that the protest had been organised by Tissa Attanayaka (UNP), Dr Wickremabahu Karunaratne (Nawa Sama Samaja Party), Sarath Manamendra (Nawa Sihala Urumaya), Sirithunga Jayasuriya (United Socialist Party), Mano Ganeshan (Democratic People's Front), Hemakumara Nanayakkara, Aruna de Soysa (Ruhunu Janatha Party), Sirimasiri Hapuarachchi (Eksath Janatha Peramuna) and Azath Sally (National Unity Alliance). In this list, other than the UNP, none of the listed parties are well known or draw grassroots level support. Nor does any one of these parties has representation in Parliament. In fact, the existence of one or two like the Ruhunu Janatha Party and the Eksath Janatha Peramuna was not known until the protest was arranged.
Barely hours after the Magistrate's order, a crowd of some 2,000 gathered for the protest. There were those who carried placards, at least two of them unusually provocative about a powerful official. Some two hours, a few speeches and slogan chanting later, the event ended. A few among those enthusiastic including a group of parliamentarians began a march to the Presidential Secretariat. Police ensured the flow of traffic but did not offer resistance despite a few eggs and plastic water bottles being hurled at them.
Now, those who took part in the procession are to be hauled up by the Police before the Magistrate's Court for defying its order. "We are preparing to file action that the demonstrators violated a court ruling on Wednesday. They were ordered to confine the protest to opposite the Fort railway station area. But they went in a procession violating the order. The action will be filed against the nine persons (named above) on whom the initial Court order was issued," Chief Inspector Sameera Ratnayake of the Fort Police Station said.
The organisers of the event had expected to muster a crowd of at least 5,000 from Colombo, Gampaha and Kalutara areas. The lower turnout to an event led by the country's main opposition to protest the army killings at Weliweriya on August 1 – a fortnight ago, and other burning issues affecting the people, does not speak well for the grand old party. It perhaps would have made a difference if behind-the-scene moves to rope in both the Janatha Vimukthi Peramuna (JVP) and its breakaway Frontline Socialist Party (FSP) succeeded. Both were to turn down covert overtures made. However, former General Sarath Fonseka's Democratic Party was not asked. "Yet, we had a committed crowd who were very enthusiastic. We will hold similar protests both in Gampaha (on August 27) and later in Galle," Mangala Samaraweera, head of UNP's Communications said later.
For the UPFA Government, which wants to showcase Sri Lanka's democratic traditions to 54 Commonwealth heads who are meeting in Colombo in less than three months; it does not speak well too. It has used the Police to crack down through a court order a legitimate protest by the country's democratic opposition. By hindsight, to put it mildly, it is nothing more than an over-reaction. If the Govt under estimated the ground realities in Weliweriya, for some inexplicable reason, it had over-estimated the events that were to unfold last Wednesday outside the Fort Railway Station. Both these instances paint a rather dismal picture about how feedbacks are reaching the UPFA leadership. Are some actions or decisions being influenced by such questionable political reportage? Indeed if they are misleading, who is responsible?
Going by the UNP's own estimate of mustering a 5,000 crowd, not the best for the main opposition, the question that begs answer is whether the Police Department, recently beefed up with all the anti-riot paraphernalia could not have coped with it. Egregious enough, it is even more absurd when it ends up with a turnout of only some 2,000. Senior Police officials, who do not wish to be named, concede that there had been occasions when trade union events outside the Fort Railway Station have drawn crowds much higher than this number. The lesson here is whether it does any good for the Government when there is a military crackdown on crowds in Weliweriya and a Police crackdown on an opposition event in Colombo using a law that came into effect in 1885, over 128 years old under colonial rule, to shoot down a democratic protest. As is clear, the law was in place before Sri Lanka gained independence 65 years ago. Thus, it was not intended to clamp down on a legitimate exercise by an opposition political party. Other than the UPFA, the UNP still has the highest number of parliamentarians voted to office by the Sri Lankan voters. Equally it does no good for the main opposition for it has failed to highlight this issue before the public. That is the fact that an old law is now being often used as a tool to suppress the role of a legitimate opposition in a democracy. It seems only the media, both print and electronic, is playing their role largely by highlighting issues that involve public interest.
Another instance that reveals an unfolding, new political drama is the aftermath of a judgment in the Panadura High Court on August 1. Judge Kusala Sarojini Weerawardena found nine members of the Presidential Security Division (PSD) and a labourer attached to the unit guilty of several charges of harassment against two popular artistes, Rookantha Goonatillake and wife Chandralekha. The incident took place in 2000, or 13 years ago, when Chandrika Bandaranaike Kumaratunga was the President. The men had stormed the house of the artiste at the Mattegoda Housing Scheme one late night, harassed and caused bodily harm to them. Those found guilty are nine police constables, one Reserve Police constable and a labourer. Of them, three Police Constables and a Reserve Police Constable are now retired. The other six PCs were serving in various stations including two of them in the present Presidential Security Division. One police constable was acquitted in the case.
Judge Weerawardena declared, "the accused have taken the law into their hands and have acted in such a way as to destroy the tenets of democracy." Each of those sentenced were ordered to pay Rs 200,000 to the two complainants. Nine of the ten accused received four and half year's rigorous imprisonment. Another, who is disabled, was given a simple imprisonment for the same period.
Barely two weeks after the court ruling, Rookantha and Chandralekha called a news conference to declare that the real persons who were behind the attack on them were "moving freely" whilst those who carried it out were languishing in jail. Rookantha said the command to attack them had come from a "very powerful and influential person at that time" and added that the "subordinates had to follow it." Both said they respected the court verdict but would forgive the perpetrators. They also said that they would convey their decision to forgive them to President Mahinda Rajapaksa.
At least some of those convicted have also appealed for clemency and the others, the Sunday Times learns, will follow suit within a few days. The move comes amidst speculation that the men, who are likely to receive a Presidential pardon, would later hold a news conference to tell it all — who gave the orders and why the attack was carried out. Would that mean the Government will pursue the issue further through another probe? What character would it assume? Would it be through a formal Police investigation, a Commission of Inquiry or a Parliamentary Select Committee? These are questions to which answers will follow if those serving jail sentences are pardoned.
Though the name of Ms. Kumaratunga has not transpired in any way in the court case or in its aftermath, as the former President (and Minister of Defence) it would become incumbent on her to explain the circumstances under which the incident occurred. That is in the event of those now serving a sentence is pardoned and ends up baring details. It is no secret that during the past months Kumaratunga has been bitterly critical about the UPFA leadership in some of her conversations with cabinet ministers. These very ministers were her own creations and loyal confidants when she served as President. One meeting in particular with a minister, who is senior in the Sri Lanka Freedom Party (SLFP), and whose office she visited, is being described as "explosive" by UPFA sources. Those conversations were emanating amidst wild speculation that Ms. Kumaratunga would re-enter politics. Of course, she has made it quite clear she has no hopes of returning to politics. Ms. Kumaratunga is currently away from Sri Lanka.
An encounter she faced before her departure from Colombo has added to Kumaratunga's concerns. She had wanted to surprise her sister Sunethra on her birthday on July 27 by organising a private party. She had gone to a star class hotel in a Colombo suburb to make a booking. Later it had come as a surprise when she told Sunethra that a dinner had been arranged for her with immediate relatives and friends. It was when the function was under way; Ms Kumaratunga complained to a confidant (who was also present at the dinner) that a group reportedly from a state intelligence arm were busy noting down the vehicle numbers of those who were attending the event. They stood in the foyer of the hotel unobtrusively. At that moment she had said she would ignore it. However, she was to lament after the event over another development. Personnel from the same agency, she complained to the confidant, had sought more information from the hotel authorities. This was about who was present and what was discussed during the dinner. At one point, a hotel staffer had asked "why are you doing this. She is our former President." The reply reportedly given by a person from the intelligence arm was that Ms. Kumaratunga was now a "national security threat." Independent verification of this claim is not possible. Sleuths in state intelligence arms are forbidden from speaking to the media unless with prior official authorisation.
If the Kumaratunga claims are true, one cannot condone such action unless there is irrefutable evidence of any illegal acts or so-called threats to "national security." If indeed those existed, the need for a covert operation, as claimed, would not be necessary. She could be interviewed directly in keeping with the laws of the land. Such matters are usually carried through a transparent process keeping the public informed of why such action was necessary. This is more so since she once held the high office of the President of Sri Lanka. However, it is indeed strange this should happen to former President Kumaratunga. The modus operandi, which she says was used on her, was exactly the same one she used on others when she was President. Those were on issues that in no way related to "national security." Scores of politicians, journalists, artistes, trade unionists and a whole host of others were placed under constant surveillance. Then, in the absence of mechanisms to intercept mobile phone messages, system providers were called upon to provide details of phone calls made and received. They were analysed for the frequency of the calls made and how often. That way, they were able to say a person made so many calls per day to a particular party — proof that they were in constant touch.
Land telephone lines were monitored and some conversations were later played to those concerned. There were warnings to a politician on an extra-marital affair. In another, a politician in the then Government was warned not to speak against the leadership. None of these, it transpired, related to "national security" issues. This is not to say those feared undermining the government or the country's interests did not come under close watch. They did too. In one instance, a journalist was under constant watch to identify his sources of information. It was over procurements that made millionaires of those both in and out of uniform. Motorcyclists trailed him and men in three-wheeler scooters taxis parked outside and watched his home. A then serving Chief of Defence Staff (CDS) was reprimanded for visiting the same residence. He flatly denied the accusation. It turned out that a Pajero vehicle that had arrived to deliver a news release from the Media Centre had earlier been used by this CDS. When it turned old, he had obtained a replacement vehicle. He was able to establish the truth only a few days later and had to suffer the ignominy of that charge until then. The moral — not all what is reported by sleuths could be nothing but the truth.
These developments come in the backdrop of next Sunday's visit to Sri Lanka by Navi Pillay, the United Nations High Commissioner for Human Rights. As revealed last week, it is the outcome of matters arising from the two different US-backed resolutions at the UNHRC in Geneva. A statement on the UNHRC website said, "Pillay is scheduled to call on President Mahinda Rajapaksa, and meet government ministers and officials. She will hold talks with senior judicial figures, members of the National Human Rights Commission and the committee monitoring the National Plan of Action on the recommendations of the Lessons Learnt and Reconciliation Commission. She will also meet representatives of civil society and undertake field visits to the north and east of the country. At the end of her visit, on Saturday 31 August, the High Commissioner is due to hold a news conference in Colombo."
A delegation from the Tamil National Alliance is due to meet Pillay on August 30. TNA leader Rajavarothayam Sampanthan and parliamentarian M.A. Sumanthiran are now on a visit to Canada. Tamil Diaspora groups had arranged for a fund raising event, originally scheduled for July 7. It was then called off in the light of the visit to Colombo by India's National Security Advisor Shivshankar Menon.
The TNA duo will return richer to step up their polls campaign in the north. Besides those engagements, Pillay is also expected to take a look at issues related to the Weliweriya shooting as well as the mosque incident in Grandpass. A detailed report of the latter incident appears elsewhere in this newspaper. Technology Research Minister Champika Ranawaka, who was asked by President Rajapaksa to talk to the affected parties, told the Sunday Times, "it was more a political issue than a religious one. After much discussion, when the factual positions were explained, an amicable settlement was reached. Nothing can be resolved by resorting to bloodshed."
Two Muslim ministers who were among those who raised issue over the attack, arch rivals Muslim Congress leader Justice Minister Rauff Hakeem and Rehabilitation Minister Rishard Bathiuddin were in Saudi Arabia early this week. Officials said the visit was for a private engagement. However, being ministers they will not only receive official courtesies by the Government of the Saudi kingdom but are also likely to face questions on the situation in Sri Lanka. There have been some adverse comments on the attacks of Sri Lankan Muslims in the Saudi press.
Besides the Pillay visit, the Government is also stepping up preparations for the Commonwealth Heads of Government Meeting (CHOGM) in November. On Friday, Colombo-based diplomats of Commonwealth countries were taken on a conducted tour of the conference venue as well as other locations where there will be related activities. Of more significance is a visit External Affairs Minister G.L. Peiris undertakes to New Delhi today. He is carrying with him the invitation to Indian Prime Minister, Manmohan Singh to take part in the summit. The New Delhi visit was the subject of a discussion between President Mahinda Rajapaksa and Peiris before his departure.
The Sunday Times learns that Peiris has been asked to explore the possibility of a quick visit to New Delhi by Rajapaksa ahead of the summit. Besides personally re-iterating the invitation, Rajapaksa also wants to re-establish his rapport with Premier Singh. Peiris, who is usually sidelined from the Government's India policy, is to sound officials both in the External Affairs Ministry in the South Block and the Prime Minister's Secretariat. Relations between Colombo and New Delhi remain strained after repeated public announcements by Sri Lankan Government leaders that the 13th Amendment to the Constitution would be revised to exclude provisions relating to police and land powers to Provincial Councils. Despite the Colombo Government dropping moves to introduce an 'Urgent Bill' in Parliament to delete police powers, it was later delayed, seemingly not to adversely affect an Indian reaction to the move.
However, a Parliamentary Select Committee which would seek a replacement of the 13th Amendment or modify it in some form is now conducting sittings. Sources in New Delhi said that India would find it difficult to accommodate a request for Rajapaksa to meet Premier Singh at short notice in view of the latter's "heavy" engagements. Other than that, India is due to go for a parliamentary general election in or before April next year. In the light of this, these sources said, the Congress Government will not want to offend the leadership or the opposition in Tamil Nadu by hosting someone whom they perceive is their strong adversary. An outcome of the polls would necessitate the support of southern parties for government formation in New Delhi. If a meeting with Premier Singh is however scheduled, it would signal the fact that premier Singh is even amenable to attending CHOGM, something that is still very much in the air. Premier Singh did not attend the last CHOGM in Perth Australia in 2011, a precedent which New Delhi could use to explain matters.
In this backdrop, a visit to Colombo by Manmohan Singh for CHOGM remains in the balance. As previously reported, one of the key factors it would hinge on would be the outcome of the Northern Provincial Council (NPC) elections. "In the event the polls are not free and fair, it is highly unlikely he would come to Colombo," said a diplomatic source. However, Elections Department officials said the polls campaign was now under way with no major incidents being reported.
"There is a keen interest among voters. Many are checking whether their names are in the poll register whilst others are hurriedly obtaining their National Identity Cards (NIC)," Keerthi Tennekoon, Executive Director of the Campaign for Free and Fair Elections (CaFFE) told the Sunday Times. He said "this was something we have not seen in past elections."
Tennekoon said mobile clinics to issue NIC or other documents for identification were drawing large crowds. These clinics, he said, had been organised by the Department for the Registration of Persons, CaFFE and the Centre for Human Rights and Research (CHR). The CaFFE recently received a donation of ten million rupees from the Japanese government for its polls monitoring activities. He said at least 27,000 persons had so far obtained NIC in just 32 days through these mobile clinics.
The head of the polls monitoring body said the largest number of violent incidents was taking place in Wayamba or the North Western Province, which once witnessed arguably the worst provincial election during the tenure of President Kumaratunga. He said a cabinet minister was using as many as 30 vehicles with garage number plates. His supporters backing the minister's son were locked in political confrontations with rival candidates from the same party, he added. The misuse of vehicles belonging to the state was taking place with impunity in the Kurunegala District. This is also going on in the Matale District, he said.
It is in the Wayamba (North Western province) that most number of violent incidents has also been reported. They include an incident of shooting. Some of the incidents of assault have not even been reported to the police. The misuse of state vehicles too has been high in the Kurunegala district. In the Matale district too there has been a few incidents and also cases of misuse of state vehicles. In the Kandy and Nuwara Eliya districts there have been incidents of violation of election laws, and the rivalry in Nuwara Eliya is set to increase in the next few weeks.
At Thursday's weekly ministerial (cabinet) meeting, the incidence of violence in NWP drew the attention of President Rajapaksa. He observed that intra-party rivalry leading to clashes should not occur. When the meeting ended, he spoke with some NWP ministers and parliamentarians from the province on a one-on-one basis to urge them to campaign together without instigating clashes against each other.
High on the agenda for the UPFA Government in the coming week, however, will still be the Pillay visit. UPFA leaders will brief her on action taken on past issues. They are now compelled to explain current issues which have recurred to explain that Sri Lanka is a functioning democracy where human rights record and other freedoms are fast improving. This, no doubt, will be one of the thrusts during CHOGM. Naturally, suppression of dissent from a democratic opposition, would be in focus. This is why swatting a fly with a sledgehammer has its own consequences.
Follow @timesonlinelk
comments powered by

Disqus