Letters to the editor
View(s):

Diminishing interest in senior citizens

Almost all senior citizens are worried about their plight. They have been hard pressed to make ends meet. What are important to them are health, wealth and happiness. Wealth does not mean money to live a luxurious life, but an adequate income to live healthily and happily.

Unfortunately they are being deprived of an adequate income. This is because the falling interest rates have hit them hard and added to their worries.

It is suggested that a minimum fixed rate of interest, say 13%, be paid to all retired unemployed persons, on their savings for life. When the normal interest rate increases, the benefit should be passed on to senior citizens: 1% for those between the ages of 55-65 and 2% for those between the ages 66-75 and 2.5% for those over 75. As people grow older, most suffer from various kinds of ailments such as diabetes, hypertension, heart problems and prostate enlargement and they need money to buy drugs which are costly.

Special sections should be set up in both the private and state hospitals for the elderly to consult doctors and obtain their medicines without much hassle.

Unfortunately or fortunately, today the average life span of a Sri Lankan has gone up. Incidentally, most of the ministers and MPs are senior citizens. They are well looked after from the tax payers' money. When they fall sick, they even go to foreign hospitals. Moreover, they are entitled to a pension after five years of 'service' unlike the public servant who gets a paltry sum as pension/provident fund after working for nearly three decades. Therefore the peoples' representatives should take adequate steps to ease the lives of the elderly.

Not only the cost of living but the cost of dying too has gone up. Hence, funeral expenses should be at least subsidised by the Government or the banks, where savings/fixed deposits are maintained by senior citizens. This may not be a big burden for the banks whose financial statements show they make huge profits. It appears that the Sri Lankan banks are competing with each other to be ranked within the top 1000 banks in the world. Similarly, they should also compete with each other to be FIRST in their social responsibility towards the senior citizens.

A Senior Citizen, Wellawatte

Don't blame everything on unprotected railway crossings

Nowhere in the media is the culprit for the railway level crossing accidents pointed at – the callous motor vehicle driver. Instead they echo the hysterical shouting of the hoi polloi to provide gates. Remember the two: the negligent driver abetted by the conductor that took their bus across the closed rail gates at Alawwa and to Hell?

The only pointer to these callous motor vehicle drivers is the issuance of driving licences to uneducated jacks of all trades with questionable backgrounds. The damage and destruction of personal and national property, kith and kin of victims are horrendously immense compared to one single driver.

This destruction occurs not at rail crossings but also on the Southern expressway and other roads. Blaming it all on the non provision of rail gates is a puerile loose argument. However, an authority that allows a road to be taken across a railway line has the responsibility to provide for a sustainable operating rail gate, especially post-1948 considering the development.

The RMV should also review the principles governing the issue of a driving licence. The education and socio-economic background of the licence holder ought to be reviewed.

D.A. Meemeduma, Colombo 5

These errors have continued for 3 editions

I , a regular reader of the Sunday Times, would like to highlight a grave error made in the anthology of Appreciation of English Literary Texts prescribed for the GCE O/L Examination. These errors have been overlooked for years in three editions. These errors have been made in copying the texts from their source materials. This shows that we, as a nation, are very careless, irresponsible and incapable of even copying a text correctly.

Providing such an erroneous anthology is injustice caused to the teachers of English Literature and the students who offer this subject at the O/L Examination. The grave situation of this is that most teachers are unaware of these errors and teach the texts as they have been printed without checking their correctness.

It is important to mention that the authorities have failed to print an anthology for English for the GCE A/L Examination although its new syllabus was implemented in 2007.

Ivan Kiriella, Wennappuwa

Moratuwa schools have produced some fine cricketers over the years

I read with interest Lasantha Rodrigo's letter which appeared in the Sunday Times recently. Though I played for Thurstan College's 1st Eleven Cricket Team from 1956-1958 as a left arm opening bowler I studied at St. John's College, Panadura as a pre-teenager.
During this time the biggest event during the cricket season was the Big Match then called the Johnian – Cambrian Match (this Big Match is not played now).

I remember Lasantha Rodrigo's stylish batting. He would walk to the crease in a lazy manner and then smash boundaries to all corners of the field. He later played for Sri Lanka.

St. John's College, Panadura had a top class team in 1945 (The year I joined the Kindergarten) captained by John Wijesinghe who is still living and a lawyer by profession. That year under his captaincy they beat Prince of Wales (1st innings) St. Sebastian's, Holy Cross College and St. Aloysius College Galle.

As a keen follower of cricket I have noticed Prince of Wales College, Moratuwa has produced top class batsman during the last 65 years. Some of the brilliant cricketers of that school during this era happen to be H.I. Fernando, Don Premaratne, Stanley De Alwis, Jagath De Soysa, Lasantha Rodrigo and Hemal Mendis. What is surprising is that every year this school produces a top class batsman and this year the Schoolboy Cricketer of the year is Kusal Mendis. He is a smallmade hard hitting fine batsman who will play for his College for some more years. My greatest achievement was when our school played against S. Thomas' College Mt. Lavinia and beat them convincingly in 1957 when STC was captained by Neil Chanmugam. In this match I took 10 wickets in both innings. I also played for Catamarans Sports Club, Moratuwa in the early 1970's where Duleep Mendis as a 16-year-old schoolboy from St. Sebastian's College hammered several centuries for this Club.

Jagath Chamila who was selected as the best actor at the New York Film Awards is also from Prince of Wales College.

Don Ranjan Goonetillake, Panadura

A job well done

It was with great relief and hope for the badly disfigured urban landscape of Colombo, that I read that Gotabaya Rajapaksa had given a directive for the Crown Casino and Hotel ( Kerry Packer investment ) to be moved from its current location, to a position which would not obstruct the strategic view of the Beira Lake.

This kind of bold, unselfish and public spirited decisions have been unheard of for the past so many years in the Sri Lankan public administrative sector and political forum.

I wish to applaud Mr. Rajapaksa and the unsung heroes of the dedicated team of architects, engineers and planners of the UDA and the Forces, who have hitherto not been acknowledged but have silently carried out a tremendous job in transforming our city.

Having dealt with the dedicated architects and planners of the UDA who were behind the successful Dutch Hospital and Race Course projects on behalf of some of my clients who were tenants in both these projects, I have seen with delight in my heart that given an atmosphere of clean leadership, no political interference and respect to professional skills how our public administrative officers could thrive in excellence and performance that measures upto any international standard.

I sincerely hope that the dwellers of this City, place the country and the city before their needs and wants by strengthening the hands and protect the professionalism and empower Mr. Rajapaksa and the dedicated officials of the UDA in carrying this tremendous task forward.

Philip Weeraratne, Chartered Architects

Truly a death trap

I travelled recently to Kandy from Colombo by train -in a newly imported Chinese train and having read Dr. Kavan Ratnatunga's article in the Sunday Times Plus would like to add that every word he said is true.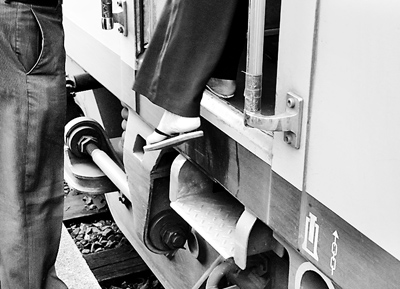 I am an elderly lady and I could not manage to get into the apartment alone or get off unaided at Kandy. Luckily a kind gentleman helped me and I must thank him for his kindness.
The Chinese train is truly a death trap. I hope the Minister of Railways will do something to help the train travelling public without delay.
Mrs M. Ranasinghe, Kandy
Follow @timesonlinelk
comments powered by

Disqus