'Keep it simple, believe in what you say'
View(s):

This year's All Island Best Speaker Aaqib Reyal shares some winning tips

Even the most eloquent of us may falter before an audience of 400. After all, how do you keep not one but all of them entertained? For Aaqib Reyal it's all about treading the fine line between fact and fiction. This year's All Island Best Speaker winner knows that not all great speeches are strictly true; after all, his winning speech largely comprised events in his head.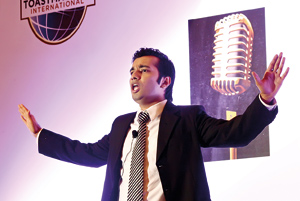 "I don't believe there's really a moralistic side to it," he explains in an exclusive interview with the Sunday Times. "This is a professional speaking contest. The idea is to win, not make your audience cry or feel sorry for you!" This is why Aaqib stuck to some well-timed tickles on the audience's funny bone in the competition and it worked-he emerged the champion of the night despite some fierce competition.
The 22 –year-old finance graduate and marketing student hails from Amal International School, where he developed an aptitude for public speaking early on. "I've never competed in lots of professional speaking contests," he says. But he does count amongst his achievements a prestigious SLIM National Speech Idol award. "It gave me a huge confidence boost. I was up against marketing professionals who've been in the industry for way longer than me. They were people who spoke for a living-winning was a stroke of luck and hard work."
Although Aaqib didn't really have any plans to apply for this year's All Island Best Speaker (AIBS) contest organised by the Colombo Toastmasters Club, he was persuaded into responding to a paper advertisement by his mother. "I'm a bit of a mummy's boy," he grins. "And of course, being a mother she's much more of a professional than I am!" So before he knew it, Aaqib was standing in front of four hundred people at the Galadari Hotel on July 14, all awaiting his delivery in the prepared speech section.
'Speedy Gonzales' was a dissection of his own philosophy in life. "It's all about having a plan for yourself," he says. In fact the entire speech ("as with all good speeches") can be summed up in nine words, he adds. "Run fast, run strong, run with a plan." Aaqib knows what he's talking about-at 22 he is about to graduate from the University of Kelaniya, with another two professional qualifications under his belt. His goal is (unsurprisingly) to work in marketing, a field where he'll have free rein to talk.
At AIBS he was in his element-although he might have gone a bit overboard with the punch lines, he laughs. "At certain points I'd be looking out into the audience thinking, 'okay, calm down now'. It's a great feeling to know people find you funny." Aaqib did have a few concerned calls from his friends afterwards when they found out that-apparently-he had already taken a baking course and had been scarred by being 'friend-zoned' at 15. "It was a competition!" he smiles. "And I'm famous for stretching the truth."
For a guy who has been speaking to crowds since 13 years of age, there's not much that can scare Aaqib about public speaking. But for those who do spook easily he's got a few well won tips. "Always believe in what you're saying," he advises. "There are better odds of people believing you if you believe in what you're saying." And for goodness' sake keep it simple, he stresses. (D.I.)
Follow @timesonlinelk
comments powered by

Disqus