Going wild
By Duvindi Illankoon, Pic by M.A.Pushpa Kumara
View(s):
Indu back with his latest comedy, Love, Lies and Wildlife
What does one hotel owner do when confronted with a wife, a to-be mistress and an angry uncle (none of them his)? Lie till his face turns blue, of course! Sam Boladeniya's tangled web of white lies and overblown exaggerations just might get him in trouble though-after all, there is no such thing as 'just one' falsehood.
Indu Dharmasena's newest comedy Love, Lies and Wildlife is one elaborate story of relationships, deceit and mayhem. On the one hand there's Niranjan Papolwatta, 'happily' married to Anuradha but also happily engaged in several extra-marital liaisons that he conducts at the Wild Life Lodge. Niranjan is in the process of wooing legendary actress Surekha, whom he lures into the Lodge with promises of a working weekend.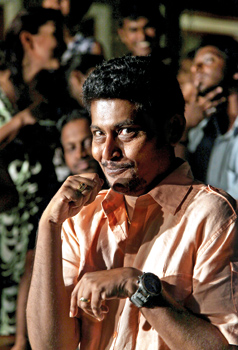 Niranjan's wife, the unwitting believer in their happy marriage finds herself the recipient of an accidental text, informing her of his presence at the Lodge. Believing her darling husband to be throwing a surprise anniversary party, a delirious Anuradha arrives at the Wildlife Lodge at just about the same time as Surekha. Then there's Surekha's straight-laced uncle William Gasgoda and his wife together with journalist Namali and her friend Rehana; amidst this all is poor Sam Boladeniya, the owner of the lodge, who finds his life turned upside down when one small lie leads to another and it all threatens to blow up very unattractively in his face.
Love, Lies and Wildlife is a story of husbands and wives and men and women, says Indu. "I wanted to portray how men manipulate women," he explains. "The morale of the story is in how one lie always leads to another. Sam thinks he's being helpful by trying to protect everyone but eventually they all turn on him!"
Despite the odds the women in this play are actually quite smart, he points out. Surekha, for example, is under the illusion that Niranjan has asked her over to the lodge to discuss financing her first directorial venture. "When she finds out that he has other plans for her she's quick to rally," says Sanjula Amarasekara who plays the actress. "She's a very strong willed woman and won't let anyone boss her around." The bane of Surekha's life is uncle Gasgoda, so it's no surprise that Sanjula's favourite scene is her showdown with this very man. "He's such a typical Sri Lankan uncle character," she smiles. "And some of his ideas are ridiculous. So I genuinely enjoyed the shouting scene!"
Keshiya Leitch plays Niranjan's happily oblivious wife Anuradha. "I think the general consensus would be that Anuradha is a little blonde to not realize her husband's true character," she says. "Personally I think she just wants to believe in the illusion of their happy marriage-it's not love, but they're very fond of each other."
Though Niranjan's a compulsive adulterer he still harbours a soft spot for his wife, says Keshiya and Anoop Kapukotuwa who plays the elusive married man agrees. "It's hard not to like Niranjan. Though he's a liar and a cheat he does love his wife in his own way." Anoop is more accustomed to what he calls 'court jester' roles but he's finding this character a refreshing breath of air. "I'm broadening my horizons," he grins and then promptly heads off to play the real life court jester among the cast.
For Indu himself, Sam Boladeniya's role is one on the balance. Right now, he's wavering between giving Sam an exuberant personality or going with a Fawlty Towers impersonation and making him a very highly-strung man. He thinks it might just about be a bit of both. They've only been rehearsing for a few days so he's still not too sure.
Indu believes in very short rehearsal periods; this is because as the playwright he's already worked out the actors in his head before he's even begun casting. Most plays are done and dusted off within a matter of weeks. It's got a lot to do with his preference for a more mature set of actors, he explains. "It's very difficult to do long rehearsals when most of them are working. Most directors start out with one cast and end up with another. I prefer not having to deal with that."
This particular play is based on 'little things' here and there that all added up to one big picture in his head. "Tackling infidelity in this country is difficult," he says. "I had to be very careful about naming the play!" Love, Lies and Wildlife certainly seems an appropriate title for the mayhem that ensues at the Wild Life Lodge.
Will Surekha and Anuradha find out about each other and will Niranjan and Sam escape unscathed? Find out on August 16, 17 and 18 when Love, Lies and Wildlife premieres at the Lionel Wendt. The play is presented by the Kingswood Union Colombo Branch to raise funds for the development of educational and sports activities of the school in Kandy. Tickets and boxplan at the Wendt.
Follow @timesonlinelk
comments powered by

Disqus