Kumar and his Bonsoir Diaries
Kala Korner by Dee Cee
View(s):
I was never a Bonsoir fan. I used to occasionally watch it but was not an addict. The French TV programme obviously had a dedicated audience during the 25 years of its existence – from 1985 onwards.
Bonsoir was broadcast over ITN in the early days of television in Sri Lanka. The trio who planned and conducted Bonsoir were Kumar de Silva, Yasmin Rajapakse and Chintananda Abeysekera.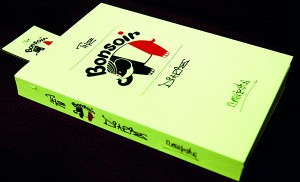 Reading through 'Bonsoir Diaries' by Kumar de Silva released recently, I gained an insight into the workings of a pioneering venture. As mentioned in the book, it was the pre-internet, pre-mobile phone, pre-computer and pre-cable TV era when radio held sway and television was still in its relative formative stage. With social media entertainment non-existent, Bonsoir enriched the local viewing experience and successfully played its pre-determined 360 degrees role of bringing France into Sri Lankan sitting rooms, the cover note says.
'Bonsoir Diaries' is interesting, easy reading. Rarely serious, it is well written and is claimed to be "un-edited and un-plugged". I like Kumar's frankness and openness.
Having watched Kumar doing a superb job as a presenter of varied programmes, whoever thought he ever stammered. Discussing "the agony of traumatic screen tests", he admits that no one knew that he stammered. "I had tried many 'cures' such as speech therapy, talking with pebbles in my mouth, facing the sea and talking aloud, etc. etc.etc. Nothing of it seemed to work. It made me an insufferable introvert as I sought solace in keeping my mouth shut and not talking," he confesses. Facing the screen test for Bonsoir had been a nightmare. Nanda Jayamanne who was Director – Programmes at ITN had realised his keenness and allowed him eight screen tests – a record! Finally he did it.
'Bonsoir Diaries' relates the inside story of Bonsoir. Kumar touches on some of the most interesting programmes, how personalities were selected to be featured, how situations were created, how the production team met with numerous challenges and so on. He does it cleverly without actually repeating what the audiences watched.
Kumar gives interesting facts and figures as background to the stories. To give an example.Not many will remember the 'punchikochchiya' days – the narrow gauge (02 ft 06 inches) railway from Colombo to Opanayake. The line was originally built to serve the rubber plantations in the Kelani Valley area. The trains ran at a very low pace'. Introduced in 1900, the 'punchikochchiya' first ran from Colombo to Yatiyantota via Avissawella, in 1912 it was taken from Avissawella to Ratnapura and reached Opanayake in 1919. Though we called it the 'KV line', it was really identified as the Sabaragamuwa Light Railway. Planters called the area Safragam. In addition to plantation produce, graphite was also transported by rail.
Services were phased out in the mid-1970s and the services to Avissawella were restarted in 1978 using a broad gauge line.
Two locomotives used on the KV line featured in the highly acclaimed 'Bridge on the River Kwai', the film David Lean shot in Sri Lanka in the 1950s. Kitulgala was one of the locations and a quarter mile of narrow gauge was laid across the Kelani Ganga. One of two locos selected for the shooting was destroyed when the bridge was bombed.
Kumar discusses how the Bonsoir team creatively used the material received from the French Foreign Ministry very often camouflaging places and personalities to appear as if they were genuine French 'stuff'. When Swarna Mallawaarachchi returned from the Cannes Film Festival, the terrace of the Mount Lavinia Hotel was used to feature her stay in Cannes. She even dressed in the kits she wore there. Everyone was happy that they watched her in Cannes!
At the end of certain chapters, Kumar details what the audiences did not see and what they did not know. When viewers enjoyed Christmas cheer in chilly Strasbourg, they did not realise that most of it was filmed at the Royal Colombo Golf Club. "You did not see sweat pouring down our faces and bodies, drenching the borrowed winter clothes. You did not know that the "quaint little train chugging away in the distance on its way to a neighbouring German village" belonged to the Sri Lanka Railways and was on its morning run down the Kelani Valley line to Avissawella." This is just one instance. There are many more.
Kumar's experiences with prominent personalities – both local and foreign – make interesting reading. They have all had some link with France which was the basic criterion for selection. He had had a nervous interview with Venerable Walpola Rahula when his stammer came back, obviously because he tried a discussion in Sinhala for the 'Sinhala Bonsoir'. He recollects the meetings with President Chandrika Kumaratunga, Yvonne Gulamhusein, George Keyt at 90, Ambassador Sumitra Peries and husband Lester vividly. He will never forget meeting Pierre Cardin in Colombo. Among the other 'visitors' were Peggy the Goose and French horses.
The lovely black and white line drawings by Malaka Lalanjeeva add lot of colour to the book. They are well done.
Kumar has once again produced a fine piece of writing. Publisher Ranjith Samaranayake has done justice with a neat presentation.
Follow @timesonlinelk
comments powered by

Disqus