In love with nature and being crowned for it too
By Shaveen Jeewandara
Tereza Fajksova, Miss Earth 2012 who was here on an awareness programme has a message for all Sri Lankans; don't take the beauty of your country for granted
View(s):
For the girl from the small village of Ivancice in the Czech Republic, it meant a great deal to be crowned as Miss Earth 2012. The emotions were overwhelming and 24-year-old Tereza Fajksova even tripped and stumbled after receiving her crown, at the 12th pageant held in Muntinlupa City, Philippines. But it was by no means an inauspicious start to her journey, as she has become a well-loved ambassador of environmental conservation across the world, living up to the motto of the pageant – "Beauties for a cause".
It's a herculean task to look past her enchanting blue eyes and natural blonde hair, but once you do so, you realize that her beauty is not only skin deep . Her beauty comes from within, seasoned by a passion for protecting the environment. "The people of my village are very close to nature, and it's only natural that I have a great liking towards the environment," Tereza tells us. "It's an amazing feeling to be crowned for what you love doing."
Tereza is nearing the end of her title year as Miss Earth, and has travelled all over the world, spreading the message of conservation. In Sri Lanka last week, she voiced the need to protect what we have and took part in an Earth Walk to mark her visit, while raising awareness at the events she attended.
Seated next to her is the Executive Director of the Miss Earth Foundation, Catherine Untalan -a lady who's no less a beauty- and it is no surprise when we hear that Catherine herself had been a contestant back in 2006, and had indeed clinched the mini-title of Miss Water that year. "Miss Earth started back in 2001 and has grown into one of the largest beauty pageants, with the primary objective being the advocacy of environmental protection," she tells us.
The pageant focuses on different themes of environmental significance each year. Last year's theme was 'Promoting the use of sustainable energy', while this year the focus is on 'Water conservation'. "Miss Earth is about trading high heels with the chance to get down and dirty in conserving the environment," smiles Catherine, "It's not beauty alone that makes the Miss Earth contestants beautiful, it is their commitment to nature that brings out the real beauty."
In the initial years of the competition, the contestants may have been in it for the fame, but the organizers then made it compulsory for them to carry out environmental projects in their home country, to be eligible for the crown.
The project that Tereza will champion this year is called "Learn, See and Do", and it's about convincing and influencing governments around the world to make environmental studies a must in the school curriculum and get students involved in outdoor activities that promote conservation. "If we get the kids interested, they'll continue to be interested as adults," Tereza says.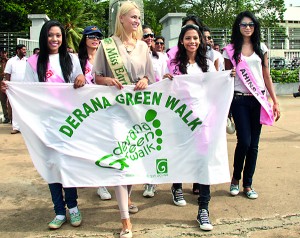 She believes that it's the little changes that make the big difference. "We have kick-started impact projects around the world," adds Catherine. "For example, back in Philippines (Catherine's home country) the Miss Earth Foundation campaigned heavily for a ban on the use of plastic bags. Today people are not using plastic bags – they stick to one reusable grocery bag.".
The pageant in itself is eco-friendly and they've left no stone unturned in making sure that the competition stays true to its cause – even the crown itself is made from recycled precious metals. Eco-Fashion Shows are being held in countries around the world where clothes made from recycled material and organic fibre are put on sthe ramp.
"When the contestants get together, it's like a mini United Nations conference. We never hear the end of the debate," laughs Catherine. "It's a chance for them to realize that there are different problems that each country faces." Catherine recalls an instance where there was a heavy deluge, during the competition in Philippines. The roads started to flood. Everyone was worried but the contestants from some of the African nations were overjoyed to feel the rain. "It was a special moment, because we learnt to connect with each other and understand that our problems are diverse and they need diverse answers."
Tereza had only heard good things about Sri Lanka, but found it shocking to see that a Google search had revealed that Sri Lanka had the highest rate of malaria. She was relieved to hear that we had put malaria behind us. "I would've come anyway, but there would have been a sense of doubt. That shows how strong negative information is, but it's time to spread positive vibes which are even stronger because Sri Lanka is simply paradise." Ever since she got here, she has been on a frenzy of updating facebook statuses about the little wonders of Sri Lanka. "You have a beautiful country. It's clean and it's pleasant, but don't take its beauty for granted," she says earnestly.
For Tereza the best thing about winning the competition is reaching a position that can influence positive changes in the world. "It's great to have this overwhelming fame because you meet a lot of powerful people, and you can use the influence to bring about changes." Maybe the difference between Miss Earth and any other pageant is that the winners get to make the difference.
Follow @timesonlinelk
comments powered by

Disqus