Appreciations
View(s):

Manik Nagahawatte

He was simple and unpretentious

Two years have passed since the death of my dear friend Manik Nagahawatte. He died unexpectedly in the early hours of August 1, 2011.According to his wishes, his remains were handed over to the medical faculty at the University of Colombo, after a private funeral. At the time of his death Manik was only 68.

Manik was born on April 19, 1943 to Wilson and Iris De Silva Nagahawatte. He attended S. Thomas' Preparatory School and Ananda College. During his school career, Manik received the Most Outstanding Student of the Year Award, the highest honour bestowed upon a student by Ananda College. He was a member of the Ananda debating team and deputy head prefect. Manik read for a law degree at the University of Ceylon, Peradeniya. Manik's excellent results at the first-in-laws examination won him a scholarship. He graduated with distinction in 1965 at the top of his batch. Not only did he excel academically at the university, but he also excelled himself in finding the perfect match in Lalanie, a fellow batchmate.

Manik joined the Central Bank in 1966 as staff officer. He worked in a number of departments of the bank including the Exchange Control Department, the Secretariat, Premises Department, the Employees Provident Fund and the Banking Department. During this time he also completed a Masters Degree in Law at the University of Colombo. He was appointed as one of the Executive Directors of the Central Bank. Thereafter, Manik functioned as Deputy Governor of the Central Bank until his retirement in 2005. His colleagues at the bank knew him as an extremely meticulous and conscientious worker. His opinion was much sought by colleagues and juniors alike. He was always accessible and never failed to assist those who turned to him for advice.

Upon his retirement from the Central Bank, he was appointed as the chairman of the Bank of Ceylon and thereafter he functioned as legal adviser to the Ministry of Finance. At the time of his death, Manik was the chairman of the National Development Bank.
Colleagues and friends remember him fondly as a lively conversationalist with a good sense of humour. More importantly, he was a man of great integrity. His lifestyle was simple and unpretentious. He was a devout and practising Buddhist who always did whatever he could to help others.

Weekends would see Manik and Lalanie in Ingiriya where they took a keen interest in planting. They would attend to the affairs of the estate, but Manik would never fail to carry a load of bank files which he would faithfully work on much to the amusement of visitors and family alike.

My family and I associated with him and his family very closely. I have fond memories of happy times spent in each other's homes. He was devoted to his family.

At this second anniversary of his death my thoughts are with his widow Lalanie and the two children, Suranjeeva and Shiro, and grandchildren Jaliya, Samarah and Shaarya.

Goodnight,sweet prince, until we meet again.

R.S.S. Ilangakoon

Justice Mark Fernando

Integrity and humility were the hallmarks of this forthright Judge

This July would have marked fifty years as a lawyer for the late Mark Fernando, one of Sri Lanka's most eminent and respected judges of the Supreme Court. After achieving a first class honours degree in law from the University of Peradeniya, Justice Fernando was called to the Bar in July 1963.

Grandson of a Supreme Court judge, and son of a Chief Justice, he was the longest serving Judge of the Supreme Court at the time of his premature retirement in 2005. That he chose to retire more than two years before he was constitutionally required to, is in itself a remarkable occurrence in these troubled times where those in positions of power and prestige struggle to hold on at all costs, whether justified or not. He offered no public excuse nor explanation for his early retirement, although all knew that in those last few years he had been marginalised and excluded from hearing cases that would benefit from his brilliant legal analysis and meticulous reasoning, save to say that he wished to spend more time with his family.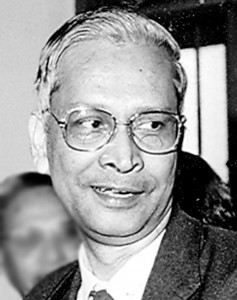 He displayed then the same principles of integrity, honour and dignity of personal conduct that had governed him throughout his career as a lawyer and later as a judge.
The lessons of his career as a lawyer and a Judge have never been more necessary than at this time, when both the rule of law and the judiciary in Sri Lanka are under attack not only from external and unlawful forces, but from within.
Despite holding one of the most prestigious positions, his conduct throughout was marked with humility, forthright action and lack of ostentation. As an intern in his chambers in the Supreme Court I remember being amazed that he used nothing more than the humble court-issued ball point pen, rather than a brand-name article, being told when questioned "both do the same job!" When invited to be present at our more informal activities at Law College, he often appeared in a Safari suit rather than formal dress to better relate to law students who naturally stood in awe of him. A born teacher, he relished the informal interaction of those meetings, setting up an internship scheme to benefit students without the stellar connections needed to make their way in the profession.
He was often listed to sit with the late Justices A.R.B. Amerasinghe, and K.M.M.B. Kulatunga, and this triumvirate of probably the best legal minds of the time were the terror of the unprepared or unprofessional, although raw juniors appearing for an impecunious petitioner in a fundamental rights application received a patient hearing and courteous treatment despite lapses in language and court-craft.
All those interning in his chambers would, on occasion, be told by Justice Fernando that an interesting case was coming up for hearing and to be there to take notes. On one such occasion I was sitting in the Supreme Court where he presided with his brother Judges when a senior lawyer was making lengthy submissions in a rather 'showy' manner in a case which appeared to be without merit for his client. When he stopped to look at some notes, Justice Fernando asked him politely if he had finished, and this senior lawyer replied, "No, My Lord, I have other cards up my sleeve!": Back came the gentle rebuke "Mr………, when you appear before this Court, all we expect you to have up your sleeve is your arm". Needless to say, the lawyer concluded his submission in a short time.
It is indeed a national loss that this great judge who was posthumously honoured by Transparency International Sri Lanka with a 'Special Award of Excellence for a Lifetime of Integrity' was to all intents and purposes prevented from serving his country and his profession in the position that he was without doubt best suited for. Nevertheless, the principles he stood for — respect for equality, recognition of merit, honour and integrity in action and absolute professionalism in conduct — provide an example for lawyers and judges who aspire to rise above the chaos of the current justice system; his simplicity and humility, and grace and kindness of action and thought provide an example to all who were privileged to know him.
Shyamali Ranaraja
Herly Fernando
Spreading the word in English and Latin was his forte
When Herly celebrated his 75th birthday on August 2, 2012, he knew his life was ebbing to a close, and therefore left written instructions with his three sons whom he called "The Three Warriors" in his humorous way as to how the final send-off should be.
Herly's entire education was at Prince of Wales' College, Moratuwa during the J.B.C Rodrigo era. He took much interest in learning English and Latin, and often sent us into peals of laughter when he gave Latinised versions to names and nicknames .The members of the staff knew the culprit and the Vice Principal affectionately referred to him as Herly Burly, while another referred to him as one whose skin is thicker than the hide of a hippopotamus !
He was an outstanding Cadet, who once won the award for the best Junior Cadet and later became the Lance Sergeant of the Senior Platoon. He was such an interesting chap both in an out of class which made him such an unforgettable classmate, while friends and relations were ever vigilant to the activities of the Herly Joy and Delmore combine, known for their pranks. After leaving school Herly became an active member of the Old Boys' Association.
He was actively engaged in the work of his parish church Holy Emmanuel Moratuwa . In the sphere of social service he was the one time President of the Moratuwa Maha Jana Sabha, and the Friend In Need Society which enabled him to interact with people of other faiths towards the betterment of the poor and the needy. Although he was somewhat physically weakened due to ill health, that did not deter his grit and determination to get about his day-to-day work and service. While doing his school transport service, he taught the children good English by speaking to them and making them speak English. That was free tuition.
He was a keen listener to the English service of the Broadcasting Corporation, very often sending his requests and quotations, very early in the day which made an announcer quip, "The Herly Bird catches the worm". A nerve ailment struck him down just a month before he received the final summons to join those loved ones beyond the sunset very specially his mother who died during his infancy.
When some of us saw his last smile, it was as if he was telling us "Adieu my friends". Rest in peace Herly.
Merril de Silva
Follow @timesonlinelk
comments powered by

Disqus