A tale of tails in the city
Text and pix by Noreyana Fernando
A doctor's lone mission of mercy
View(s):
Some of us go out to dinner on a Friday night—Dr. Rukshana de Silva goes out every night, and she takes dinner with her.
Waiting for her at six "stations" across Colombo are over 50 dogs of all ages, personalities and sizes. Dr. Rukshana's little car is meals on wheels for them. Dogs who have been starving the whole day, see light when she flashes her headlights on those dark nights. When she returns home after feeding her friends, it is invariably past midnight.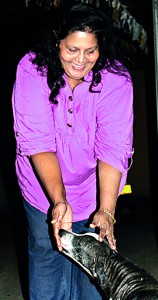 This journey started six years ago, after Dr. Rukshana's dog Kalu was run over by a minister's security vehicle.
"I then resolved to do something in memory of my beloved Kalu," she reflected.
That night, Dr. Rukshana drove around Colombo with six neatly packed bundles of chicken and rice in the back of her car. She circled Colombo and gave the packets of rice to dogs she met. She gave them water. She gave them love. Happiness was suddenly raining on them.
Now each month, Dr. Rukshana buys 400 kg of rice and about 100 packets of pet food, which she cooks lovingly with pumpkin, carrots and coconut milk.
It is 10 p.m. on a Tuesday night. Dr. Rukshana's car drives along the deserted roads of Colombo. As she pulls up near her first "station," dogs start to pour in from all corners of the road. A countless number of tails wag in unison. Some of them stand on their hind legs to welcome her. Kicked, chased and stoned through the day, as night-time settles, it is time for love.
As Dr. Rukshana pulls out the packets of rice there is a rush, just the way we human beings crowd around a buffet. Dr. Rukshana places the bundles of food on the floor and pets each ravenous dog. She then pours bowls of water and waits for them to finish eating, before cleaning up.
However, that night there was the heartache of the news that one of her dogs, Mister, had been run over by a driver who had fallen asleep at the wheel, while asleep on the pavement.
Even though many of her dogs have been run over, handling the news of their death has not become any easier. "If one of them is missing, I dread asking people what happened. I cannot bear the heartache that comes with hearing of their painful death," she says.
After years of watching her smiling friends get run over by reckless drivers, Dr. Rukshana urges drivers and the general public to be aware of stray dogs on the road.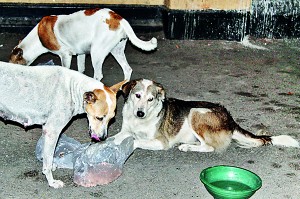 "I love my job as a doctor. But one thing I have realized is that humans have so many others to care for them. If a person gets knocked down by a vehicle, everyone around will rush to his or her aid. The victim can then tell them "my hand hurts" or "my head hurts." But can an animal do this? Besides, it is only the minority of people in the country that will rush to help a dog in pain," she says.
Now, she has plans to build a shelter for her 50 dogs on 48 perches of land belonging to an animal-loving friend.
"I need barbed wire, cement and sand so I can build a place to keep them safe," she said.
So what motivates this busy doctor to stay up past midnight, despite having to wake up at 6 a.m. each day?
"The look on their faces is what keep me going. The thought of them sleeping on a full stomach; the love in their eyes. There is no better motivation," she smiles.
Surrounded by her dogs, Dr. Rukshana plucks white flowers to place at the feet of her statue of the Lord Buddha the next morning. She picks up one of the puppies pawing at her feet and holds it close.
She wishes with all her heart that man himself will treat his 'best friends' on the road with respect and love—for at the moment, this relationship seems sadly one-sided.
Follow @timesonlinelk
comments powered by

Disqus