A café that offers more than a cuppa
By Kumudini Hettiarachchi
On the lines of Colombo's Barefoot and Paradise Road, Negombo's Canvas Kitchen opens its doors to art lovers and artistes alike
View(s):
Oranges and yellows beckon the passer-by to come sip a steaming hot cuppa tuck into some food and indulge in the arts.
Just beyond the Coppra Junction on the Colombo-Negombo Road, in the heart of bustling Negombo town, the owners of 'Canvas Kitchen' believe that what they offer is rather the exception than the rule outside of Colombo.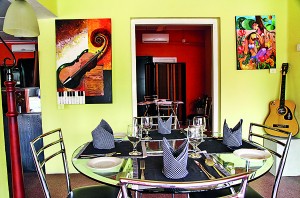 'We don't think there is a place like Canvas Kitchen, a café-cum-gallery in any outstation town, unlike in Colombo where there is Barefoot and Paradise Road," says artist Veranda Bandaranaike.
Veranda should know because let alone a place to display her works of art, she had found it difficult even to learn the intricacies of art and painting, as an upcoming artist.
From Rambukkana, as a student studying at Kegalle Balika Maha Vidyalaya, and without any artist in her family, Veranda struggled to hone her skills.
Searching desperately, it was to the First Art Foundation in Kegalle that she went for two years and as she became certain that "this was her line" she joined the National Art Society in Colombo in 2006 to "learn to become a professional artist".
There was no other place to learn, she reiterates.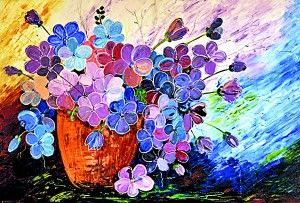 With the foundation provided by the National Art Society, she went on to secure a Degree in Art at the Kelaniya University, dabbling in anything and everything. Water colours, oils, acrylics, pastels, pencil, pen and charcoal, she tried out all. Not limiting her talents to a single area she tried her hand at portraits, still-life drawings, landscapes, traditional art, compositions and wildlife.
The yearning of both Veranda and husband Maithri to open a cozy place such as Canvas Kitchen which can accommodate about 50 people had its roots when for 10 long years it was a struggle to sell her works of art.
The breakthrough came after Veranda held her first exhibition in 2009 at the National Art Gallery, followed the next year (2010) by an exhibition themed on wildlife and nature which ran for a month at the American Centre.
"It was only then that Veranda was able to sell her art," points out Maithri explaining that talented artists living in the outstations are caught in a trap without money to exhibit their works at a gallery.
This is why Canvas Kitchen displays paintings and sculpture — both cement and wood — and promotes music, providing a launching pad for talented artists outside Colombo. "We charge a nominal fee from those wishing to display their works, as we have to pay rent for the premises," says Maithri, adding that musicians can make a booking and perform solo or duets in the evening. "But the work has to be of a standard".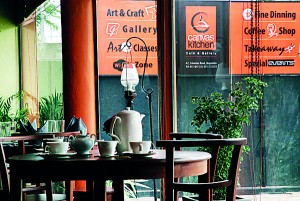 This month, Veranda will also begin classes every Sunday, where young and old, can check out their artistic bent.
The attraction will be the food at first, with Canvas Kitchen being open from 10 a.m. to 10 p.m. daily, serving breakfast, lunch and dinner and also snacks.
They will come in and then see the art, says Veranda, with the hope held strong that the second time they will be there for the art first and then enjoy a relaxed meal.
(Canvas Kitchen located at 42, Colombo Road, Negombo, is contactable on
Phone: 011-3047224 or 031-2222255)
Follow @timesonlinelk
comments powered by

Disqus