Finance companies and fictitious accounts
By Namini Wijedasa
CIFL crisis points to Central Bank's failure, unveils loopholes in its monitoring mechanism
View(s):
Earlier this month, the depositors of a troubled finance company received a short, non-committal message on their mobile phones.
"Dear Customer," it said. "The People's Leasing is still supervising the day to day functions of the company and a Monetary Board meeting will be held after PLC submits the report on CIFL. Regret that still no definite update with regard to your payment. However, we hope that there will be an update soon from the Central Bank end."
Central Investments and Finance PLC (CIFL), a finance company registered with the Central Bank, is in distress. It has received Rs 3.5 billion in deposits but just millions in assets and even less in bank accounts. This is a huge mismatch. On July 2, the Central Bank's Monetary Board appointed People's Leasing & Finance PLC to manage the company.
On the same morning, anxious depositors assembled outside the CIFL head office in Colombo 7. Many of them had invested their life savings in the company and had not received their interest payments for several months. It was impossible to suppress from the wider public that CIFL was in crisis.
Despite their anguish, these clients realised it would not be in anybody's interest to create a panic that could easily spread throughout the finance companies sector. They also wanted to allow space for the Central Bank (CB) to map out a strategy that would allow them to recover their monies. So they aggressively chased away journalists who arrived there.
But the anxiety of CIFL's 300,000 depositors remains acute. One client, a retiree, told the Sunday Times he had no money for living expenses. He had been dependent on the interest paid on his investment. This is a familiar tale, told many times over during and after the crash of Golden Key and associated companies.
The CB confessed last week that it could be several months before CIFL depositors recovered their savings but stressed that it was working with People's Leasing and Finance to salvage the firm. The Bank will publish details of a restructuring plan which is due soon.
To turn it around, CIFL needs a new investor. But nobody will infuse capital into a loss-making venture. One attempt to get an injection of US$ 12 million failed. People's Leasing and Finance will now propose a formula to restructure the company's balance sheet. The CB says it will find an investor once this is implemented.
"Finding an investor is vital," stressed H. M. Ekanayake, Director of the CB's Department of Supervision of Non-Bank Financial Institutions (NBFI). "Otherwise, the company cannot go ahead."
"The depositors will not get their money for the moment," he added. "They will have to wait for some time. But once we find an investor, we will definitely make arrangements to recommence business. Our interest is to revive the company as soon as possible to enable depositors to get their money."
CIFL had followed a template for disaster. It had accepted deposits and invested in projects, some of which (like housing and real estate) had not been successful. Big losses ensued, leaving the company unable to pay its clients. It was a temporary liquidity issue, Mr. Ekanayake said. But there is more. CIFL was also grossly mismanaged over an extended period of time and there were allegations of money being siphoned off.
The CB has now commissioned a detailed probe on CIFL's financial information and practices. The forensic audit will reveal which of its employees were responsible for siphoning off funds. Even this investigation was considerably delayed due to non-submission of information by the company. The CB summoned the directors several times and threatened them with further action before the necessary documents were handed over.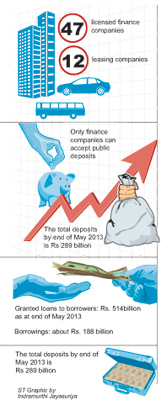 "We will take action against all parties, including directors, who are found responsible for this downturn," asserted Mr. Ekanayake. Industry sources maintain that it is too little, too late.  The spectacular Golden Key collapse is still fresh in the country's collective memory. It had been followed by robust calls for increased Monetary Board supervision. How did the CB, which is tasked with regulating finance companies, go so wrong again?
"We do examine their accounts," insisted B. D. W. Ananda Silva, CB Deputy Governor. "The problem is that, in the books of these institutions, the figures are ok." "Their assets and liabilities matched," explained Mr. Ekanayake. "But the books didn't contain true values of the assets. They were overstated." For instance, CIFL owned 100 acres of land in Arugam Bay which it had valued at Rs. 600 million. This was not an accurate reflection of its actual worth.
"The question is whether we can go and check block by block," said Mr. Silva. "You have to go and find the land in the first place. Then you have to value it. Their books contained valuation reports and deeds. When you added the figures, the assets and liabilities matched. However, when you want to sell the land, you can't secure that price."
That CIFL had inflated its balance sheets, however, is not a secret. In 2011, CB Governor Ajith Nivard Cabraal had chaired a meeting with is directors and advised them to rectify the situation. But the company had followed the same procedure in 2012, prompting finance industry sources to question just how seriously this regulator is taken.
"We have very often found that some of these companies give us fiction," said one source. "We have kept an eye on the data they give us and we have proof of them actually fixing the numbers, particularly what is provided to us." "Most of the finance companies have hardly raised any capital," he warned. "They grow at an amazing pace. They are taking enormous risks, stretching themselves even more with depositors' money."
"We know a lot of new finance companies were re-launched, renamed and rehashed in the aftermath of the Golden Key debacle," he explained. "But they are no better. They are extremely fragile. You must have proper capital for a business and a proper regulatory framework and supervision."
The systems are possibly in place, he concluded. But the Central Bank must be more willing to act—and must do it now.
CB to toughen rules on finance companies
The Central Bank will not license any new finance companies in 2013. It has also issued new directions under the Finance Business Act aimed at increasing governance. Among other things, finance companies will now need written approval of the CB Monetary Board to form a subsidiary, sell whole or part of its business or to start a new business activity that is not directly related to finance business, hire purchase, leasing or pawning.
Meanwhile, action is being taken with regard to Edirisinghe Trust Investments Limited (ETI) and Swarnamahal Financial Services PLC. "They have implemented the first phase of a restructuring plan approved by Central Bank," said Central Bank Director H.M. Ekanayake. "We have asked them to implement the second phase."
As with CIFL, these companies had shown a huge gap between assets and liabilities. "We identified the directors' personal assets and told them to bring them to the company," said Deputy Governor B. D. W. Ananda Silva. "They have managed to bridge the gap."
He revealed that ETI is looking for an investor to further restructure the company. "The position of the company is much better today compared to six months ago," said Mr. Ekanayake. "But we are watching this."
The CB and most industry sources contend that number of finance companies is too large. "There is a lot of merit in having larger finance companies and fewer of them," said a senior practitioner. "The deposit base is highly fragmented right now."
Follow @timesonlinelk
comments powered by

Disqus