Three-wheelers: Indispensable death traps
Nadia Fazlulhaq reports
Absence of regulatory body makes 'tuk-tuk' a law unto itself despite fines, literally taking you for a ride.
View(s):
Despite 800,000 three-wheelers or 'tuk-tuks' operating in the country, of which about 300,000 operate within the Colombo city, according to the Motor Traffic Department, the absence of a regulatory body has made this a transport service filled with unruly drivers and road hogs, experts warned. Three-wheeler accidents account for over 8% of fatal accidents in the country. Last year recorded about 200 fatal and about 500 serious three-wheeler related accidents, the Sunday Times learns.
This year too, three-wheelers claimed a number of lives island-wide. Two young men in their early twenties, died, when the three-wheeler they were traveling in, collided with a bus near Ranwala, Kegalle, on the Kandy-Colombo Road. Police said the three-wheeler driver had fallen asleep at the wheel when the accident took place.This month, a 23-year-old youth from Moneragala died when the three-wheeler he was travelling in, toppled after the driver lost control.
In a separate incident this year, four were killed when a speeding three-wheeler collided with a van in Nittambuwa. Another three persons were killed in Unawatuwa, when their three-wheeler collided with a private bus on the Galle-Matara road. In Bandaragama, a reckless three-wheeler brought death to his client while knocking down another person.  A 27-year-old news producer attached to a local radio station, was killed on Marine Drive at Kollupitiya, when a three-wheeler hit his bicycle.
Among the traffic offences commonly committed by three-wheeler drivers, are sudden turns without signalling. For this offence, the spot fine is Rs 500, while court fines vary from Rs 1,000 to Rs 5,000. The second highest offence is reckless and dangerous driving, for which there is no spot fine, while court fines vary from Rs 2,500 to Rs 5,000.
Parking offences, especially parking in 'No Parking' areas, and errant parking is the third highest offence, with a spot fine of Rs 500 and a court fine of Rs 1,000. Causing obstruction is also a common offence with a spot fine of Rs 500 and a court fine of Rs 1,000.
Crossing the single line and double continuous line is also an offence committed by three-wheeler drivers for which the spot fine is Rs 500 and the court fine Rs 1,000.
There are no spot fines for not stopping at pedestrian crossings, but court fines vary from Rs 1,000 upwards, while speeding over 40 km is also an offence fined in courts. According to the latest available data from the Traffic Police, there were 7,927 accidents in 2010 involving three-wheelers.Former DIG, Traffic Administration and Road Safety, T. Perinpanayagam said that three-wheelers are taxi substitutes for passenger service. Hence, should be considered public service vehicles.
Under the Motor Traffic (Amendment) Act No.8 of 2009, a public service vehicle is defined as "a motor vehicle used or adapted to be used or kept for the carriage of passengers for a fee or reward." Under section 128 (1), "no person holding a driving licence valid for any class shall drive a public service vehicle on any road unless he is specifically authorised to do so by a special endorsement of the Commissioner-General on his driving licence." However, such a special endorsement has not been given for three-wheelers, nor special training.
This section also states that, "the Minister may make regulations prescribing the requirements, qualifications and tests to be conducted, to qualify for an endorsement on a driving licence, empowering a licence holder to drive a public service vehicle."
"There is a growing trend of tourists using three-wheelers. Therefore, it is important to bring in regulations and three-wheelers should be supervised by a State body. However, with the increasing number, they have become a problem for the Traffic police too. There should be a State body to train and produce drivers under a code of ethics," the former Traffic Chief explained.
According to him, there is no training before issuing a driving licence and no supervision after, with nowhere for the public to lodge complaints. Head of Moratuwa University's Department of Transport and Logistics, Dr. T. Sivakumar said, people are compelled to use three-wheelers, due to the lack of improvement in public transport, and high movement of the population within cities. Dr. Sivakumar said that many people use three-wheelers for short distances, as traveling is easier and less time-consuming, but the quality of this service is questionable.
"If authorities request us, we are willing to develop a syllabus, help prepare a code of ethics and train the trainers. At present, the University is conducting such a programme for private bus drivers," he said. National Transport Commission Chairman Roshan Gunewardena said that. only buses come under their purview, and if the Motor Traffic Department or the Ministry of Private Transport requests, they are willing to train three-wheeler drivers.
Attempts made by the Sunday Times for information from officers attached to Traffic police, failed, as they declined to comment.
Police spokesman Buddhika Siriwardene said that three-wheeler drivers continue to buck the system despite fining the offenders, as there is no regularising.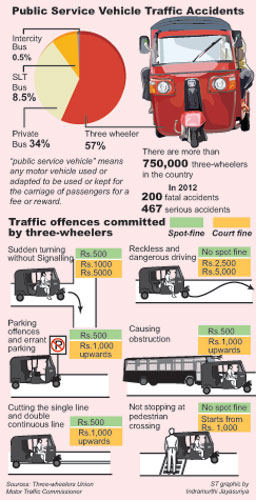 He said motorbikes and three-wheelers continue to be the vehicles mostly involved in road accidents. Three-wheeler Drivers Association President Lalith Dharmasekare said that three-wheelers enter the public transport area without any training.
"Three-wheelers are similar to Morris Minor taxis during the 1950's, when the drivers were given training on social skills too. The Private Transport Ministry, Registrar of Motor Traffic and provincial transport authorities should draft a plan to improve this public service," he said.
He said they get complaints on reckless driving, errant parking, unruly language and leading public astray using doctored meters.
Commissioner of Motor Traffic, S.H. Harishchandra said that new regulations for three-wheelers, will be introduced within a fortnight.
Among the provisions is the appointment of a committee to decide on three-wheeler charges.
"The provisions include seating capacity and closure of right side entry. In the absence of a direct authority for three-wheelers, the Motor Traffic Department is not in a position to make decisions related to training or supervision. As they are used for passenger transport, the Private Transport Ministry should look into it," he said.
Follow @timesonlinelk
comments powered by

Disqus