It took just one tiny cut!
Kumudini Hettiarachchi reports on this medical first
View(s):
Less pain, less infection, faster recovery and no scars: This was the result of a Single Incision Laparoscopy Surgery (SILS) performed at the Kalubowila Hospital. 
Groggily coming to on July 1, she wondered whether "anything" had been done to her. There was no pain, there were no bandages and there were no wounds. Puzzled and worried that she may have to undergo the procedure on another day including anaesthesia, when she asked the nursing staff of the Intensive Care Unit of the Colombo South Teaching Hospital, Kalubowila, they smiled knowingly, flipped up her blouse and pointed to her navel.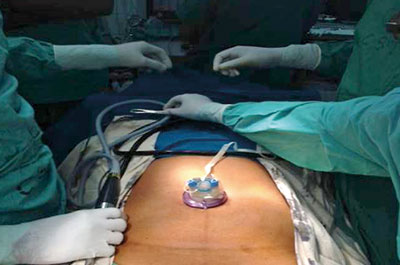 There was a very tiny cut, says M.G. Indrani of Nugegoda.  Indrani is a medical trendsetter in Sri Lanka, for Single Incision Laparoscopy Surgery (SILS) was performed on her on July 1, probably a first in the field of gynaecology in the country, MediScene learns.
SILS also known as Single Port Surgery or Scarless Laparoscopy is an advanced form of minimally-invasive keyhole surgery, says Consultant Obstetrician and Gynaecologist Dr. Dhammike Silva. Earlier where three incisions were used now only one tiny 1.5cm hardly-visible cut, that too in the umbilicus is needed, points out Dr. Silva, explaining that through that "port" multiple instruments can be inserted for surgery within the abdomen.
Through SILS not only ovarian cysts and fibroids can be removed but also the womb, it is learnt. For 51-year-old Indrani, SILS was the way out in the removal of her womb as well as her fallopian tubes and ovaries. It was in May 2011 that "women" trouble began for her by way of heavy bleeding, non-stop for a whole month. In the wake of a womb-wash, another year sans bleeding followed, but the agony recurred in 2012 along with clots, leaving her unable to do even basic housework. Another womb wash and she was fine till April this year (2013).
In April, there was bleeding for four days and when it ceased she heaved a sigh of relief. But that was short-lived, with the bleeding re-starting with a vengeance in May. A scan at Kalubowila Hospital found the womb to be inflamed and she was advised to get admitted on June 29.
The procedure was done on July 1 and as it was a first in the country, Indrani was kept in the ICU just for a day but later moved to the ward and discharged on July 4, MediScene learns. Thuwala nethi eka loku deyak, says Indrani, explaining that it is great that there is no wound. She has been advised to do her daily chores at home and according to her there is no pain except slight twinges in her tummy when she bends.
With SILS, Dr. Silva who is also a Senior Lecturer at the Medical Faculty of the Sri Jayewardenepura University, has without question built up a strong laparoscopic structure at the Kalubowila Hospital's Professorial Obstetrics and Gynaecology Unit headed by Prof. Jayantha Jayawardene who extends all the support needed for such techniques.
Highly-skilled SILS performed by Dr. Silva is based on the foundation of Laparoscopic Nerve-sparing Radical Hysterectomy and Pelvic Lymphadenectomy, commonly called a Wertheim Hysterectomy in April 2012 and a Laparoscopic Pre-sacral Neurectomy (LPSN) in May this year (2013).
The first entailed the removal of the uterus (womb), its surrounding tissues, the parametrium and a three-cm cuff of the vagina along with the pelvic lymph nodes through a laparoscopic procedure, as an answer to cervical cancer. The second or risky LPSN, which could easily result in many intra-operational and long-term complications, was the removal of the pre-sacral plexus, the group of nerves that conducts the pain signal from the uterus to the brain.
Where there were three tiny incisions in both the Wertheim Hysterectomy and the LPSN, Dr. Silva and his team have graduated to just one incision with SILS, MediScene understands. The problems that arise with a single port, according to this Gynaecologist is the limitation of free manoeuvring space and the likelihood of the instruments and the laparoscope grating against one another. However, the solution lies in curved instruments, smiles this Laparoscopic Specialist who on Monday (July 15) too performed the second SILS.
In the case of Indrani, a total hysterectomy with bilateral salpingo-oophorectomy that involved the removal of the womb as well as the fallopian tubes (salpingectomy) and ovaries (oophorectomy) was performed on July 1.
Placing Indrani under general anaesthesia, the small tube containing the telescope (laparoscope) and a tiny video camera (the eye in the abdomen) was inserted through the single portal and the small incision in the belly-button, allowing a "look" at her internal organs on a video screen for Dr. Silva and his team. Thereafter, the surgical instruments were sent through the same portal to do the needful.
The incised womb, fallopian tubes and ovaries were extricated through the vagina, said Dr. Silva, adding that the womb was quite large, the size of a 16-week pregnant uterus. Less pain, less infection, faster recovery and no scars have been the result for Indrani, who is home now without the agony of a cut across her tummy.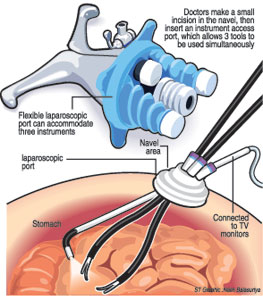 The trendsetting team headed by Dr. Silva comprised Senior Registrars Dr. Prabodhana Ranaweera and Dr. M.H. Ziard; Resident House Officer Dr. Chamara Mudalinayaka; House Officer Dr. A.C. Arul Nesan; Demonstrators Dr. S. Srisanjeevan and Dr. Dharshika Gunawardane; Consultant Anaesthetist Dr. Mala Nanayakkara; Medical Officers (Anaesthesia) Dr. Rajika Thiyambarawatta and Dr. Jayani Nanayakkara; Nursing Sister N. Karunanayaka; Nursing Officers S. Cooray and Mrs. C. Kulasekar; Assisting Nursing Officer H. Malawiarchchi; and Junior staff Bandula Senerath, Priyantihi Pathmakumari and Nadeeka Kumari.
Follow @timesonlinelk
comments powered by

Disqus