Murray lives the 'English dream'
2013 Wimbledon in retrospect
View(s):
Fred Perry was the last Englishman to win Wimbledon, 77 years ago. Many English players appeared in the Wimbledon draw since then. Andy Murray a Scotsman got his act together to give England what it has been yearning for, the Wimbledon title. Even Englan's Prime Minister, David Cameron was in attendance when Murray beat Novak Djokovic 6-4,7-6,6-4. This made the 127th Wimbledon significant. Black market price of tickets is believed to have fetched in excess of 50,000 pounds for final match. Murray's previous two rounds to the finals were tough. Verdasco of Spain and Jerzy Janawicz of Poland kept Murray on the court for over six hours and was made to play nine sets. Even with all the challenges, he looked better and fitter than Djokovic in the finals. Juan del Potro of Argentina gave the utmost punishment to Djokovic in the semi finals and Djokovic did display a lack of energy.
Murray on his part served extremely well and his returns punished Djokovic's second serve. That in turn reduced Djokovic's overall service confidence. Murray's forehand produced winners and his court coverage was remarkable. All these left Djokovic without answers. Murray has beaten Djokovic before and gave the impression he is doing it again. Yet, Djokovic will not be forgotten in this Wimbledon either. Apart from being the opponent to Murray in the historic match, he also played the 'best match' of the tournament in the semifinals.
The best match
All epics have a victor and the vanquished and both will be immortalized. In the same manner, two men made history on the 11th day of the Wimbledon in the first semifinal. Novak Djokovic and Juan Martin Del Porto of Argentina fought it out for four hours and forty three minutes to create a memorable five set epic – most would agree this to be the best match of the tournament. Djokovic and Del Potro were both winners here. Djokovic played well under severe unrelenting challenge both physical and mental to reach the finals. He served 22 aces, hit 80 winners and moved well to cover the court to tackle ground strokes coming at 80 miles per hour for nearly five hours! On a rough count each of covered a staggering distance close to 10 miles!
Del Porto standing six foot, six inches in height produced fire power rarely seen on grass courts. The match saw many 25-shot rallies. He won 178 points just 12 short to be the winner. He won the US open title few years ago then faded with injuries. This is his second coming and now Juan Martin Del Porto is back in the top 'five-pack' of the world.
Another Lisicki-special
The first time Grand slam finalist Sabine Lisicki overwhelmed by the event, choked and was unable to perform. Sabine who played like a tigress against Serena Williams proved she is also a sensitive girl. She cried in the middle of the second set, unable to cope with the over whelming pressure inside the packed center court. By the time she came to terms with it, it was too late. She is only 23 and her time has just begun. We are bound to see more of her in the future.
Bartoli – 3rd Frenchwoman to win
Too many things happened in this Wimbledon. All this did not shadow the achievement of the least expected, unimpressive player, Marion Bartoli of France winning her first Wimbledon title, on her second finals appearance. She is 28 years of age. Right through the tournament she did not drop a set. If anyone out there thinks that classical and technical perfection is necessary to win, please look at Marion Bartoli in action. Tennis needs game making ability 80% of the time to succeed and that was Bartoli's formula.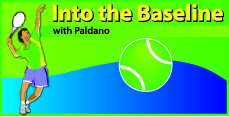 Bartoli is back into the top 10 of the world. She thanked her new coach Mauresmo for her success. Mauresmo won Wimbledon in 2006, 80 years after the first Frenchwoman Suzanne Lenglen won in 1925. Lenglen won Wimbledon seven times from 1918 and was also known for her fashion display. She was the first to wear a short dress showing only her ankles in 1921. It caused a storm in the Tennis circle. Where does it stand now? Bartoli's formula to win is unique. It will trigger many studies.
Doubles Grand Slam?
Bryan brothers, Bob and Mike made history winning their 3rd Wimbledon doubles title and if they win the US open, they would be the first to get the doubles 'Grand-Slam' after 62 years. Australians Sedgemen and McGregor achieved it in 1951. Women's Doubles title is in China. Asian Tennis got a boost when Pheng Shuai and Hsieh Su-Wei won women's doubles title. Indians and Chinese have made their presence felt in the doubles events. Sanya Mirza of India is a formidable doubles player.
Past players as coaches
Another significant aspect of this Wimbledon is both the singles winners had past players as coaches. Former world number one Ivan Lendl coaches Murray and Mauresmo coaches Bartoli. Having an experienced hand is not a guarantee but it is necessary to develop game strategy. ATP [Association of Tennis Professionals] is focusing to promote this. They issue coaching certification only to past players as a policy.
George Paldano was an international player; Accredited coach of Germany, ITF and USPTR. National, Davis Cup and Fed Cup Coach.
––georgepaldano@yahoo.com
Follow @timesonlinelk
comments powered by

Disqus