Women from a different angle
By Tharooshie Mahahewage
View(s):
Selvarajah Seanthan is a Grama Niladhari for the Karachi division in the Killinochchi district. His picture at the 'Women –Out of the Frame' photography exhibition held last week at the Lionel Wendt Gallery depicted a woman trying single-handedly to build a house for her and her two children. She has only one hand.
"The picture shows the real life situations in my division," says Selvarajah. "Through the grass and trees around her I wanted to symbolise the troubles and challenges in her life especially her disability and her widowhood as she lost her husband to the war. But she is clearing up the plants and trying to build her life."
Entirely self-taught, Selvarajah was happy about his photograph making it to the exhibition. "I never believed I would get this chance. I want to experiment in using procedural differences. I also believe it was a good opportunity to illustrate these women and their hard lives to the world."
We saw the woman through this discerning photographer's eyes and many others like her. Women- not the glamour images the media tends to present, but women- courageous individuals and worthy of celebration- whether old, young or disabled.
The 'Women Out of the Frame' exhibition was put together by photographer Menika van der Poorten, and supported by the Norwegian embassy along with the National Peace Council of Sri Lanka.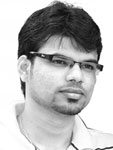 "The photographs selected for this exhibition capture a moment revealing the complexity of women's lives – whether it is women from different walks of life in the same frame, women living in war and conflict-affected environments or elders going about their daily routine," says Menika. "The participating photographers for Women – Out of the Frame were selected through an open call for submission which included a press campaign, pre-submission workshops in Colombo and outside, to introduce the project, and networking through social media and the photographic community," said Menika.
Over 500 submissions were received from all over the country and displayed in locations like Jaffna, Vavuniya, Kilinochchi, Wewalgoda, Kataragama, Pettah and Galle Face, and even overseas in locations such as Spain and Tahrir square, Egypt. The exhibition showcased the work of 45 talented amateurs (men and women) and professionals. The photographs were chosen by Sunila Galappaththi and Pradeep Chandrasiri along with Menika.
"The inspiration came from a sense of frustration about the way women are perceived- the lack of respect with which we as a society recognise and treat woman," Menika states. "Horrifying violations against women bring out no sense of societal shame, even at the local level. My hope is that 'Women- Out of the Frame' will add to the voices attempting to change the visual culture as well as societal perceptions of the country. We got a very good response from people. Almost a thousand people came to see the exhibition over the weekend. Even the subjects of the photos came to see themselves. It was an interesting experience."
The picture stories were sometimes disturbing, often thought provoking. Luka Alagiyawanna's portrait of Rushda, a young Muslim girl, from a series on young women of Sri Lanka addressed concerns of tradition, identity and freedom. T. Elango's picture of a mother in Vavuniya holding her baby tightly showed the mother's possessiveness of the little child when all else is lost. Kanchana Sumali's image of a devotee carrying her child and buying popcorn from a seller with her child taken near Kataragama highlighted the differences between the two women.
Revati Chawla, through a series of four pictures, succeeded in giving us a glimpse of the life of JP, who was born a man and now lives as a transgendered woman. Many pictures depicted women as strong and independent individuals, like Brett Davies' images titled 'Industrial evolution' showing a woman toiling with dignity to feed her loved ones by working at a rock crushing plant in Hikkaduwa.
The participating photographers were: Aamina Nizar, Chandana Mallawarachchi, Chandana Wichramaarachchi, Daniel Ridicki, Dhanushka Keerthiratne, Dilanka Thilakarathna, Dilushi Rathnayake, Dushiyanthini Kanagasabhapathipillai, Fahad Farook, Hewa Lunuwilage Thanura, Indeewarie de Silva, Jayanthi Kuru-Utumpala, Jinashi Samamraweera, Karen and Brian Knutsen, Lakisha Fernando, Liz Fernando, Mahendra Wickremasinghe Madanayake, Natalie Soysa, Nayanahari Abeynayake, Nazreen Sansoni, Nisitha Dayaratne, Olivia Bonnal Sansoni, Pabsara Ranansinghe, Poornima Jayasinghe Thenuwara, Pradeep Kirindage, R H Samarakone, Rajith Nuwantha Perera, Ruvin de Silva, Sachini Perera, Saroja Witharanaarachchi, Savithri Vithanage, Shahan Pieris, Sharni Jayawardena, Siripala Abeynayake, Sujani Wijesundara, Surangi Sangarapillai, T. Krishanth and Zackiya Ashraf.
"The way Menika saw our photographs encouraged us. I think proper recognition is not given for photographers who sincerely want to improve the industry and not just snap pictures for the sake of money. This exhibition certainly improved my confidence in my talent and gave me a great new experience," said Asanka Darshana.
Follow @timesonlinelk
comments powered by

Disqus