Our not so great railway journey
View(s):

The explosive derailment of a runaway train in Lac-Mégantic, Canada, dominated headlines this week. With investigations continuing into the possibility of sabotage over simple negligence, it edged out another tragic happening – the crash-landing of a Boeing 777 in San Francisco, which has been deemed pilot error. In Sri Lanka, we can relate more to the former. These days, our railway safety record has become abysmal. It remains to be seen whether the mounting death toll and appalling damage – the highest in our history – can or will be remedied by the authorities; or be derailed or shunted to a siding by bureaucratic apathy.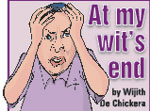 This week, the lightning strike by myriad railway unions – the umpteenth such resort to trade union action – has highlighted several realities about our ancient, but rapidly modernising, railway and passenger-transit systems. For one, that the island's railroad network still bears the brunt of the commuter traffic coming into Colombo daily from as far away as Kandy and Galle, Chilaw and Kurunegala.
For another, that such a strike can cripple the capital's working populace and place a heavy burden on road transport. Yet another home truth is that the railway, once considered a poor cousin of passenger-transit networks, with heavy subsidies for commuters and a heavier toll on state coffers, is a vital part of the increasingly networked transport nexus. Then again, that political promises, related to long overdue pay rises undelivered and salary anomalies un-rectified – as in the case of 13A and other more mainstream national issues – can cause havoc in civic life over and again.
These realisations also point to other ramifications for Sri Lanka Railways. Once the bailiwick of professional administration (remember the Rampala era?), the oeuvre has – since the British mantle of excellence passed to the natives – cracked. Now the legerdemain of engineering that made our many hard-built miles of tracks the toast of the colonial era is the stuff of a legend so long past one would be forgiven for wondering if there ever was a golden era for our railway.
There was, there was. Space does not permit an encapsulation here… but many passionate and well-researched tomes speak volumes of the provenance, history, development, and decline of the CGR/SLGR phenomenon: David Hyatt's 2000 masterpiece, Railways of Sri Lanka, the bible of local rail-fans; Royston Ellis's picaresque 1994 offering, Sri Lanka By Rail; and in 2012, H. U. Thibbotumunuwe's anecdotal Adventures in Steam: British Era.
There is also now a quarterly magazine, Lanka Railway Digest, dedicated to railway lore and trivia that delights, informs, and educates a public that is often apathetic to this thing of beauty. A brace or trio of very active Facebook pages strives to ensure that the daily rounds of over 300 trains operated island-wide, and the routines of the army of workers who keep the machine well-oiled and ticking over, is a joy forever. But for the most part, the masses are ignorant of this country's railway heritage. More so its tremendous potential. As not only a commuter carrier, but a tourist specialty and perennial attraction for wide and varied audiences in the so-called generating markets as well as a potential point of great national pride.
At present, however, things are falling apart. Ancient, long-serving diesel-hydraulic and diesel-electric stalwarts in our diverse stable of locomotives are being neglected in favour of and short-sightedly replaced by spanking new but relatively short-term imports from friendly regimes. Apart from a few outstanding examples of well-maintained luxury carriages, the rolling stock is old and dilapidated. And crumbling colonial-style railway stations in coastal, country-side, and hill-country locales could be better maintained and operated. Also consider the opportunity cost in terms of upgrading existing lines that are politically sensitive at the expense of reconstructing traditional connections that once linked the land, north to south and east to west. A trick missed in terms of touristic acumen was the broadening of our last-remaining narrow-gauge railway line – a sad case of commercial expediency over calculated escalation of return on investment. (Peru's 3-ft. line between Cuzco and world-famous Machu Picchu, and India's Darjeeling Himalayan railway, are not only well-known among aficionados but serve to draw general tourist traffic to those countries.)
Where can we begin to turn the tables? First, a mindset change: the railway is everyone's national heritage, not a hobby for a few rail-fans. Then, perhaps a special presidential taskforce to revisit, review, reform, restructure, and revitalise Sri Lanka Railways with maybe FDI or part-privatisation (the state to own the lines, private enterprise to operate trains and manage systems) among some possibilities for fast-tracking the project. For a start, though, let's get all 750 of those unprotected level crossings fixed, shall we! It is not worth life and limb being risked for a few hundred thousand rupees less…
Follow @timesonlinelk
comments powered by

Disqus