Defiant woman journalist happy to clean her country's dirt
View(s):

Just weeks ago, the Washington -based International Consortium of Investigative Journalists (ICIJ) laid bare the names and addresses of those who held offshore bank accounts in a number of countries. It was the result of investigations ICIJ carried out for several months. Disclosures of those account holders in the United States, France and other countries in Europe prompted those governments to seek details. This was to take action against those who held the accounts illegally.

In the light of pressure from several quarters, the ICIJ placed on its website the voluminous data it unearthed. That included more than 30 accounts held by Sri Lankans under different companies.

Just ahead of this disclosure, interested groups in Sri Lanka did make overtures to the ICIJ to disclose details. Perhaps the account holders, who became aware of the investigation, themselves, were interested to know whether their names would come out. It could also be others linked to official channels trying to ascertain the extent of such overseas accounts. Yet, the disclosures have only drawn a muted silence from the Central Bank.

The investigation by ICIJ's members, who are peer recommended, has led to punitive action against at least one journalist. It is in Azerbaijan, the oil rich nation that stands on the crossroads between West Asia and East Europe. ICIJ member Khadija Ismayilova, a seasoned journalist, has been punished by the government of her country. Hidden cameras were installed in her apartment and government operatives then published the resulting videos in the Internet. Together with her colleagues, Khadija had been doing a series of hard-hitting investigations about the offshore deals of the ruling family. She contributed to the Offshore Leaks investigation, helping other ICIJ colleagues expose an offshore company owned by the Azeri President and his wife.

Punishment for her has come in the form of being ordered to do community service. This is what Ismayilova says: "I have been sentenced to 220 hours of community work for refusing to pay anti-constitutional penalty for attending a peaceful rally. Today I was invited to the bailiff's office to be informed that they found me a job to do within this community work sentence. There are two options: cleaning backstreets or cleaning central streets….. Four hours a day cleaning the city. The work will probably start next week (within 10 days I have to start). Well, I guess the message is clear. It is up to us to clean this country from dirt. I will be happy to contribute!"

Polls chief gets bell of a shock

For Elections Commissioner Mahinda Deshapriya, the shocks come not only from political parties and voters. They even come from the bell that he uses to summon minor staff at his office. Unlike the shocks in verbal or written form, this was electricity.

He described to the media at a news briefing on Friday that whilst being busy he pressed the bell. He did not realise that the lid had fallen off and he was pressing a live wire. He was hit by a spurt of electricity.

As he was demonstrating what happened, photographers were clicking away. He told them "please do not publish any pictures. I will no longer hold news conferences if you do so." Talk of censorship !

Plastic ballot boxes for PC polls

Elections Commissioner Mahinda Deshapriya told secretaries of political parties on Friday that plastic ballot boxes would be introduced for provincial polls in the Central, North Central and Northern Provinces. He said this was because mahogany wood was no longer available in large quantities (at reasonable prices) to make ballot boxes. The manufacturers have said they would be too costly.

If a police commissioner cannot get justice, who can get it?

Newton Gunaratne, one time chairman of the state-owned Independent Television Network (ITN) and Sri Lanka's envoy to Myanmar, is currently a member of the Police Commission. Yet, he complains that he has not been able to move the Police into action over a complaint.

His daughter and mother-in-law had recently received a telephone call from a person identifying himself as an inspector from the Valaichchenai Police. He had been asked to call over so a statement could be recorded. The reason for such an exercise was his "involvement with the militarily defeated Tiger guerrillas."

The daughter, like any law abiding citizen would, immediately lodged a complaint at his area police station. He said he had no connection with the Liberation Tigers of Tamil Eelam (LTTE). He also told Police officers that his father-in-law would never have been made a member of the Police Commission if that was the case.

Mr. Gunaratne intervened by speaking to Police higher ups. He wanted to clear the name of his son-in-law. He also wanted to bring to book persons who are known to be using the ruse of summoning people to Police stations in the East only to extort money. Alas, Mr. Gunaratne says there has been no response.

In the June 23rd issue of the Sunday Times under the heading 'Bogus law-enforcement callers alleging terrorist links extort money: Threats to personal safety deter some victims from lodging complaints with the Police", we published a detailed account of what is happening in this area of criminal activity.

Imagine the plight of an ordinary citizen when a member of the Police Commission is unable to seek justice? A witty gazetted Police officer remarked somewhat sarcastically that Mr. Gunaratne should telephone the IGP's help desk.

No quorum, no shoes also for Azwer

A four-hour debate in Parliament on the need for preparedness during natural disasters was under way on Friday. Opposition parties planned to have a field day highlighting shortcomings. However, with only one hour passing by, UPFA national list Parliamentarian A.H.M. Azwer pointed out that there was no quorum. Mr. Azwer joined other members to leave the chamber in the resulting confusion.

It was rather late when Mr. Azwer realised that he had left behind his pair of shoes. He was reluctant to return to the chamber to retrieve it. So he asked a Parliament staffer to fetch the shoes for him.

Twitter war over CHOGM media coverage

"Old diplomats never die," wrote Twitter user @AmmoVanderbilt on Friday. "They just crack under pressure of trolling & degenerate into swearing at people online". The allusion was clearly to Bandula Jayasekera (@bundeljayse), Sri Lanka's s Consul General in New South Wales and Queensland, Australia and former head of the Presidential Media Unit.

Last week — in between watching the Ashes and extolling the performance/Sri Lankan "heritage" of debutante Australian cricketer Ashton Agar — the irrepressible Mr. Jayasekera waged a Twitter war with several journalists. It started with the diplomat declaring some weeks ago that he would not allow documentary film maker Callum Macrae (@Callum_Macrae) to cover the Commonwealth Heads of Government Meeting (CHOGM) in Sri Lanka.

Mr. Macrae produced a series of controversial "documentaries" on Sri Lanka's war for Channel 4, including Sri Lanka's Killing Fields and No Fire Zone and seems to have waged a personal war on Sri Lanka. Last week, he was in Malaysia screening his documentary with the help of some anti-Sri lanka lobby group when the local police and Immigration officials arrived. He ran away through the rear door, and took the first plane available to Canada — a country that is openly against the hosting of CHOGM in Sri Lanka.

Local media accreditation for CHOGM is handled by a separate committee, with an official identity card from the Department of Media Information being the main criteria. The Commonwealth Secretariat has the sole authority over international media accreditation, as the Secretariat emphasised last week in a statement.

It was issued in response to a letter written to Commonwealth Secretary-General Kamalesh Sharma by Joel Simon, Executive Director of the Committee to Protect Journalists (CPJ).

Mr. Simon expressed concern about media accreditation procedures for CHOGM in view of media reports from Colombo indicating that the Government intends to "enforce stringent background checks on any foreign journalists covering the meeting, with the apparent intention of denying them permission to enter the country". He asked Mr. Sharma to ensure that the Sri Lankan Government did not prohibit access to any journalists.

Commonwealth Spokesman Richard Uku clarified saying, "As is customary, the Commonwealth Secretariat is the final authority for all international media accreditation for CHOGM". He said that, "Media accreditation is open to all bona fide journalists, including online media practitioners, broadcasters, photographers, film and television camera crews and technicians. Every effort will be made to facilitate attendance and coverage of CHOGM by the media".

Mr. Jayasekera, one-time Presidential spokesman, however continues to assert that he would not allow certain journalists to enter Sri Lanka for CHOGM.  On Thursday, websites tweeted Mr. Simon's letter. Mr. Jayasekera tweeted back, asking why any country would issue visas "for terrorist backers and mercenaries using blood money". He also tweeted, "…I read a comment on Derana (a local tv channel) that stray dogs should not be allowed".

When one twitter pointed out that CPJ was talking about journalists, not dogs. Mr Jayasekera replied, "Yes. Macrae is not a journalist so why get him involved in this? Let's talk about journos then".

The conversations got more heated, with Mr. Jayasekera repeatedly saying "terrorists" and "mercenaries in the guise of journalists would not be allowed into Sri Lanka to cover CHOGM.

When Frances Harrison, former BBC Journalist and author of 'Still Counting the Dead' (another anti- Sri Lanka publication) entered into the debate, Mr. Jayasekera called her "white tigress" and "white tiger crap". He also asked: "Why is that woman @francesharris an LTTE backer poking her mouth to everything Sri Lanka?"

Others who criticised his comments were quickly dismissed as "LTTE Terrorist rump", "member of the rump", "LTTE rump", "overseas rump", "the rump" and so on. He liberally accused various people of taking money from the LTTE. Among the other labels he used were "cowards", "bunch of losers".

He also indicated that the Sri Lanka website Groundviews would not be permitted to cover CHOGM. Media Ministry Secretary Charitha Herath, who added his own comments twice during the twitter war, has not responded to the question of who would, or would not receive accreditation for CHOGM.

Whatever the Commonwealth Secretariat might say, Sri Lanka, in the end, is a sovereign nation holding the sovereign right to decide to whom it issues visas — CHOGM or no CHOGM. Ask the US if that is not so; even with the United Nations in New York. You need a valid visa to enter the US in the first place if you want to visit the UN.

Best shirt in Russia was from Lanka

Prime Minister D.M.Jayaratna was on a tour of Russia when he went shopping for a shirt.  At the shop, he had asked for one of the best shirts available only to find it was made in Sri Lanka.  This shirt is "made in my country," he told the Russian shop owner.

Premier Jayaratne related this encounter when he spoke in Parliament on the debate on the Import and Export regulations on Tuesday.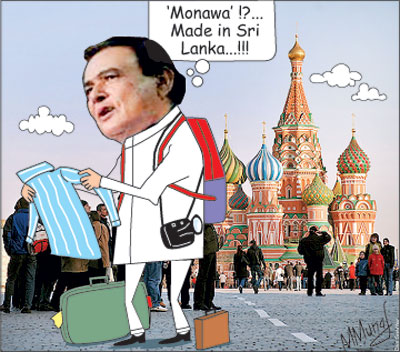 Follow @timesonlinelk
comments powered by

Disqus