You could help to keep these little hearts beating
By Kumudini Hettiarachchi
View(s):
Then there was elation, now there is only fear and anxiety.
One baby is dead and the other four seem to be fighting for survival while the tearful mother, Fathima Farjeeziya, hopes and prays and yearns to hold her babies close.
When the Sunday Times visits 31-year-old Fathima in Ward 5 of the Kandy Teaching Hospital this week, only three of her quintuplets are in the Premature Baby Unit (PBU) there. Of the two sent to the Peradeniya Hospital and the Sirimavo Bandaranaike Children's Hospital at Peradeniya, the "biggest" boy had died early morning on Monday.
Now Fathima and husband, M.J. Mohamed Rinas (31), are hoping against hope that the other four babies, one girl and three boys, would survive.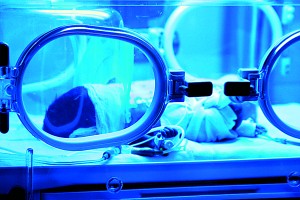 Fathima from Madawala had married Rinas on September 18, 2011. Earlier with many problems to resolve, a father with heart issues and a mother who didn't work, pretty Fathima who shouldered the full burden had worked in Kuwait as a housemaid for nine long years, sending money back home. Although Rinas from Puttalam had also been in Kuwait, working as a driver, the marriage came about after the families arranged it.
Rinas continued his job as a driver in Kuwait after the marriage and she was with him when she underwent treatment for fibroids, says Fathima, adding that she took no fertility treatment which usually could result in multiple pregnancies. There was also no history of twins or triplets either in her family or that of Rinas.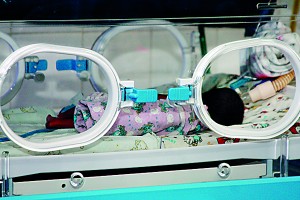 The couple were overjoyed, therefore, when they realised that Fathima had conceived because even after a year had passed from the time of marriage, there had been no sign of a baby being on the way.
By the time she returned on January 13, this year, she was already 37 days pregnant, says Fathima. She was carrying five foetuses.
"Everyone was scared," she says and it was Consultant Obstetrician and Gynaecologist, Dr. Kapila Gunewardene who gave them not only medical advice but also moral support.
As she grew heavier and her pregnancy advanced, Dr. Gunewardene had advised her to get admitted to his ward for better management and it was in March that she came into hospital being given extra care and support by both the medical and nursing staff.
When her water bag broke on June 27, Dr. Gunewardene had decided to perform a Caesarean section. The foetuses were 27 weeks plus six days, the Sunday Times learns.
"I don't have words to describe my feelings," she says, as the tears flow, and she recalls how a small door in the incubator was opened for her to touch the extra soft foot of her tiny baby girl.
With tubes snaking out, it was a heart-rending scene that made her worried and concerned about the plight of her babies. It is a scene that makes her weep.
Fathima's plea to anyone who would give ear to her is to help the dedicated medical and nursing team headed by Dr. Gunawardene to support these babies to overcome the odds that life has thrown at them from the moment they came into this world.
Thereafter too Fathima and Rinas who are in dire financial straits would need all the help in the world to bring up their three sons and daughter.
Any kind donor who wishes to help Rinas and Fathima may send their contributions to Commercial Bank, Puttalam branch, Account No. 8148007938 in the name of M.J. Mohamed Rinas. He may be contacted on: 0775088567
Follow @timesonlinelk
comments powered by

Disqus