Sweet success of bitter veggie
Kumudini Hettiarachchi reports
Renowned for its health benefits, but not so for its taste, bitter gourd can be taken in capsule form as can gotukola, karapincha and other herbs thanks to the efforts of a pioneering microbiologist Dr. Suranjan de Silva.
View(s):
It can be cooked, sliced thinly, fried and made into a tangy sambol or put into a blender and turned into a juice. It is said to have been the favourite dish of a king – none other than the last monarch of Kandy, Sri Wickrema Rajasinghe.
Although of high value with praises being sung about this humble vegetable, many are put off by its bitterness. The thought of downing a bitter glass of juice to ward off diabetes which many vouched for, led to a pioneering Microbiologist and his team coming up with a palatable answer.
Now there is no need to soak it in coconut water before cooking or swallow with distaste the bitter sambol. For Karawila or bitter-gourd is available, and has been for some time, in capsule form.
With non-communicable diseases such as cardiovascular disease and diabetes and risk factors of hypertension and cholesterol being part of life that modern man has to contend with, this is also not the only vegetable or herbal capsule that is said to keep at bay many ills that beset people.
In the 'Naturelle' line-up of herbal health food mooted by this Microbiologist currently are nature's sugar controller — Karawila; memory booster – Gotukola; cardiovascular protectors – Karapincha & Garlic; vitality booster – Welpenela; liver protector – Pitawakka Plus; and digestive-aid — Thripala, it is learnt.
These vegetables and herbs in capsule form first came about in 1986 under the guidance of Microbiologist Dr. Suranjan de Silva.
Aushada Lanka Private Limited was set up to manufacture ayurveda and herbal health care products and by 1996 moved its manufacturing operations from its original location to a new factory at Boralesgamuwa. However, as these premises are rented, a
brand new factory is now being pre-fabricated at Piliyandala on the company's own land, with production being expected to begin in 2014 (next year).
"The manufacture of herbal health care and skin care products is registered and licensed by the Department of Ayurveda, Ministry of Indigenous Medicine," says the company's Managing Director Dr. de Silva, adding that the production unit is registered as an Ayurveda Pharmacy. The factory with eight staff and a Factory Manager operates under an Ayurvedic Physician, with internal quality control by two Production Officers.
The company has three main product ranges, the Sunday Times learns, which are the 'Naturelle' herbal medicinal products, the 'Mystique' herbal skin care products including soaps and a range of herbal teas.
To find out how it all began, the Sunday Times meets up with the reticent head of Aushada Lanka, Dr. de Silva for a rare interview this week.
Reluctantly Dr. de Silva talks of his school career at Royal College and how "accidentally", though more interested in engineering, he went down the medical path at the University of Ceylon. Passing out as a doctor and after a short stint with the Health Ministry "not being too keen on the transfer system", as his wife Shirantini was working as an accountant at the Colombo Municipal Council (CMC), he too then joined the Municipality as a Deputy City Microbiologist in the late 1960s. Soon after, however, his wife left the CMC and joined CISIR, he smiles.
Those were the days when the water supply of the city of Colombo came under the MC and it owned and ran the Labugama and Kalatuwawe reservoirs which supplied water to the city through the service reservoirs at Mutwal, Maligakanda and Dehiwela.
"It was our responsibility to ensure that the water was up to standard, having gone from 'raw' to sterilization, checking samples even from stand posts (public taps) which fed underprivileged shanty and slum areas," says Dr. de Silva.
The CMC's laboratory services included both chemical and microbiological testing, with officials also heavily involved in mosquito control including filaria and dengue.
In 1970, he headed to the School of Hygiene and Tropical Medicine at the University of London for post-graduate studies. On his return to Sri Lanka, he served as the City Microbiologist which post was equivalent to the Deputy Chief Medical Officer of Health, working from the laboratory at Maligakanda. Taking over as the Chief Medical Officer of Health in 1989, he sought early retirement in 1991, as labour issues and transfers he had to deal with, then ensconced at the Town Hall "were not to my liking".
During his time at the CMC, interactions with the World Health Organization and the United Nations Children's Fund (UNICEF) had been numerous. With UNICEF working across the country, there had been a need for the water supply outside of Colombo to be tested. A laboratory was then set up at Dehiwela with UNICEF promising adequate work to make it viable. As the chemists had some free time on their hands, Dr. de Silva had suggested that they should upgrade traditional herbs for the international market.
This was the seed of the idea that Dr. de Silva later developed, during a 20-year stint at Bamber & Bruce Ltd., buying up pharmaceutical production machinery such as capsule filling and loading equipment from a factory that closed, for Aushada Lanka.
With Naturelle products being accepted both locally and internationally — Karawila capsules are being exported to the United States of America, Canada, United Kingdom, Malaysia, Singapore and Australia – the company's sights are set on rebranding its herbal health care products.
To the query what next, Dr. de Silva says that soon they would focus on Ceylon Cinnamon and Turmeric which are being hailed as alleviating the symptoms of common conditions such as elevated blood sugar and lipid levels and many digestive disorders. He also hopes to take Goraka to a place of prominence soon.
Taking herbs to a new high
Begun as a hobby by Dr. Suranjan de Silva, his daughters, Hiranthi and Deepthi, now feel it is time to take the Naturelle products to a different level. With a stall at the 'Ayurveda Expo 2013' at the BMICH from July 12-14 displaying the six products in newly-packaged form with redesigned bottle labels and outer cartons, Dr. de Silva explains that the capsules contain a pure concentrated cold extract produced using a special process to ensure the retention of all active ingredients of the original herb.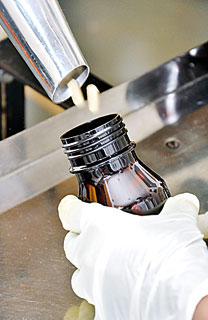 These new-look products will be available in the local market in August (next month). The products are based on traditional ayurveda formulations, filled in hard gelatin capsules. All products are pure herbal extracts and powders, where no synthetic products, sweeteners or colouring material are used, reiterates Dr. de Silva, adding that an approved preservative, Benzoic acid is incorporated in the formulation. The company is also working on the conversion of these powders into tablets.
Going into specifics, he says Karawila is a well-known ayurvedic medicine given for non-insulin dependent diabetics. Bitter-gourd juice is believed to have anti-helminthic, anti-diabetic, cardiotonic and laxative properties while also being a digestive stimulant. Scientific studies have shown that Karawila improves glucose tolerance in diabetes, according to this medical doctor.
Moving onto Gotukola, he points out that this vegetable is included in a group of drugs capable of maintaining youthful vigour and strength. It is believed to improve receptive and retentive capacity, he says adding that it is said to nourish brain cells, enhance learning capacity and memory power.
Karapincha & Garlic provide the body with nutritional support to promote well-being and good health and Welpenela is believed to have a tonic effect providing nutritional support needed for vigour, vitality and strength, according to Dr. de Silva. Meanwhile, Pitawakka Plus, a herbal blend to support the liver, has Elapitawakka, Rasakinda, Katukarosana, Pitasudusarana, Nelli, Binkohomba, Thippili, Monarakudumbia and Elanitul, it is learnt.
Elapitawakka is regarded as a diuretic and astringent and good for jaundice, Rasakinda as a tonic for general debility and jaundice, Katukarosana for debility and wasting of the body through indulgence in intoxicating liquors, Nelli in the treatment of jaundice, anaemia and dyspepsia, Hin Binkohomba for stomach cramps and loss of appetite, Thippili as a carminative expectorant and stimulant and Monarakudumbia as an astringent, he says.
The Thripala tablets containing Aralu, Bulu and Nelli are considered a general stimulant, being used as a carminative and for digestion.
Follow @timesonlinelk
comments powered by

Disqus