Photographs with enduring appeal
View(s):

Book facts | Animal Verses – The Unseen Wilderness of Sri Lanka-by Surgeon Rear Admiral Lalith Ekanayake. Reviewed by Carlo Fonseka

Believe me, sometimes against my will, I found myself staring long and long at many of the photographs comprising this book, like a rabbit fascinated by a snake. Some of them, especially the ones which have won international prizes and awards, imprinted themselves on my 80-year-old brain which now seems to register nothing. After all, the eternal law is that nothing is permanent except impermanence.

Nevertheless, the fact that my porous brain retains deep impressions of some of the photographs in this album, speaks volumes for their enduring appeal. They are things of beauty, they are truly a joy to behold. The old bookworm that I am, whenever I feel an impulse to enjoy the fauna and flora of our country, I don't go to the wilderness. Instead I turn to books on my shelf. Lalith Ekanayake's priceless Animal Verses is my latest acquisition. An old favourite is Prof. S.R. Kottegoda's Flowers of Sri Lanka.

On the front surface of the dust jacket of this extraordinarily large book (34 x 24 x 2.5cm) is reproduced the photograph located at page 80. It is a snapshot of a leopard half in midair launching itself from the horizontal branch of a huge tree, to zero in on a hapless, unsuspecting target, a grey langur (a species of monkey). Dr. Lalith says in his preface that his aim in taking these photographs was not to "depict nature as we would like it to be, cute and cuddly, but as it really is, impersonal, violent and brutal: nature red in tooth and claw."
But Lalith should not forget that in Tennyson's poem in which the phrase "nature red in tooth and claw" occurs, the relevant verse goes like this
" Man ,
Who trusted God was love indeed
And love Creation's final law
Tho' Nature red in tooth and claw
With ravine shrieked against his creed"
If love is indeed "Creation's final law" Lalith will agree that Nature can also be cute, cuddly and lovely , as depicted in the enchanting picture adorning the page on which he has dedicated the work to his loving parents, wife Rasanjalee and two daughters Lihini and Nilmi. This photograph shows a big mother-bird cuddling two baby chicks under her wings. It reminds me of Jesus yearning to protect the children of Jerusalem "even as a hen gathereth her chickens under her wings". That's gentleness and tender, loving care in Nature.
Perhaps as a member of our armed forces fighting a deadly enemy during a particularly murderous period in our recent history, Lalith's camera naturally focused itself on violence and conflict rather than on peace and kindliness. Let us not forget, however, that Nature is replete with examples not only of selfishness but also of altruism; not only of violence but also of symbiotic cooperation. My suggestion to Lalith is that his next book of photographs should seek to capture the tender moments in Nature which will kindle kindly feelings in us. In a classy book like Animal Verses almost as attention-grabbing as the snapshot of the leaping leopard on the cover page are the Sinhala words boldly printed on it. Thereby, Dr. Lalith Ekanayake is proclaiming to the world that he is not a totally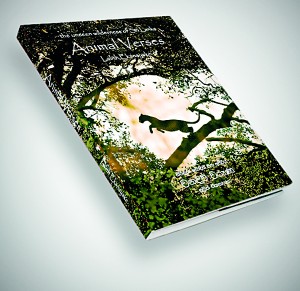 westernized, English- only, upper-class doctor who has forgotten the fact that he began his education in his mother tongue at Maliyadeva College at Kurunegala, in preparation for his remarkable medical, naval and photographic career. In fact the Sinhala version of the title of the book printed on the cover page is to me more alluring than the English: Wana Divi Waruna- Sirilaka Nodisi Wana Asiriya. Some of the Sinhala annotations accompanying the photographs are deliciously insightful.
This book actually brings together under one cover the photographs displayed at the Lionel Wendt on May 16, 17, 18 and 19 this year. I happened to be the very first person to see and enjoy the exhibition which merited a visit from the Head of State, President Rajapaksa. When Dr. Lalith is not spending long hours in the wilderness waiting for memorable things to happen for him to capture instantly with his hand-held camera, he practises medicine as a specialist physician and gastroenterologist in the Sri Lanka Navy Hospital. He enlisted in the Navy as a medical student and has now served it for over 30 years.
His interest in wild life photography has also been long and sustained. As the first one to see his exhibition when it opened on the 16th, I was asked to write a comment in the big book kept for the purpose. This is what I felt impelled to write: "It fell to my lot to be the first to come and see and enjoy Animal Verses. Although the camera can be made to lie, the authenticity of the exquisite artistry of these photographs is palpable. Your wizardry with the camera has done for the fauna of our beloved country, what Prof. S.R. Kottegoda did for its flora. I cannot, of course, claim any credit for the technical perfection and breathtaking beauty of these stunning snapshots. But as one of your former teachers, allow me to bask in the reflected glory of your magnificent labour of love."
I can rhapsodize about many of the photographs in this album, but my verbalizations will not and cannot capture the ethereal quality of the pictures of elephants and bears and wild ponies and leopards and birds and deer and serpents and dolphins and the solitary Red Slender Loris captured in this album. Talking about these pictures is as pointless as talking about Amaradeva's music. Even as the only way to enjoy music is to listen to it, the only way to enjoy Lalith's photographs is to see them. A book of this quality and beauty cannot possibly be cheap, but it is surely worth its weight in gold.
Follow @timesonlinelk
comments powered by

Disqus