It's not just snapping a picture but snapping a good one
By Tharooshie Mahahewage
The May 2012 batch of the Photographic Society of Sri Lanka presents 'Lark of Light'
View(s):
From the seasoned professional to the youngster having his or her first lesson on the prism and how light behaves through it, whether capturing an image from a high calibre DSLR or mobile phone; the allure of the art form of photography has grown significantly in modern society.
'Lark of Light' an exhibition by the May 2012 batch of the Photographic Society of Sri Lanka (PSSL) sees this group of photographers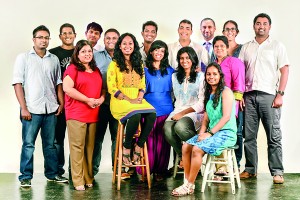 presenting their work to the public for the first time. The group made up of professionals, entrepreneurs, students from ages 19 to the 40s are: Pandula De Silva, Eranga Peiris, Lilan Fernando, Namal Jayathilake, Amila Gunasekara, Rasika Mendis, Roshana Rasheed, Ruvini de Silva, Suhail Junaid, Zamani Zainudeen, Tyrrell Jayawardene, Surekha Wijeyesekera, Sulakshitaa Thirugnanam, Thushni De Silva, and Viswanath Samarasinha.
The exhibition is in its final day today at the Harold Peiris Gallery of the Lionel Wendt.
"It's not just snapping a picture and hoping it's a good one. We have to make sure all the pictures we take are good ones," says a member of the group, Pandula De Silva. He recalls a field trip to the Negombo fish market early one morning. "It was teeming with buyers, mudalalis and fishermen. Most fishermen had managed to get space in the building with concrete malu lalla's and those who couldn't sell their fish were on either sides of the road using baskets to hold the fish. Among all these people, my eye caught a woman in about her 60s, squatting in a corner trying to sell her meagre share of fish which she had piled on two bucket lids. The picture I captured shows her desperation," said Pandula.
Thushni de Silva, another member of the batch recalls a similar experience. "On an early morning trip to Pettah, I came across an old woman who was probably in her late nineties. She seemed to be just standing there. I felt I needed to help her and gave her a 20 rupee note. She glanced up at me, and the emotions that were reflected in her eyes were very touching. I felt prompted to take a picture of her."
Coached by veteran photographer Panduka De Silva, (academic director of the PSSL) the group has worked for over a year to compile these photographs.
Follow @timesonlinelk
comments powered by

Disqus