Choosing the correct cast to take on Tennessee Williams
By Smriti Daniel
'A Streetcar Named Desire' by the Workshop Players in celebration of the Lionel Wendt Theatre
View(s):
The same trip to London that gave Jerome L. De Silva the inspiration he needed to attempt 'Evita' and his upcoming production of 'Jesus Christ Superstar,' nudged him in the direction of 'A Streetcar Named Desire'. Before that, he'd already had years to become intimately acquainted with the script of Tennessee William's iconic play, in part because he's been teaching it in classrooms to A/L students about to sit the London Cambridge examinations. "I've always loved it," he says, explaining he believes that students must actually see a play performed to fully grasp its essence.
Williams received the Pulitzer Prize for drama in 1948 for the script of 'A Streetcar Named Desire,' and the original Broadway production starred a young Marlon Brando in a career defining role as Stanley Kowalski. Uncouth and brash, in Brando's hands Stanley had an almost animalistic intensity and being pitted against the tenuous refinement of his sister-in-law, Blanche DuBois, only served to heighten those qualities. The two are brought into stifling proximity when Blanche arrives at her sister Stella's small New Orleans apartment. Though she doesn't care to admit it, she's on the run. In her wake lies more than one scandal but in her sister's eyes she retains a certain stature. Blanche doesn't inspire the same idolisation in Stanley who relentlessly sets out to unmask the lies and delusions that keep Blanche from crumbling. His methods are crude and he is uncaring of the consequences, which are severe – her illusions are what have allowed Blanche a semblance of sanity.
Jerome is keenly aware of how critical his casting choices will be in deciding whether this famously wordy, demanding script will translate well on to the Lionel Wendt stage (it takes the form of 11 scenes instead of multiple acts). It's partly why he's chosen actors he can place his complete confidence in, people he's worked with for years. Mario De Soyza will play Stanley, Bimsara Premaratne will play Blanche, Andre Perera will play the much underestimated Mitch and Shanuki de Alwis is Stella. Each bring something key to their roles, says Jerome. Shanuki, who is cast as "the quiet sister, the lesser sister of the Du Bois family," might just have the most sympathetic role, says Jerome. "She's a brilliant actress who knows how to play a glamorous woman as well as a very domesticated one," he says pinpointing her versatility. Bimsara whom he admires for her "lovely stature" and "beautifully deep voice," plays Blanche.
As for Mario, Jerome believes that the actor is uniquely suited to the role. His physicality and demeanour are such – "as a person, he's a nice person, he just smoulders," Jerome says, appreciative of the chemistry between his three leads. That which exists between Stella and Stanley in particular helped him make the decision every director who's taken on 'A Streetcar Named Desire' has made and he appears to have chosen Stanley over Blanche. "I'm actually pushing the relationship between Stanley and Stella more than anything else," says Jerome. The director actually considers Stella the most sympathetic of all the characters on stage – determined to turn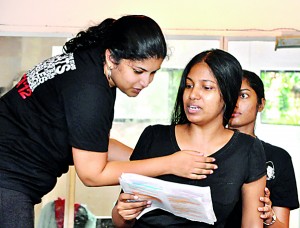 away from a pretentious life, she is nevertheless trapped between two people she cares deeply about.
"They're all very complex characters," says Jerome, adding, "Mitch is also a very complex character though no one talks about him." As the son of a sick mother, Mitch carries the burden of her expectations. Jerome confesses to having a personal affinity for the character, and says that Andre Perera, who you may remember from the recent staging of 'Sherlock' plays him with a particular grace. Though Jerome has an enviable clarity about what he wants from the production, the actors are allowed their say. "I give them the skeleton and ask them to work around it, I give them the freedom to fill that skeleton, to fill it with heart, soul, blood, sweat and tears," says Jerome.
Together they hope to produce a creditable production of Williams' critically acclaimed script. Jerome hopes it will be the first in a series of plays that are included in local syllabi and are relevant to students of literature in the country – next year he'd like to give an Arthur Miller play a shot. In fact, they hope to conduct an all day workshop the day before the event to help students engage with and understand the script before they watch it in the theatre. It's all about reading between the lines, says the director, and it's about racking up the tension as the play progresses. "This is like a little game of ping pong, filled with sudden turns, sudden eruptions of emotions." For Jerome, the workshop process is also about cultivating an appreciation for the genius of its playwright.
"Tennessee Williams transformed the American stage with sensory, passionate plays and populated them with character that rage against their personal demons and the modern world," says Jerome. He's anticipating that a lot of the people who will come to watch their production will either have watched the films or read the scripts, but he's convinced the play will be the superior experience – after all that is how the playwright intended us to experience it. "As a director, you underplay, you underplay it, you underplay it…until it just explodes. It's like a slingshot, a pebble right in the middle of your head."
60th Anniversary of the Lionel Wendt
From July 18 – 21, the Workshop Players, in celebration of the 60th Anniversary of the Lionel Wendt present 'A Streetcar Named Desire' by Tennessee Williams and directed by Jerome L. de Silva. The play is presented by special arrangement with Samuel French Ltd.  The main sponsor is Nations Trust Bank, media sponsors are Daily Mirror, Sunday Times while the radio sponsor is Lite FM and the advertising sponsor is TBWA\TAL.
Follow @timesonlinelk
comments powered by

Disqus