Changing lines
Internationally acclaimed designer, artist and architect Tilak Samarawickrema talks to Smriti Daniel on the eve of a new exhibition
View(s):
Every room in Tilak Samarawickrema's house plays host to a different tapestry. They were all designed by him and woven by his long time collaborators, a family of weavers in Thalagune, Uda Dumbara. Though the tapestries may appear complete some of them are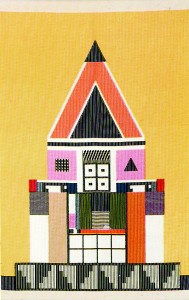 very much works in progress. Every now and again, Tilak will remove a patch of colour from one, or a patterned strip from the other. He is in pursuit of ever increasing elegance and simplicity. On other walls are older pieces that draw the eye with their bold colours juxtaposed, their perfect geometry offering up an engaging symmetry. In one room, pieces of delicate weave adorn a large bedspread. We take the full tour until we are back in his living room (passing his giant wire sculptures suspended on the white walls) standing before the piece that best represents his new aesthetic – this too noteworthy for its vivid palette of related colours set in a grid.
"I knew I had to break out of the old aesthetic," says Tilak, looking at the last tapestry. Out of sight is a cupboard full off more pieces which Tilak will occasionally disappear to visit, returning with his arms filled with heaped up fabric. These are the artworks he will showcase in his upcoming exhibition – the first proper one he's had in Sri Lanka since 2006. In the years in between, Tilak has had no dearth of success. In fact, his most recent exhibition in New Delhi at the Gallery Art-Motif won him mention in several Indian papers and the patronage of a small yet dedicated group of people intent on owning a design by Tilak Samarawickrema.
Since he began working with the weavers of Thalagune in 1991, Tilak has been invited to exhibit his work all over the world, including in galleries in Milan, Brussels, Cologne, Oslo and Lucerne. Most notably, his work was on sale at the MoMA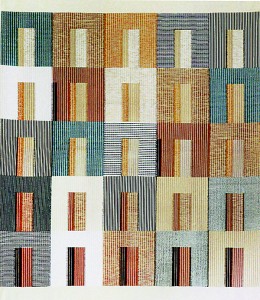 Design Store in New York for 8 years. His oeuvre does not end with tapestries though and instead extends into designer carpets for a Swiss company and fashionable clothing for another based in Milan and Hong Kong. Then there's his work as an architect and a design consultant (as the latter he's worked with Mayan-Indian and Afghani weavers). The recent publication of a weighty coffee table book – 'A Voyage in Sri Lankan Design, Art, Craft and Architecture' – serves as 'an autobiographical visual narrative' and a testament to his extraordinary approach to design. Tilak leaps with an enviable ease from mediums most solid – like his buildings – to the thin, delicate curls of wire that trace the outline of his dancing figures.
Despite his many accomplishments, Tilak has his moments of doubt. "People don't know I exist," he says ruefully. He's convinced many locals don't follow his work, since it is his international customers who keep the orders flowing back to Thalagune. In the absence of a dedicated gallery space, those who want to buy his tapestries most often visit the artist at his home, where an adjoining studio serves as work space.
They are drawn there by the knowledge that his designs, while relying on the springboard of an ancient art form practised by traditional weavers, are nevertheless contemporary and exciting and after their own fashion, utterly
Sri Lankan.
Tilak houses his complex designs on several computers in the office – each pattern filled in with codes so the weavers know which colour goes where. (They make a mistake only very rarely.) The artist has a close relationship with master weaver Sirisena and his two sons. When he first encountered the family, they were eking out a living. A pedigree that extended back to the days when their forefathers wove fabric for royalty wasn't enough to bring them success in the more distant, modern marketplaces. Tilak went to them however, and says the relationship they've built over the years is one that stands on complete trust, both artistically and professionally – the weavers use their skills to materialise his designs, treating the actual patterns as a sacred trust which they do not part with except to Tilak.
The partnership has been a success. The weaver family's fortunes appear to have improved – Sirisena has purchased multiple looms for his home and his sons have branched out to set up shop on their own. Tilak couldn't be more pleased and says he would like to see more traditional craftsmen set up thriving businesses.
While he believes the State is in a unique position to enable them, he considers the most important tool they need to be design. He quotes a recent case in which training and machinery were provided to a group of would be weavers only for them to abandon the project when no orders came in. In contrast, in Thalagune new weavers have studied and mastered the craft since Tilak began working with them because they know a market exists. As someone who carved out his own niche by positioning his works carefully so they fell into the design rather than the crafts category, Tilak is convinced it will require a thoughtful approach to revive the fading industry. Perhaps he will be the man to provide it.
'An Exhibition of Handwoven Tapestries' by Tilak Samarawickrema opens on Friday, July 12 and goes on till the 14th at the Lionel Wendt Art Gallery.
Follow @timesonlinelk
comments powered by

Disqus