'Mayawarunge Lokaya' Chinese mythology in Rupavahini
View(s):

Following the successful telecast of 'Abhitha Diyani' Korean historical tele-serial, National Rupavahini presents 'Mayawarunge Lokaya' (Holy Pearl) which is based on a Chinese mythology. The serial which was telecast in Chinese television in 2011 is dubbed by Athula Ransirilal, one of the expert in the art of dubbing.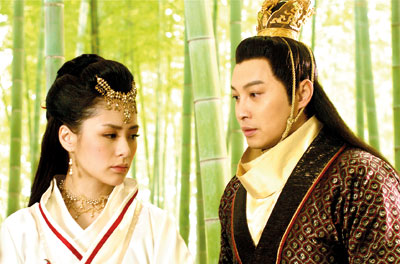 Historian Dr. Ding Mian's daughter, Ding Yao is an ordinary history major student but enthusiastic about life. Though she is ordinary in every way, she was in fact the reincarnation of human creater's apprentice- Xian Le. Dr. Ding acquired the nine star wheel in excavation in an ancient Nanyue period cave. The wheel was a fortune telling tool.
Out of curiosity, Ding Yao, turned the wheel and was brought through time back to 3500 years ago. When she regained conscious, she meet Wen Tian who was imprisoned here. While saving Wen Tian, she also acquired the Bottle that can kill all monsters and demons. Those monsters who received this information tries to take possession of it.
Ding Yao break the bottle while escaping. The bottle turned into nine holy pearls which went all directions. To make up for her mistake, Ding Yao decided to join hands with Wen Tian in the search for the pearls to recreate the Demon-subduing Vase, thus restore the order between three realms.
The teleserial is telecast from Monday to Friday at 6.30 pm on Rupavahini.
Follow @timesonlinelk
comments powered by

Disqus