Manelle Making music for a cause
View(s):

Manelle Seneviratne was just 5 years old when her mother forced her to take piano lessons. She had to be forced to take up music as she was more interested in dancing. Her mother had to force her for music classes as her dancing classes coincided with the piano lesson, at Child Jesus Convent Ratnapura. Subsequently she sat and passed the Higher Local examination in Trinity College of Music London while still at school. Even though she could not proceed any further examinations, music became a passion for her and she took the easy way out and decided to play by "ear".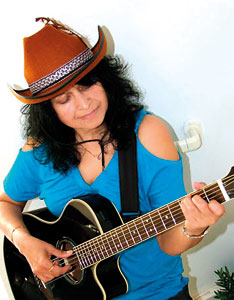 The musical journey she started then had gone a long way as she today entertain not only Sri Lankan but foreigners those who specially need care and attention. "I started with my two brothers playing for private family parties etc. We grew and grew and we were even called upon to play at Mt Lavinia Hotel when a band did not turn up for a wedding!," Manelle says reminiscing her tender teenage years at the age of 16.
"During the same year, I played for a kiddies party in the Little hut of the Mt Lavinia Hotel, accompanied by a Saxophonist from the UK. Those were the early days of my music career," she beamed. However there was a short break to her music when she had to go to the UK.
On her return she joined her brother's newly formed musical band. "My brother formed a band Sky Larks and I was in it as the keyboard player. We thoroughly enjoyed what we did so did the audiences. The bass guitarist's wife discovered I could sing, something I never knew," she tells how she discovered a singer in her.
"My first English song was 'Am I that easy to forget' and the first Sinhala song was 'Dilhani' and the first Tamil song was Que sera sera. They all went down very well with the audiences. I was based in London then,". "During the period 1998 to 2003 I was in a band named 'Islanders'. We did almost every dance organized by the committees of Old Boys and Old Girls schools from Sri Lanka. I was often asked to do dance spots whilst the others had their dinner," Manelle shared her happy memories with music.
"I have travelled far and wide with this band in the UK including Wales and Scotland. Part of the band emigrated to Australia and the commitment ended due to this reason." In 1999, with much persuasion by a friend, Manelle managed to do her first Sinhalese album with Stanley Peiris. The launching of it was very successful in Los Angeles, San Francisco, Michigan (USA), Sweden, Germany, Singapore and Sri Lanka.
"I have performed in Michigan (USA) for a group of Sri Lankans who did a charity show for refurbishing a school in Anuradhapura. We raised $3500 that evening for this charity,"
Manelle was with a few bands since 2003 playing and singing freelance when she decided go on her own. Her repertoire is wide and she sings from the 60s to the 80s including Sinhala, Tamil, Hindi and Baila for Sri Lankan audiences. Manelle is now using her music and singing as a service to comfort and entertain those in their sunset. At Nursing and Care Homes in Sheltered she sings songs particularly suited for the older generation.
Accompanied by a fully-orchestrated keyboard or for some songs she walks-about with her acoustic guitar to encourage audience participation and get the residents involved as much as she can.  "I have been doing solo for the past 7 years for audiences like Pensioners clubs, Social clubs, British Legion Clubs etc. I was often asked the question what I was doing there; I should be on a bigger stage doing public performances. Occasionally I sing with a local Country and Western band who perform at the Royal British Legion every 3rd Wednesday of the month," Manelle describes her fully dedicated life to music.
In order to update herself to the latest technology, Manelle in 2003 attended a course in Digital Music Technology at the Thames Valley University in Reading. Musician, songwriter and composer, Manelle has written and composed a large number of songs.
When she visits Sri Lanka for holiday Manelle gets invitation to play at private functions in addition to playing at the 'Capri', The Gymkana Club, Waters Edge etc and recently she was invited to perform at the "Kingsbury".
Follow @timesonlinelk
comments powered by

Disqus