Inviting space
By Smriti Daniel
View(s):
CoCA artists on making art accessible
It's spectacularly out of place – but that's the point. The wall with dramatic black and white squares seems to warp and bend in a painstakingly constructed visual illusion; parked before it is a bench upholstered in vivid colours and shifting patterns. The two are meant to be an invitation; first to quite literally sit down on the bench and second, to pause as you encounter a piece of art out in the wilds as it were – not confined by a gallery space, limited to a specific audience or accompanied by an intimidating price tag.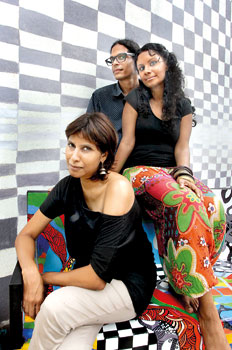 This idea of 'public art' is one that CoCA [Collective of Contemporary Artists] has long since embraced, producing works that have been exhibited in all sorts of unlikely places – they've turned dead trees in abandoned lots into towering pieces of art and placed harpists inside giant gold cages at parties. Their stated aim is to make art'accessible, thought provoking, influential and impacting to the public, in an effortless everyday situation.'
Taking their turn at the bat this time around with 'Not any Wall not any Bench' are five established CocA artists LaylaGonaduwa, ChinthakaThenuwara, PoornimaJayasinghe, BrankaRidicky and Lakisha Fernando. The five spent two days painting the patterns on the wall, but Chinthaka says the bench presented the greater challenge. Pointing to the spectacular kaleidoscope of patterns on the bench, Poornima says they took it in turns and were rarely at work on the project at the same time, instead people would paint in parts and then leave it as was to whoever came next. Considering that they hadn't worked together before (with the notable exception of Chinthaka and Poornima who are married), the final product is surprisingly harmonious.
The painting on the wall, which colonises one side of a building housing public toilets, turns a corner and dissipates into a whirl of multi-coloured blocks and swirling lines of paint. Further along are other pieces of graffiti created by fashion designer Deneth Piumakshi and street artist Da Cruz. Both of those are constructed around immediately recognizable visual elements – Deneth's is an outsized yellow baby and Da Cruz's giant imageuses eyes to anchor bold swathes of colour. Layla tells me that they're pleased to have created something that contrasts so well with those works and might also present more of a challenge to the casual passerby, forcing him or her to really contemplate the painting for a moment.
The bench adds a touch of intimacy to what would have otherwise been a more impersonal piece. Imagining two people sharing the bench for a conversation, Layla says, "it is an invitation to stop, partake, indulge and share, it is a bringing together of our people." It's something she values increasingly in a world which only appears to be speeding up as we go.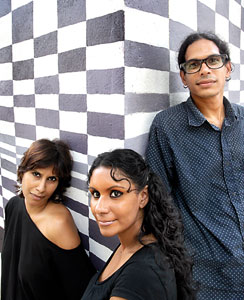 It's also a metaphor for the importance of honest dialogue – 'sitting together also encourages social, religious and ethnic harmony… It encourages openness and acceptance. It is a backdrop and a place for greater tolerance, greater debate, creativity and mindset of our people.'
The work is currently installed at the BMICH and was funded by Alliance Francaise de kotte as part of the French Spring Festival, scheduled from July 21 – 29, 2013 which provides the platform for these CoCA Artists to exhibit their work.
The artists are unanimous in their conviction that public art has the potential to transform and energise communities and when done right can contribute to an environment that is both more beautiful and that truly engages its users.
The project was staged in the lead up to a larger CoCAinitiative titled 'Nomads.' The ongoing traveling project was initiated by the committee members of the CoCA to explore how cultural traditions interact in diverse locations in Sri Lanka.
You'll have a chance to see some of what they've unearthed at their next Goethe Institut funded exhibition at the CMC building Pettah from August 8-10, 2013. In the meantime, 'Not any Wall not any Bench' will be auctioned as a fund raiser for CoCA. You can keep tabs on them by signing up at www.cocaartists.org for regular updates.
Follow @timesonlinelk
comments powered by

Disqus