Drive in for a shawarma
View(s):

We couldn't help but notice an outbreak of Middle-Eastern restaurants on Marine Drive and this week on Take 3, it's shawarmas all around. Here's what you need to know.

Redberry's | No. 556/2, Marine Drive, Colombo – 3. Tel:011 2555000 Web: www.redberrys.com

Redberry's has been open for two weeks when we walk in but today is the day they debut a proper menu and make things official. The red, white and black décor is eye catching, making this one of the nicest new spots on Marine Drive. A big blackboard over the open kitchen has pithy little rules – like 'keep calm and eat biryani' – written on it.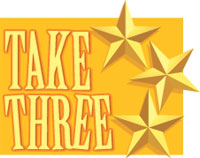 The kitchen is run by a Pakistani chef who produces burgers, submarines and a few rice and pasta dishes. The flavours remind us a lot of Dinemore – basically tasty fast food – with a few surprise additions to the menu like Tempura Prawn (Rs. 580) and their signature Redberry's Fried Chicken (Rs.480 for two). Our chicken shawarma is good if not particularly authentic with generous portions of chicken and a slathering of sauce (Rs.360).
They have ambitions of going global with Redberry's, so this might just be the first of a chain. Owner Faiz Nassim apparently wanted a clean, relatively sophisticated place on Marine Drive where he wouldn't hesitate to bring his own family – which is why he included all the rice dishes he knew he'd need to satisfy his elderly relatives. (A rice and curry lunch set menu is priced at Rs. 280 and a Hyderabadi Chicken Biryani for Rs. 460). The house specials are currently the premium chicken burger made with avocado, cheddar cheese and a thick homemade patty (Rs.420) and there's a deluxe beef burger that comes served with grilled pineapple (Rs. 430). Service is a little slow today but we're cutting them slack because it's clearly all hands on board.
Arabian Knights | No. 532 3J, Marine Drive, off Siri Kotha Lane, Colombo – 3. Tel: 011 2301031/32 Web: www.arabianknights.lk
When they first opened, the tiny Arabian Knights outlet was best for takeaway but they've since added a dining area and even take on deliveries. It's 4 p.m. when we drop in and the twin towers of shawarma meat are skewered and gently sizzling in the heat of the grill – in an hour or two, a second grill outside will start cooking up the kebabs and this place will get really busy. Right now however, we have the option of trying one of their 9 kinds of beef or chicken shawarmas (you can spot their Syrian chef who specialises in the shawarma by the red fez with tassles that he wears) or their chicken biryani (which is the speciality of their Yemeni chef). The latter, a lightly flavoured rice known as the mandi, is served with chicken just melting of the bone, a savoury vegetable stew and a spicy chutney of raw tomato and chilli. A portion costs 330 or a serving for six can be pre-ordered for Rs.2200.
The shawarmas come heavily toasted, but are quite good. You can pick between the likes of Dubai style (Rs.360), the Mexicana (Rs.340) and Syriana Chicken (Rs.340). They are also served up on plates that include a portion of damasco fries – thick slices of potato fried up – and we add on some hot falafel. The latter are fried till crisp on the outside and speckled with sesame seeds and quite good as falafel go. The Arabic Shawarma plate costs Rs.380 while a meal combo with a sandwich, damasco fries, 2 falafals and a drink costs in between Rs.490 to Rs. 590. Arabian Knights will earn a second visit from us because there's so much more we'd like to sample including their hummous (Rs.200), their fattoush salad (Rs.220), the banana-avocado milkshake (Rs. 330) and the ba klava (Rs.300).
Baghdad Nights | No. 47, 42nd Lane, Colombo 6 Tel: 011 7 820280
A wall of beautiful sheeshas caught our eye driving past Baghdad Nights and really, its décor is one of the nicest things about the three storey building. (Unfortunately, the sheeshas are purely decorative for now.) The view from the upper stories is particularly pleasing – if you're visiting, time it to catch the sunset. Service is a little indifferent – but that may be because we wandered in between restaurant hours. Between 3 p.m. and 6 p.m., they're only open for takeaways but agreed to rustle up a shawarama for us. It took them over half an hour, but the final shawarama was good, packed with fresh tomato, sweet pickled gherkins and chunky meat and served alongside the most elaborate salad we'd seen all day. Apparently, they have an Iraqi chef and the shawarmas, along with a dozen other things on the menu include 'Iraqi' as a prominent part of their descriptions. The chicken or Dajaj Baghdadi costs Rs.440 while the beef or Laham Baghdadi costs Rs. 440.
Though we don't try anything else on this visit, there are a couple of intriguing offerings on the menu, if a little steeply priced. There's prawn biryani for Rs. 820 or the Kebab Laham Bakara Baghdadi described as Iraqi beef sticks served with Arabic bread and mixed salad for Rs.480 and to finish a serving of Mahlabiya or a traditional Arabic milk pudding (Rs.300).
Follow @timesonlinelk
comments powered by

Disqus