An opera singer who does it all
View(s):

Young mother and acclaimed international singer—Duvindi Illankoon finds out how Kishani Jayasinghe-Wijayasekera plays both roles with ease

When little Kitaara was born three months ago, soprano Kishani Jayasinghe- Wijayasekera faced a choice familiar to most working mothers. Bask in the cocooned warmth of motherhood for the next three months-or grit her teeth, get her vocal coach on speed dial and head off to the States a mere three weeks later to keep to her contract. "I don't like cancelling," she says simply. "Reliability is so important in any profession." As Kishani herself will tell you, in opera you're only as good as your last show and to take a break-however well deserved it may be-is career suicide.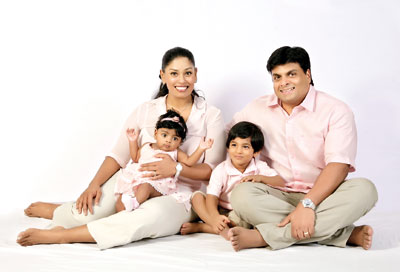 Back in Colombo from her home in London, Kishani counts her lucky stars very thoroughly indeed; she has a 'well oiled machine' that effortlessly launches into operation at these times in the form of her extended family. Because husband Kaveenga Wijayasekara is also away on business frequently, the soprano often finds herself torn between wanting to stay with her two kids-son Kiaan is almost three now- and the work that demands much of her time and attention. "Most people in my profession choose not to have a family for this very reason," she says. "But, you know, that was never an option for me. A family is what I've dreamed of."
Family is so important to her because she credits all her success to the strong family foundation she had growing up. "My parents were firm believers in trying," she smiles. "As young children, my brother and I were forever doing this and that. We were never pushed into it, mind you. I think it was our parents' way of keeping us out of their hair!" Her resume reads like a dream; she schooled at Visakha Vidyalaya, Colombo, becoming Head Girl, captaining the school tennis and debating teams, she led the choir, was President of the UN Association and was involved in ballet and drama as well. She was also National Women's Rowing Champion for three years in a row.
A little bit of everything never hurts, she tells us, recounting tales of rushing from an afternoon rowing regatta straight into a Merry- An Singers' concert (she was first instructed in singing by that bastion of local choral music, Mary Anne David) at the Lionel Wendt. "Dad was driving like a madman, my mum was slapping make up on my face in the backseat and my brother was ringing me every five minutes because they were all ready and waiting for me at the Wendt!"
So when she made an abrupt career change in 2002, discarding her legal robes for theatrical ones and taking up opera as a career, her parents were her biggest supporters. Kishani was studying in the UK at the time, and her university led her to renowned British vocal coach Pamela Cook, MBE. "Pamela changed my life," she says reflectively. With Pamela's encouragement she auditioned for the Royal Academy of Music and won a scholarship to its postgraduate programme. Starting 2002 she studied opera at the academy for four years and was urged to apply for the Royal Opera House's Young Artists Programme. Kishani was one of the two out of almost 200 chosen to take part in 2006.
The Royal Opera House or Covent Garden is a Mecca of sorts for opera singers. It is the home of the Royal Opera and it's where every opera singer in the world aspires to perform one day. The reception for this young Sri Lankan soprano at Covent Garden and theatres around Europe was fantastic. A Daily Telegraph review for her role as Barbarina in Mozart's The Marriage of Figaro in 2008 (in the earliest stages of her career) said "it was the Sri Lankan soprano Kishani Jayasinghe in the tiny role of Barbarina who made my ears prick up suddenly – there's a gorgeous voice in embryo here, charged with the crushed velvet, vintage port, Jersey creaminess of the young Kiri te Kanawa." For Kishani, being compared to her icon was an unforgettable moment.
From then on her career has been a charmed one. Cleopatra in Handel's Giulio Cesare, the Countess in Mozart's The Marriage of Figaro, Mimi in Puccini's La Bohème and Violetta in Verdi's La Traviata are just a handful amongst the many roles she has brought to life on stage. She laughs it off as luck but as even the most amateur of opera goers would know, these are not roles one 'happens' upon.
Perhaps it's her knack for lighting up the stage when she sings that has helped. Kishani's radiant presence delights critics and this is one area of her life she does not laugh off as luck. "You have to work very, very hard at being successful," she says.
"In opera it's time and practice that builds your instrument. That's why, contrary to popular belief, age works to your advantage in this profession!"
Although it doesn't work out that way always, she admits. These days, she has to work that much harder to stay in shape after the birth of two children. "The days of the fat lady in opera are long gone," she laughs. "You have to be very fit physically as well as mentally. You have to look a certain way in opera." A mere three months after Kitaara's birth, she manages to pull that look off with oomph; "I had no choice. I have to look the way I did when they cast me for the role!" she grins.
There's a lot going on in her life to keep her on her toes. Last year, she made her US debut as Donna Elvira for the Opera Theatre of St. Louis and sang a debut performance for Glyndebourne on Tour as Mimi. She also gave voice to the role of Nafisa in the controversial opera 'Babur in London' that opened last year and toured Europe.
These roles are chosen very, very carefully because Kishani is smart enough to know when to stop pushing. As a lyric soprano, she knows that her voice can only handle so much before the effects of strain begin to show. It's been the undoing of many a great singer, we're told. "If I stay within my vocal range, and only choose roles that I can work with, then I can sing well into my 60's," she explains. After that? "I do love sharing what I know with others, so maybe teaching. Who knows?"
How is it that she has been able to take up opera so seamlessly? Was there not the slightest fear about changing careers so drastically? "Of course. But my parents have always said 'no regrets'. The trick is to not think too much about it." She'll tell you that having a degree makes all the difference in her career. "People take you more seriously."
Her family, she repeats, is what keeps her going. So when Kishani found herself driving 400 miles in a raging blizzard to get to a performance in the States, she found comfort in her extensive support system. Her in-laws had flown in from Sydney to London to be with her kids and her parents in Colombo were ready to step in at a moment's notice.
And husband Kaveenga is her biggest cheerleader. "When we were going to have our son he wouldn't even consider asking me to give up work or take a break. Can you imagine? An Asian man!" she laughs. "He's my fairytale. I count myself blessed, to have found and be able to live it."
Follow @timesonlinelk
comments powered by

Disqus