CSCT Student wins University of Salford Award!
View(s):

The Colombo School of Construction Technology (CSCT) is very proud to announce that our student- Thilina Senanayake has won an award for receiving the highest module mark in his year for Construction Economics. Thilina is following the BSc ( Hons) in Quantity Surveying conducted at the school in partnership with the University of Salford and this award was based on the marks of all the students registered in the programme here in Sri Lanka and in the UK. This is a very important achievement for this student and is a reflection of the high quality of teaching in the programme conducted in Sri Lanka.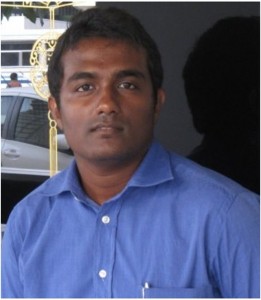 The BSc ( Hons) in Quantity Surveying is a four year programme delivered entirely in Sri Lanka conducted in partnership with the University of Salford, and provides students with an RICS accredited degree. The programme is delivered to the same high standards to that of the UK programme and consists of 3 years taught with 1 year industrial placement. This provides students with both the technical and practical skills necessary to pursue a career in Quantity Surveying. The only other programme with a similar structure and accreditation is the Bachelor's degree delivered at the University of Moratuwa of the same name.  This degree is a viable alternative for students who have not qualified in to the national university system and is looking for an alternative to the same.
CSCT assist students in finding placements for the industrial placement year and takes the utmost care in ensuring that all their students are provided with the necessary support to obtain employment upon completion. In fact CSCT students have a 90% employability rate with almost all students who have graduated from other programme such as their Edexcel Higher National Diploma programmes in the Built Environment being employed in the industry. Therefore parents can rest assured that their child will be supported in the post-graduation employment process and students can be assured that they will find good employment placements upon completion.
At CSCT we are concerned with the overall student experience which includes being a partner with the student in their education process, ensuring they are provided with the necessary skills and knowledge upon completion and employability. Hence our advice to any student is to be wise when selecting an tertiary education partner. Therefore students who intend to pursue a career in the Built Environment should consider the following qualities when selecting their tertiary education programme:
3-4 Year degree programme which provides a Solid Foundation
A degree accredited by a Professional Body such as RICS ( Royal Institute of Chartered Surveyors) which provides the degree holder with Global Mobility
High Quality  Teaching and Learning Resources ( including teaching material and staff)
CSCT's programme fits these criteria and is on par with the UK degree as can be seen by the awards our students are receiving. In terms of costs, the degree on offer is a fraction of the cost associated with the same programme in the UK. This a great opportunity for students who are looking for a career in the Built Environment.
Recent developments suggests that students are facing increasing challenges in pursuing higher education abroad with stringent regulations being implemented by Border Control Agencies of countries such as the UK and Australia. The programme offered by CSCT is a good alternative, as students will undertake their degree entirely in Sri Lanka and obtain a UK qualification. This alternative allows parents the luxury of not having to worry about their children having to fend for themselves in a foreign country. In terms of financial commitment , parents will not have to face the additional pressure of having to commit large sums of money toward the cost of tuition and living expenses for their child while being assured that their child is getting a High Quality "UK" education here in Sri Lanka.
CSCT is an institution that has been operating since 2009 and has many other diploma programmes  on offer in the area of the Built Environment. As an institution our focus is on providing students with good quality education and ensuring students have a positive experience whilst in our educational care. Make the right choice and select the Colombo School of Construction Technology as your Education Partner!
Maneka Guneratne (Ms)
MA Int. Stud. (USYD); MA Int. SocDev (UNSW)
Programme/ Administration Director
Colombo School of Construction Technology
CSCT Campus
48 Talawathugoda Road
Pita Kotte, Sri Lanka
Tel : +94 11 288 5932, 286 4724
Fax : +94 11 288 5933
www.csct.edu.lk
Follow @timesonlinelk
comments powered by

Disqus